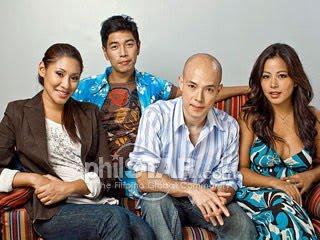 New theater company Upstart Productions presents its first offering, "Breakups & Breakdowns," an original romantic-comedy musical written and directed by Joel Trinidad. The musical, which opened Feb. 18 at Teatrino, Greenhills, runs until March 12 (Fridays, 8 p.m. and Saturdays at 3 p.m. and 8 p.m.).
With original music by Trinidad and his creative partner Rony Fortich, currently the musical director of Hong Kong Disneyland, "Breakups & Breakdowns" assembles some of the country's finest theater actors--Carla Guevara-Laforteza, Reuben Uy, Jenny Jamora and Emerita Alcid-Trinidad, along with Trinidad himself.
"Breakups & Breakdowns" centers on the bittersweet complexities of falling in and out of love by presenting the intertwined and romantic narratives of four individuals--playwright Mark and his ex-girlfriend Nina and Mark's friend, Derek and another girl named Sandy.
The musical was first staged at the Ateneo De Manila University, also under Trinidad's direction, as one of the productions of Ateneo Blue Repertory. Trinidad, who says the material is loosely based on his own romantic experiences, was encouraged to bring the show to a bigger and more popular venue with the growing interest of the mainstream Filipino market in musical-theater productions.
For tickets, call 0949-7917270 or 9646562, or email upstarttickets@gmail.com.