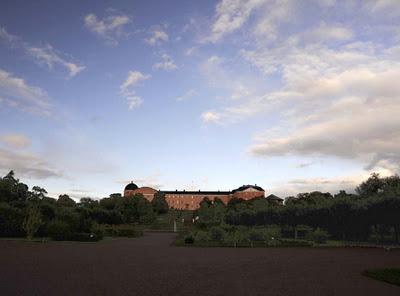 Uppsala Castle, built in 1549:  The Governor's Residence and Site of Several Museums
Last month, my husband Art spent a week in Uppsala, Sweden.  He was there for work, but he also did a little sightseeing and has agreed to share a few of his photos here.  Although I did not accompany him on this trip, I did go with him on a trip to Sweden several years ago.  I remember that as we drove from the airport to Stockholm past pine forests and rolling farmland, it was highly reminiscent of my home state of Minnesota.  Perhaps that's why so many Scandinavians emigrated to the American upper Midwest! Art's photos from this trip focus on the historic center of Uppsala, a university town of 140,000 people about an hour north of Stockholm.
A University Town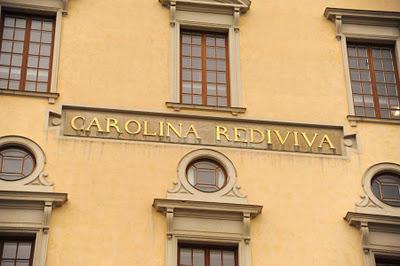 The Carolina Rediviva University Library
Uppsala University
, founded in 1477, is the oldest university in Scandinavia and one of the most distinguished universities in northern Europe.  During Art's visit, he was taken on a tour of the
Museum Gustavianum
and of the old books and map collection at the university's
Carolina Rediviva
Library
.  From early anatomical textbooks, to globes of the world made before much of the world had been explored, his photos show a room packed with historic books and documents.  My favorite picture is of a globe of the constellations showing a realistic drawing of a bear around what we usually call the Big and Little Dippers.  I've always thought it took a great deal of imagination to see those constellations (Ursa Major and Ursa Minor) as bears!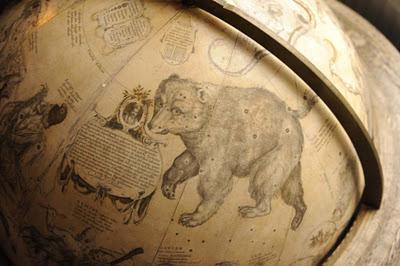 Globe of the Constellations, Carolina Rediviva Library
The Uppsala Cathedral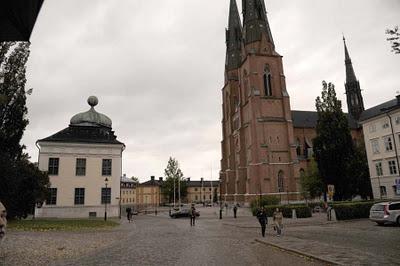 Uppsala Cathedral.  Seat of the Archbishop of the Church of Sweden
Since 1164, Uppsala has been the ecclesiastical center of Sweden.  Its most prominent building is the
Cathedral
, whose twin towers, nearly four hundred feet high, dominate the skyline.  The Cathedral, with its soaring nave and stained glass windows, is Gothic in design. When it was inaugurated in 1435 it was part of the Roman Catholic Church.  Since the Reformation, it has been part of the Lutheran Church of Sweden.  In addition to its architectural interest, the Cathedral is the burial site of many of Sweden's kings and luminaries, including botanist Carl Linnaeus.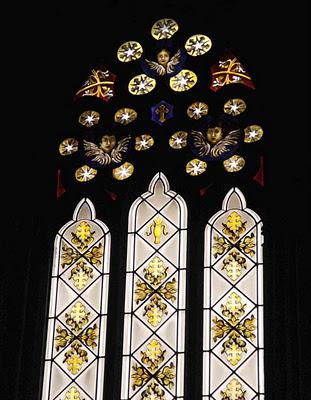 Uppsala Cathedral Stained Glass Window with Angels Above
Carl Linnaeus (1707-1778), Father of ModernTaxonomy
As I looked at Art's photos of Uppsala, I tried to imagine that it might have been somewhat similar when Linnaeus was alive and students flocked to his lectures at the university.
Carl Linnaeus
(also known as Carl von Linne) was a scientist, lecturer, writer, and passionate collector and explorer.  In his time, there was no comprehensive system for identifying and classifying plants and animals. Linnaeus' study of plants and the need to name them in an organized way motivated him to develop a two part system for naming all living things, the first part being the genus name and the second the species, as in
Homo sapiens
,
Felis domesticus
, or
Tyrannosaurus rex
.  The universal language of science in Linnaeus' time was Latin.  Today, English is the universal scientific language, but we still use Latin and Linnaeus' system for scientific names.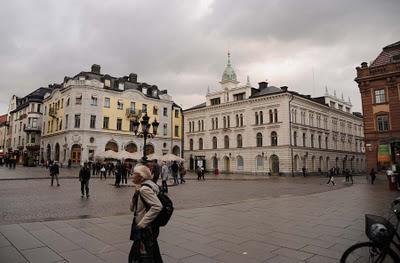 Stora Torget, the main square in Uppsala, for pedestrians only
Flatbread and Arctic Char
While in Uppsala, Art became enamored of the many varieties of flatbread that were served on the breakfast smorgasbord at his hotel.  Made from rye, wheat, whole grain, and in various degrees of thickness, this crisp bread is perfect with butter, cheese, meat or by itself as a healthy snack. Of course, you don't have to fly to Sweden to buy or eat Swedish food.  Just go to your nearest IKEA! [For an interesting article on the history and culture of IKEA, go to the October 3, 2011 issue of the
New Yorker
.]
Thanks to Art for sharing his photos!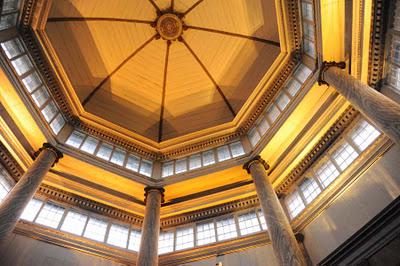 Dome of Museum Gustavianum of Uppsala University