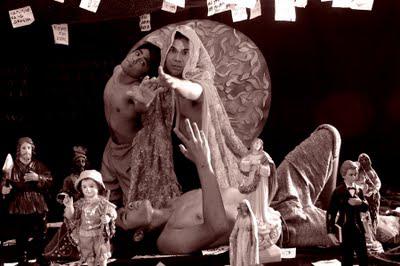 UPLB SamaSining, in cooperation with the Theatre Communication class of this semester, will be staging Eljay Deldoc's Filipino adaptation of Jose Rizal's "Junto al Pasig" at the NCAS Auditorium, University of the Philippines Los Baños, on August 31-September 3, 3 p.m. and 7 p.m.
The play will be directed by Dennis D. Gupa, with original music by Marie Angelica Dayao.
During the teenage years of Dr. Jose Rizal, he wrote "Junto al Pasig" as a commissioned work for the feast of the patroness of Ateneo, the Our Lady of Immaculate Conception. The play was first performed by Rizal's schoolmates on the December 8, 1880 at the Ateneo Municipal de Manila, with music written by a Spanish Professor, Blas Echegoyen.
In celebration of the 150th birthday of Rizal, "Junto al Pasig," or "Sa Tabing Pasig," a mostly forgotten and unknown work by the national hero, will be given life in a play that aims to rethink Rizal and gain a new perspective on colonialism, psychology and religion at the time this text was written.
Tickets are P200 each. For inquiries, contact Sophia Osorio 0917-2097350.