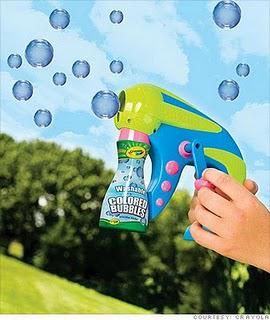 UPDATE:My mom bought the "un"washable Crayola colored bubbles for my son's birthday. She called and complained about them ruining my carpet. I got a $20.00 Crayola voucher(I am not sure how that is supposed to get the blue die out my carpeting, but I thought it was worth mentioning.)
Also, reporter Ann Zimmerman from the Wall Street Journal interviewed me this week about my experience with this product. She says I am not alone. I will put a link to her article as soon as it's posted. I am excited to see what other moms are saying about it and Crayola's response.
(Image from CNNMoney)
Watch out Crayola washable bubbles. I am out to get you. My life seems to be insanely busy lately. So I was a little miffed when I spent two hours scrubbing my carpet this morning. I wasted two precious hours! Crayola's washable bubbles say SEVEN times on the package that they are in fact washable. What does that mean to you? To me, it means they don't stain. They wash out, right? Well, not true. My son grabbed them before we could tell him to go outside and SURPRISE! I had tiny dots of blue ink on my carpet. I tried blotting them. That didn't work. I tried scrubbing them. That didn't work. Five attempts later and a little bleach and you can't see them-sort of. Oh, and did I mention the kids proceeded to use them on the deck too? You guessed it. The "washable" bubbles stain the deck too. So watch out washable bubbles! I am nowhere near forgiving you!
They do say on the package that they should be used outside. But still, they are nowhere near washable.
And to top it off, this is one of the hottest toys of 2o11. Fabulous!

So does anyone have any great tricks for getting stains out of carpet?