It's been a pretty busy month for Electric Kiwi. You may have noticed (if you've visited previously) that I've added a chat box below. I figured that since I'm online most of the time, it made sense to give people a quick way of asking a question if they'd rather not send an email. If you happen to be reading this and see that I'm online, say hi. I always appreciate the company!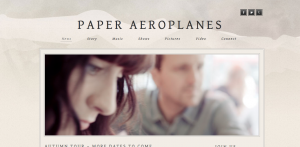 In other news, I launched the new website for Paper Aeroplanes last week. It's been such a pleasure working with a band who I enjoy listening to so much. We have some other projects in the pipeline, but for the meantime I'm not going to say any more about them!
I've also been speaking to so many talented artists on Twitter over the last couple of weeks. I'm going to put a few things in place to give them a little more exposure; a Spotify playlist, YouTube playlist and I'm considering interviewing an artist every so often on this blog here, too. All ideas at the moment, but I love introducing people to new music so it makes sense to me.
Aside from that, it's all go, go, go! We're moving forward at a steady pace, and I'm really enjoying where things are at the moment and where we're headed. Thank you once again for the support, and please keep in touch! I love hearing from you.