WebinarJam is a webinar hosting software for online marketing. For a complete overview of this software, you have to read the whole review. So let's get started here.
(Updated) WebinarJam Review 2019+Coupon Code (14 Days @$1)
Detailed WebinarJam Review
WebinarJam software is used by many businesses and industries for online marketing. It is actually a software for live casting, event streaming, and webinar broadcasting. It is compatible with all types of operating systems and along with that, it supports multiple languages, browsers, and mobile device platforms.
You can use this software to live stream broadcasts to your viewers from anywhere. With the help of this software the users can directly live stream through Facebook, Youtube or WebinarJam's private network.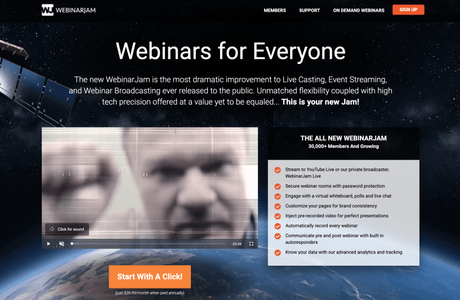 It has a dynamic and flexible layout controls which let users do Livestream either solo or invite co-presenters. It has a live chat feature also available where viewers can ask questions to the host and host can interact with them in real-time. There are many different ways available in WebinarJam through a presenter who can share their knowledge to their audience. Some of them are where they can upload videos, show slideshow presentations and much more.
It has other tools through them a host can send offers to attendees or make webinar registration pages, create events, sessions or training, send automated emails and along with that, they can get feedback on their performance.
How to use WebinarJam?
You have to follow some basic steps to use WebinarJam. But first of all, you have to download their plugin which gives you access to use this software in your browser without interference. It's better to use a computer for your presentation over a mobile phone or tablet because then you'll be able to engage with your viewers through live chat easily and the quality will be good also.
So to start you have to find the "Your Links" button on your webinar's page. This will redirect you to many different links but as a presenter, you should choose "Presenter Login Links" and then copy this link under "Live Room" and paste it into your browser.
Before starting the live stream you should check a few things like free up the space of your computer's Ram and don't waste your internet connection on things like download because it can show very poor quality of the webinar. After checking these things in last minute, you can click on "Start Event".
Features Of WebianrJam
It has many in-built templates which you can customize according to your need. Along with that it offers point and clicks converter through this feature you can edit and design registration pages through drag-and-drop capabilities and it doesn't require any type of coding which saves your time and money because then you don't need to hire a designer and you can pretty much do it on your own.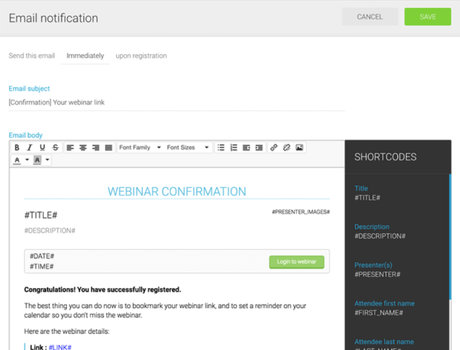 In addition to that, the automated email system helps you in managing your communications before and after the webinar. This also lets you sync your email marketing platform too. You can send reminders to your viewers before the webinar via SMS, and emails after it ends. This tool also has an auto-response function which allows you to provide all the necessary materials to your audience like cheat-sheets, PDFs, files, etc before your webinar starts.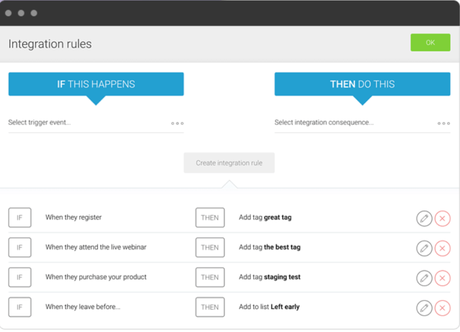 This automated email system sends different emails according to the behavior of your audience like some of them are registered for the webinar but did not attend so they will get a specific email regarding that and so on. You can control all your campaigns and webinars with the help of scheduling management. This helps you create a schedule of webinars on a daily, monthly and yearly basis.
WebinarJam offers different options to presenter and they can choose from those options according to their style and needs. Some people may not like doing the live streaming so they can do a slide-show presentation or share their screens and explain everything through that with their web camera enabled. It has all the options which you can think of like screen sharing both solo and simultaneously, presenting with PowerPoint, uploading a prerecorded video and then broadcast it during the webinar.
Different Options For Presentation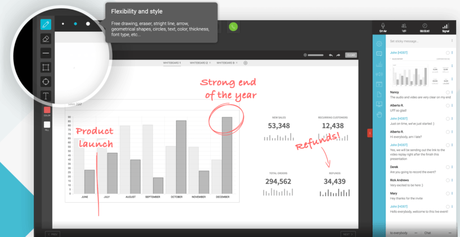 It also offers a whiteboard tool which is exactly like a blank whiteboard where you can write anything, draw shapes and lines on it and share it directly on the webinar. The transparency of the whiteboard can be easily adjusted according to your needs.
You just need to set the capacity to 0 then you can write, add text and shapes along with your sideshow or screen sharing or video presentation very easily. So for a presenter, it is very easy to use and they can choose according to their comfort zone.
WebinarJam is a really awesome way to boost your sales. This can help you in doing online marketing which can bring revenue to your business. WebinarJam Active Offers allows you to make offers that can appear on your audience's screens and then they can choose to buy your stuff directly through that offer.

You can also do affiliate marketing through WebinarJam. You can promote products of other businesses on your webinar and then the audience can choose to click on the offer or not. You can do this automatically and manually.
WebinarJam's chat option allows you to fully manage communications to improve the interaction. It has many features like public announcements, many-to-many conversations and private-to-moderate messages. You can also allow your audience to ask questions, comment and also share their screens.
This feature totally works on your terms means you can provide the permission or revoke it anytime you want along with that you can throw out those people who misbehave or spam in the chat.
This is a really great feature for teachers where they can teach their students directly and students can ask their questions directly through live chat. You can also do a Q&A session with your audience.
With all that it has polls and surveys which you can give to your audience to get their opinion on something and collect all the data in real-time. Through that, you can understand the needs of your customers and strategize according to that data.
There are many people out there who actually pay to attend an awesome webinar or a live session for consulting or a standard teaching class. Even you can charge for your webinars and the audience will pay to attend your amazing presentation. You can utilize all the tools and features to make your webinar awesome and more stylish. This will attract your audience more and more.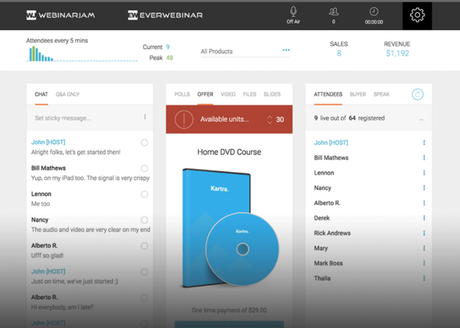 It has the feature to instantly share anytype of file to your audience, all you need to do is instantly push files to your audience. If you are a teacher and you have to distribute a homework or you want to distribute an application for or you want to deliver cheat sheet, handout or brochure then just upload all the files through the Studio Control Center and when the timing is right then shown your audience the active download link and it supports all file types. which is really awesome.
This is a globally accessible technology and it supports all kinds of OS like you can watch webinars on your Windows, Mac, Linux, Chrome, Firefox, Safari, iOS, Android. As an audience, you don't need to download the software to watch webinars. As a presenter, you have to download the software and get the premium access to avail all the features and tools.
With the help of this feature, you can send SMS to your registered audience a few minutes before your scheduled webinar starts and in this message, it will show the exact time and date of your webinar. Along with that, you can also record a voice message in which you can ask them to log into the webinar room immediately.
The system of WebinarJam will call your registrants right before your webinar starts and it will automatically play that voice message but for that integration with Twilio is required to get the feature of Voice messaging.
Who Should Consider Using it?
This software is for everyone. It has a lot of functions and flexibility so everyone can use the software easily for their business. But online entrepreneurs use this software for their business and give a boost to their sales and attract new customers.
This tool is ideal for small and medium companies, online entrepreneurs who sell products and services, teachers, influencers, coaches. HR professionals, project managers, and niche site builders. But if you are thinking to use this platform entertainment purposes then you should try other tools because WebinarJam is not for you.
Customer Support
On the official website of WebinarJam, you will see the support option from where you can get the answers to your queries instantly. It claims that they answer the question in the fastest way possible and they haven't disappointed yet. On the support, you will see a search box where you can put out your query or keyword regarding your query and it will automatically show you the best possible results of that keyword and you can find the answer to your query from there.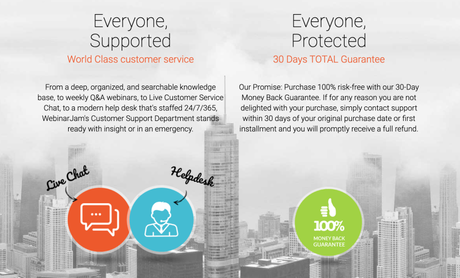 They have already given answers to frequently asked questions and to get the answers for that you need to click on the category and it will show you the answers to that. You can find answers to a lot of your questions instantly even if you don't find the answer there then you can just open a ticket or live chat and the support team will contact you as soon as they can. It has a large number of articles regarding queries and questions you can check them out.
User Interface
The User Interface of WebinarJam is really good and interaction is really smooth and as soon as you finish registration you can start doing webinars but you to completely set it up and for that, you have to follow full configuration process. In that, there are sections which you have to go through. Like initial configuration, schedules, registration, notifications, integrations, thank you page and replay.
The process is really easy and smooth. In the initial configuration phase you have to choose a name for your webinar, the title and the description along with language in which is going to happen. You can easily schedule when your webinar will be broadcast. You can choose any date or time for that there is no restriction in that. After that, you can make a registration page for your webinar for your audience and they have to fill it to get alerts of your webinars on time.
Pricing Of WebinarJam : Webinar Jam Discount Coupon Code (14 Days @$1)
It has basically three different pricing options from which you can select. It offers no free trial but for $1 you can try the features of WebinarJam for 60 days.
The basic plan of WebinarJam costs $479/year. This plan allows you to have a maximum of 3 presenters per webinar. Along with that only 500 attendees can attend your webinar per webinar. You will also get 24/7 access to their support.
The pro plan of WebinarJam costs $783/year. This plan allows you to have a maximum of 4 presenters per webinar and 1000 attendees per webinar and all the features of the basic plan. Obviously, this plan also offers 24/7 access to their support.
This plan is basically for experts and it costs $997/year. This is expensive but worth it for your business because it basically relies on webinars as a marketing tactic. This plan allows you to have a maximum number of 6 presenters per webinar and 5000 attendees per webinar along with that all the features of previous plans.
Cons
Customer Reviews: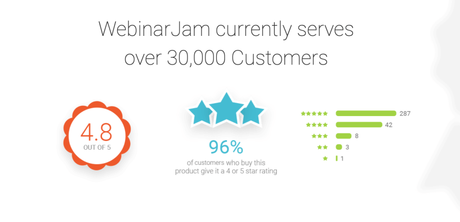 Pros and Cons
It is the least expensive in comparison to other paid options available in the market.
Facebook Live and Youtube Live Casting
Lots of features and functions
Reminders through SMS and Voice messages
It is really easy to manage even in different timezone based on your business reach.
Automated email system
Co-presenting means up to 6 presenters can present at the same time.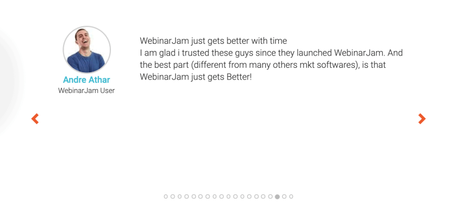 Quick Links:
There is no free trial but they offer 30 days money return policy.
Monthly subscription is not available.
There are no less expensive subscription options available in case someone does not want this many features.
Conclusion: WebinarJam Review 2019 | Should You Go For It?? Get Webinar Jam Discount Coupon Code (14 Days @$1)
The majority of people can use this software because it serves according to your purpose. It has a lot of features that a presenter can use to make their webinars more attractive and get more attendees through that.
It is the core strength of WebinarJam. You will get everything here which you can expect from a live streaming platform and it is not just a platform for live stream, there are other options available and you can choose from them.
Utilizing all the features is really easy and you can get started within just 10-15 minutes. The best thing about WebinarJam that it split their process which makes it easier for users to go through all the processes one-by-one. It can broadcast on a very large scale too. The price is expensive but you won't regret it after buying the plans because it gives you everything you need.
If you like this review on WebinarJam then don't forget to share opinions in the comment section and share it with your friends and colleagues.