is a free WordPress Custom Fields Plugin that has been designed to give developers and website owners clever custom results. The plugin is compliant to the latest Gutenberg and Meta BoxGDPR guidelines and the framework the makes quick work of customizing a website with meta boxes and custom fields in WordPress.
In this post, we have featured detailed MetaBox Review that includes detailed insights of its pricing, features, functionality and more. So let's get started here.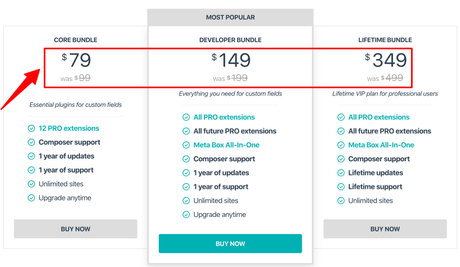 Popular amongst website developers, Meta Box is loaded with tons of options and extensions that offer you everything at your disposal so you can add only what you need. The advance API framework also helps to keep the load light. Plus, the plugin is also WordPress Multisite-compatible, allowing you to use Meta Box for more than one WordPress website!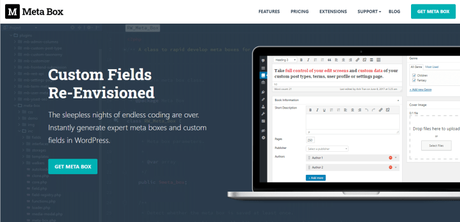 Numerous users have tagged Meta Box as "Swift & Straightforward" simply because it saves you hours of tedious work and gives expert results. It is easy to set up and works around with. So, build what you want, exactly the way you want it!
Meta Box is documented exceptionally well. The key plugin has tons of articles and is thoroughly documented for each extension. If you're already familiar with PHP, the help docs Meta Box offers you should be able to get up and go really quickly.
Meta Box is a powerful WordPress plugin that is loaded with features that have been designed to allow developers to have complete control over their websites, be it a single one or multiple websites.
Meta Box is a favorite amongst DEVELOPERS as it is lightweight, expertly-coded and open source. The options for coding with their actions and filters allow developers to extend the functionalities of their websites manifold.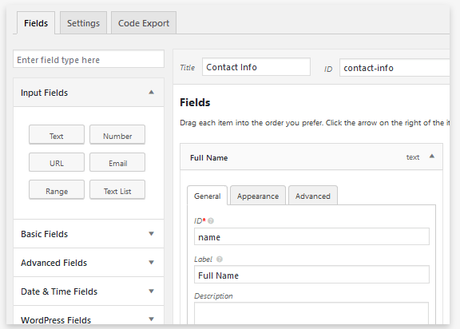 The plugin is extremely easy to set up and you can add custom fields in WordPress and start using a custom form in just a few minutes. All you need to do is select the custom options you want in their Online Generator form. Next, just copy and paste the outputted PHP into your website. THAT'S IT!
Meta Box is speedy and supercharged with quickly integrable codes and no complicated plugin options or admin pages. Also, adding custom fields to WordPress is not at all difficult or time-consuming.
The plugin is designed to work smoothly with any theme, plugin or website.
Meta Box is fully compatible with WordPress import and export functionalities, so you will never lose any of your data when you add custom fields to WordPress! CRISP migration to new sites.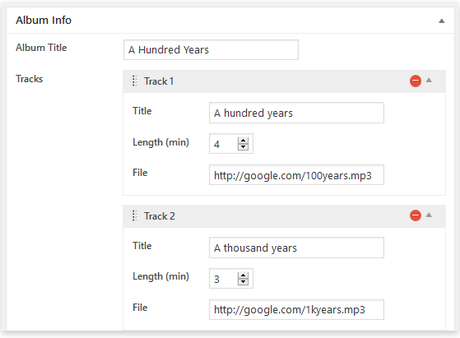 Meta Box works seamlessly and efficiently with both individual and Multisite installations. So, if you are handling more than one WP website, you'll be happy with Meta Box.
Compatibility with the latest Gutenberg and General Data Protection Regulations (GDPR) has become mandatory for website plugins. Meta Box complies with all such regulations as it doesn't store any personal data or send data to remote servers.
Anything you add to your custom WordPress fields is incorporated into your current metatable WordPress. It is compatible with existing data and, if you choose, easy to migrate.
Meta Box is hosted on Github so it is supported by top-notch developers and users around the world. When you find a bug or a new way to work with a custom meta box for WordPress, feel free to open a new issue.
Meta Box is studded with various powerful and needless to say, useful sub-tools that make your website management extremely smooth and effortless. The biggest plus is that you can install Meta Box in seconds.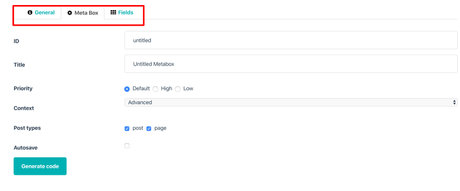 Additional Functionalities
Now that you know that Meta Box Is literally an It's like an infinitely flexible WordPress custom fields plugin, there are some more cool and useful features you should know about. Jam-packed with options that can help you create a custom-fit solution that works. Meta Box is highly customizable and makes it look like you coded everything from scratch.
Once installed, you can instantly get on with creating WordPress custom fields with the native Online Generator . You just need to choose your options, then copy and paste the automatically generated code to your website. You can even save your codes for future projects.
In case you are facing hassles in getting started, you can check out some of their default code snippets on GitHub as part of their PRE-BUILT DEMOS !
The META BOX BUILDER is a joy for new users to use. Thanks to the Drag and drop design! You don't need to have any knowledge about coding and you can create your custom fields by simply drag-dropping them onto the page.
The is perhaps the coolest extension developed in this plugin. This extension is extensively used by developers because, unlike the other extensions, it allows you to add custom fields without knowing any PHP. That means even a total non-developer, can dig in and build a Meta Box Builder custom text field or Gutenberg blocks without dropping a sweat.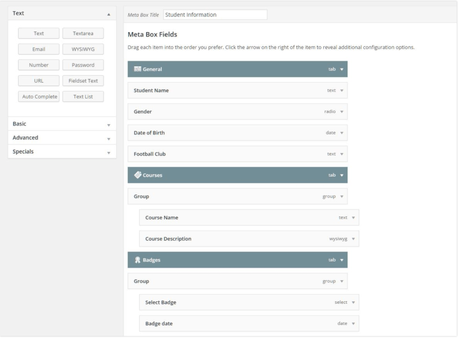 There are over 40 different FIELD TYPES offered by the plugin for data collection and they're all extremely and crisp to use.
You can easily toggle around with the FIELD SETTINGS to configure each field to meet your exact needs.
Meta Box has been designed in a way to display EVERY DATA TYPE including posts, attachments, terms, etc.
You determine what you wish to do with the fields for your website. You can add fields and reuse them with endless options by CLONING FIELDS.
This extension utilizes a smooth Drag & Drop mechanism that allows you to drag in any of the 40 + field styles and customize them to the content of your heart. It is designer-friendly and needs no programming skills. Basically, the extension can be easily used by anyone. It is also lightweight, simple to use and quick to blaze. The builder is fully compatible with all extensions of the Meta Box.
Meta Box has also developed a state-of-the-art REST API framework for the Meta Box plugin, designed to pull the values (meta value) of all custom fields from posts, pages, custom post types, terms in the meta box response of the WordPress REST API. This extension works with both posts (including pages and unique post types), words (requires and is compatible with the MB Term Meta extension) and users (requires MB User Meta).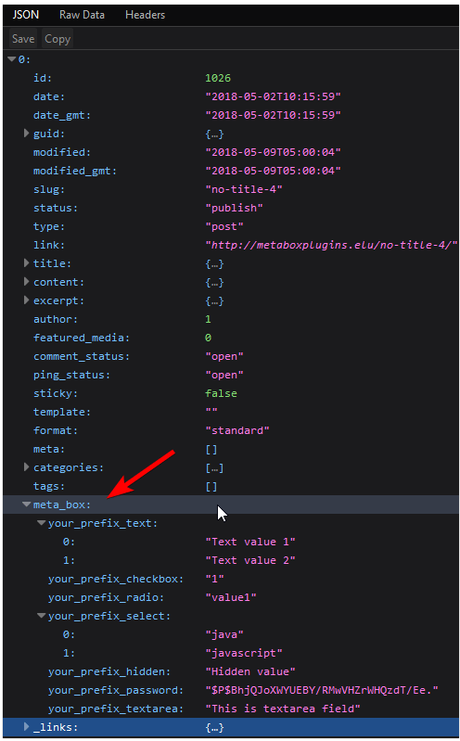 The extension is very useful when creating applications, WordPress themes using REST API, enabling you to access more posts and terms information. By default, such data is not returned by WordPress. All metadata in the Rest API answer is automatically pulled and put in a meta box button. There is nothing to customize or script. Simply install it and use it.
To install, simply go to Plugins | Add New and search for MB REST API. After that, click the Install Now button to install the plugin. Once the installation is complete, click Activate Plugin to activate the plugin. That's it! Also, don't forget to install Meta Box and WP Rest API plugins.
Amazing Premium Extensions
The above are my personal favorites, but they are not the only Meta Box extensions that you can get. All subscription options range from $19 to $29 for free websites and updates/maintenance for one year.
Favorite among Developers!
As mentioned earlier in this post, Meta Box is a developer's best friend. It is one the most popular choice in its niche as developers can add just what they need to and extend functionality to have full control of their websites through the infinite options and extensions available.
Meta Box is your new favorite WordPress custom fields plugin because you no longer have to press the "Update Now" button. All extensions provide support for auto-updating so you never miss an update or cool new apps.
The developers didn't just create and call a WordPress custom fields plugin a day. They are here for you if something goes wrong or you just have a question. Each time, each question. They have your side
Good documentation is something that Meta Box takes utmost care of because they know it facilitates the way of life of a developer. Their official website has a detailed Meta Box guide, including tutorials to add custom fields to WordPress, as well as in-depth technical topics.
Meta Box has been translated into 17 international languages to make sure that language is no longer a barrier for any of their users. The plugin is also officially supported by , the most popular multilingual plugin for WordPress, allowing you to start using Meta Box in your native language.
Meta Box currently offers 3 premium packages for developers to choose from. Starting from $79 and ranging up to $349, every successive plan is loaded with more power-packed features than the preceding one.
Essential plugins for custom fields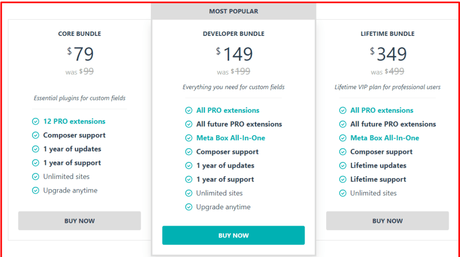 Everything you need for custom fields
CORE BUNDLE
Price: $79
Lifetime VIP plan for professional users
DEVELOPER BUNDLE
The developers have also ensured that users get 100% Satisfaction. In case you feel like their tools are not working for you the way you envisioned, then you can also claim back your money through their 14-day refund policy!
Price: $149
Quick Links: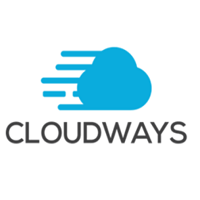 LIFETIME BUNDLE
Price: $349