If you want to take admission for most graduate schools in the United States then the GRE (Graduate Record Examinations) is the first requirement exam for you. For the Advancement of Teaching, this exam was developed in 1936 by Carnegie Foundation which is officially owned and administered by the Educational Testing Service. The GRE is also required for both master's programs (including Master of Arts, Master of Science, and even some Master of Fine Arts programs) and Ph.D. programs.
In this post, I am going to do a comparison of two of the best GRE prep guide options on the market. Princeton Review are the two best GRE prep guides in the market and my goal is to show which is the right choice for you according to your availability and learning style.
Kaplan vs Princeton Review: (Detailed Comparison)
About Princeton Review
The Princeton Review GRE course heaps up well against the competition with various in-person, live online and self-paced learning options. You can customize the level of help you need by choosing from three different types of tutors (private, master, and premier level) and prepare for the actual GRE by trying their online adaptive practice exam.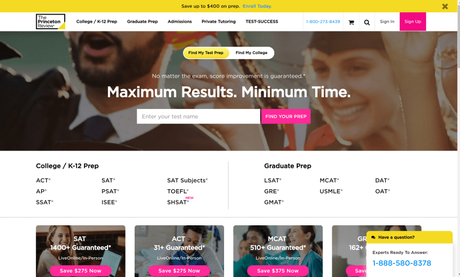 The Princeton Review's Adaptology™ teaching method makes sure that every program is customized according to every student's needs, and all live courses include one-on-one practice test reviews with your tutor. The GRE test response and react to every student's performance, and it is fitting that prep courses operate the same way.
The Princeton Review offers their online GRE Ultimate- Live Online course and their GRE Ultimate course (in person) and 24 hours of live instruction with over 180 hours of total instruction available.
All of their courses include dynamic lectures that highlight real instructors walking through the lessons. The virtual whiteboard allows you to see as an instructor indicates how to actually solve your personal problems.
DrillSmart technology is one of the best features of The Princeton Review. This technology offers adaptive questions based on your performance just as the actual test. Every DrillSmart session starts with a calibration question, which identifies the difficulty of the remaining drill.

This will help you to practice at a level that will challenge you without giving you problems that are too far out of your current skill set, but it also gives you the shot to get comfortable with the adaptive feature of the test itself.
About Kaplan

Kaplan GRE is a powerhouse in exam prep. There are live courses all over the country and currently, it is available in 40+ states. There are several customizable online course options, free GRE study resources, and a money-back guarantee. Kaplan is a worthy choice for GRE preparation because you can take advantage of Kaplan's 180+ hours of content, 7 full-length computer tests and 5000+ practice items to qualify for the GRE.
The Kaplan courses are available in-person test prep course as well with classes in 46 states. If you like studying in a classroom then Kaplan may be the best option for you. Kaplan has the most location and timing options of all test prep courses currently on the market.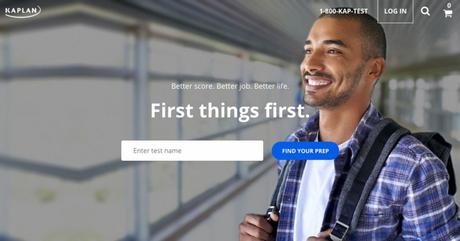 This GRE test prep has produced an extensive library of materials which is probably their best feature. Kaplan offers 7 full-length practice exams sets which are more than any of their competitors, more practice questions, offline resources, and a GRE test prep channel that gives you live skills, strategy tips, and lessons.
Kaplan contains a large catalog of video sessions, practice questions, tests and other materials that an average student can hardly complete all of them. This may seem like an overdose to some but most of the students can assure that there is enough content for their weak areas. With the help of this huge content, they can learn the basics and improve to expert level.
Now moving to the comparison between The Princeton Review and Find out which is the best option you according to your needs.
Kaplan vs Princeton Review: Course Validity
The Princeton Review offers 4 months of access to their online prep materials where Kaplan offers you 6 months of access to their online prep course. It means Kaplan gives you more time to prepare for the GRE. Don't worry, both courses has an option to retake a course or extend your access if you are not satisfied with your progress.
Kaplan vs Princeton Review: Books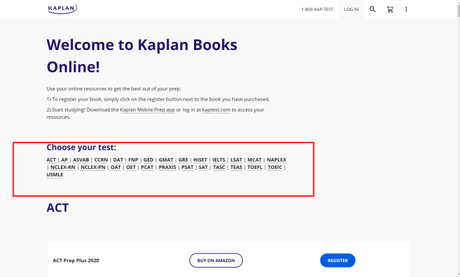 There are two primary textbook options available for Kaplan. Both books can be explored on their site and you can buy it through Amazon. GRE Prep ($16) and GRE Prep Plus ($28) have its test-taking strategies, a physical and an online practice test. You can access to Kaplan faculty for Q&A on their Facebook page. The Plus option adds an extra online test and useful QuizBank tool. Kaplan is also a mobile-friendly platform.
The Princeton Review has textbook options ranging from $10-40, and it also has an upper range available which is a bit more expensive than Kaplan. The Princeton Review carries the day on the strength of their flexibility that's why their site contains over 20 textbook options. Princeton Review has subject-specific drill books to comprehensive strategies and practice sets. This is your call to choose the right book for your GRE prep.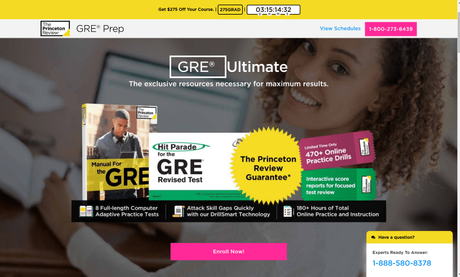 Kaplan vs Princeton Review: Practice Exam Sets
The Princeton Review offers 8 full-length, computer-adaptive practice exams where Kaplan offers 7 full-length practice exams. The best way to boost and improve your performance you have to develop the stamina to take GRE full-length practice tests and both Kaplan and Princeton Review gives you the best opportunity to enhance your ability.
Practice Questions are the heart of GRE prep and Kaplan puts its best foot forward in this field. Kaplan provides two personal practice options: QuizBank ($69 value including 2500+ GRE questions and quizzes you can customize by difficulty and subject-matter) and Practice Pack ($149 value including QuizBank, practice tests, and mobile flashcards). But if you want to take one step further, there is the Kaplan-exclusive Official Test Day Experience($150), which offers you to take the practice test and simulate all aspects of GRE test day.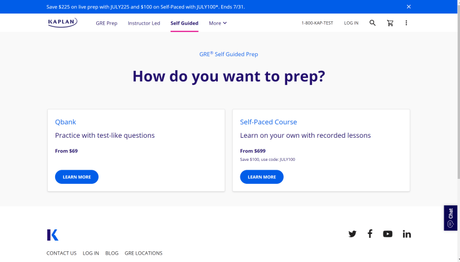 Where the Princeton Review does not offer separate practice sets (apart from their textbooks described above). They do provide potential users with a free practice test, a free live seminar, and a 14-day trial but it includes only a limited sample of their online course materials.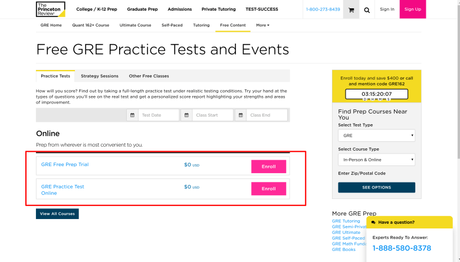 In terms of practice materials offered in the course, both Princeton Review and Kaplan provide an excess of content.
Kaplan vs Princeton Review: Video Sessions
Kaplan's online material contains 8 recorded instructional video sessions, over 5,000 practice questions, QuizBank (It creates custom quizzes based on difficulty and subject), 7 full-length practice sets, 180 hours of online instruction and practice, Email-based support, and GRE textbooks: GRE Premier: Course Book Edition, GRE Math Workbook, GRE Verbal Workbook, and GRE Pocket Reference (Kindle option available), and a flashcard app.
Where the Princeton Review offers 24 hours of recorded video sessions by GRE test experts, 470+ practice drills, 8 full-length and adaptive practice sets, over 3500 practice questions, and the unique Princeton Review higher score guarantee - you'll score higher or they will refund your tuition. The Princeton Review also offers an entire year of access if you are unsatisfied for any reason (regardless of score) because of this guarantee.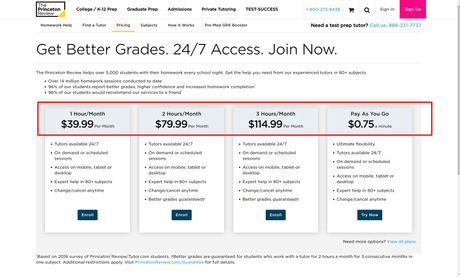 When it comes to the quality and content of their recorded video lectures, Kaplan and Princeton Review go even-steven. Both feature tutors with extensive training in GRE strategies and their teaching methods are similar. When you watch the video recordings you will feel like you are in the room with the tutor rather than listening watching through a screen.
Kaplan vs Princeton Review: Flashcards
The Princeton Review provides adaptive flashcards which are accessible with the online course materials. They don't have any mobile app, but just like with their practice questions sets, there are options to buy Princeton Review physical flashcard packs. There are 500 card packs which focus on vocabulary and sentence structure and you can buy it for $13 on Amazon.
Your online materials come completely free access with Kaplan to their mobile app. Kaplan includes a sleek interface designed for flashcards. Kaplan's flashcard library shows common GRE vocabulary. It allows you to personalize your card stack and track your performance.
Kaplan vs Princeton Review: Course Formats
Both Princeton Review and Kaplan test-prep companies offer an excess of package and format options. Selecting the right one for you is important but it can be challenging to screen through all of the courses on offer.
The Princeton Review GRE Formats: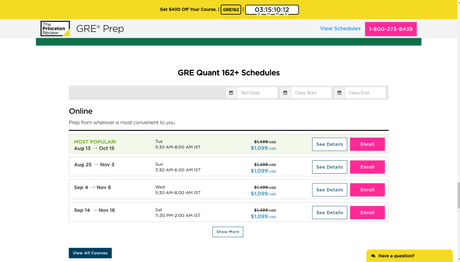 Self-Paced Online ($499): Recorded video sessions, 8 adaptive computer tests (with course report), DrillSmart technology, which curates lessons in response to your unique subject performance.
Ultimate Live Online ($899): All self-paced features and 180+ hours of a total teaching, 24 hours of live instruction, drills, and thousands of practice questions.
Private Tutoring ($1800 or $3000): You can get access to personal, live instructor in person or online for 15 to 18 hours. You can study for one or two days each week, with extreme adaptability to make scheduling for your unique availability a breeze. Princeton tutoring also comes with a guarantee.
Kaplan GRE Course Formats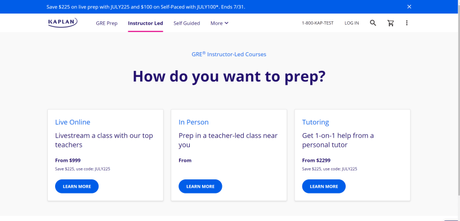 Self-Paced Online ($699): With Kaplan, you will 18 hours of video instruction, The Official Test Day Experience, 7 full-adaptive computer tests, 180+ hours of instruction, QuizBank, 2 prep books. Online Plus option has extra 35 hours of live instruction for an extra $200.
Live Online ($999): In this section, you will get All Plus options, plus extra 3 hours of online instruction. Plus options increases 3 hours 1-on-1 for an extra $300.
Private Tutoring ($2199, $3299, $4399): You will get access to complete in-person or live online course and a unique study plan with a personal GRE coach, price options are for 15, 25 or 35-hour plans.
Both companies provide almost similar structures to their courses but the value of Princeton Review is higher and most of the unique Kaplan features coming in their expensive Plus package option. As an example, in Live Online Plus, you will get a 3-hour taste of Kaplan's private tutoring. If you are a private type of student then you might like Kaplan's private tutoring. This may be helpful but you still might need the full package anyway in order to obtain the full rewards.
Kaplan vs Princeton Review: Retake Options
Sometimes things don't go as you planned. As you find these review course is not getting the standards as you expected or you don't see any improvement. So, don't worry about it, there are several options of refunding or retaking the review course.
If your GRE score doesn't improve after completing an entire course of Kaplan, you will able for a full refund. In another way, if you are not happy with your course or GRE score for some reason, you may retake the same course without any cost. Remember one thing, if you select the retake option, you will no longer be qualified for a refund. For more details and policies of retake and refund check the official website of Kaplan.
Where Princeton Review offers some impressive guarantees. With the Readiness Guarantee, you will be eligible to retake the same course or one of their new courses if available. With Princeton Review you can continue working for one more year if you complete the course but not satisfied with your results (no matter what is your GRE score). You can say thanks to their Satisfaction Guarantee. At last when you find out that your has not improved yet (and you met all requirements during your GRE prep) then you can request for a full refund of your tuition. As you know there are some terms and conditions for every situation then make sure you check the Princeton Review website for full information.
Kaplan vs Princeton Review: Pricing
For the original price comparison, you can look at the standard Self-Paced and Live Online test prep options offered by both companies. But don't forget that each of the platforms provides their own unique add-ons and special deals which I have discussed before.
The cost of Self-Paced package of the Princeton Review is $499 which is significantly cheaper than Kaplan's $699 Self-Paced test prep. But if we talk about Live Online test prep, Kaplan initially costs cheaper at $999 in comparison of Princeton Review's $1199.
There is one thing that you should keep in your mind that Kaplan offers 2 months extra than Princeton Review which might be a deciding factor for anyone.
Additional Features
Kaplan

There may be some students who are not ready to commit the whole course or tutoring package or maybe they want only refresh just a few specific skills, that's why Kaplan offers some smaller package for you. For those students who already feel like they are comfortable with their skills and already caught up on the fundamentals but they want to practice using their skills with GRE questions, Kaplan offers a special package, including:
For those students who haven't done maths since high school, or feel a little out of practice, Kaplan offers a Rapid Review Live for GRE math which allows you to refresh your mathematical skills. I think this is the perfect way to get an introduction to Kaplan online courses, quickly review foundational math topics, and you can learn GRE specific strategies from Kaplan's expert tutors.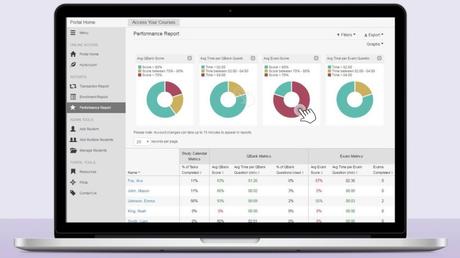 When you ask about free stuff from the Kaplan website, you can get free information about the GRE and the process of the graduate school application. You can register to get free 20-minute workouts (try out GRE practice questions, get solutions and explanations), register to receive one free sample question a day for three months, gain quick access to live practice test options, a sample test, and a pop quiz.
Additionally, Kaplan offers free GRE prep events as free resources on their website which includes online overviews, sample classes, and strategy sessions. To test out the service, Kaplan offers you access to a free GRE Prep Starter Pack for 7 days which includes on-demand lessons, a study plan, and skill-building drills.
The Princeton Review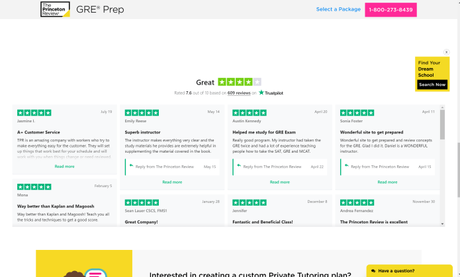 The Princeton Review is the only GRE prep course which offers you essay feedback. With the LiveGrader tool, you can submit your essays and one of their experts will score your essay and give you advice on how to sharpen your essay-writing skills for a higher score on the exam.
This may be the turning point which can make a critical difference when it comes to an actual exam. It is hard to ignore bad writing habits, and having a flexible grader reviewing your writing and offering individualized feedback is important. When there is no one giving feedback negative habits can actually be enhanced through practice, rather than fixed.
The Princeton Review course is accessible for 120 days and it includes 2 practice tests, a small selection of questions and drills, and a diagnostic test. There are some students who need a more comprehensive review, they can choose from live and self-paced options which totally depend on their learning style.
Access to QuizBank (with 2500+ practice questions)
A Practice Pack with the access of full-length practice sets and the QuizBank
Only the Official Test Day Experience
Private practice test reviews with an instructor are listed in every live course option, and you will get opportunities to connect with your instructors outside of the classroom, which is ideal for students looking for more personal attention.

Similarly, the Adaptology™ teaching method automatically customizes classwork and homework to each student's skill level to focus on the areas that need to be improved. The LiveGrader tool gives students feedback on their GRE practice essays which many GRE prep courses either do not address at all or treat as a reconsideration.
Also Read:
Conclusion: Which Is Better: Kaplan vs Princeton Review 2019?
So, you have seen both of the companies but which is the best option for you, this may be the hardest call for anyone because Kaplan offers their unique QuizBank, mobile accessibility and an extra 2 months of access where the Princeton Review offers better prices and options across all formats, consistent discount, a bunch of physical study materials, and multiple satisfaction guarantees.
So now it's your job to find which one is the best for your further GRE prep.