You would often find it difficult to find the solutions to the questions for the homework assigned to you in school.
You might not be sure if the solutions are right or not. Well!! I have got a great platform for you. Course Hero is a great platform to master your class.
In this post, I would be featuring the online learning platform Course Hero Review 2019 would also give a brief review of the courses offered and the kind of services that they give.
A brief comparison of the pros and cons of doing courses at Course Hero would also be discussed so that you have a general idea of what you are going for, before opting to pursue any course from Course Hero.
Course Hero Review 2019: Does It Master Your Classes With Study Materials?
About Course Hero
Course Hero is an online platform which provides course-specific study resources and materials which are contributed by students as well as educators. It covers over 25 million course-specific resources, which is a big figure in itself. You can also find practice sheets, study guides, and manuals, videos, class notes, as well as a step-by-step explanation for each and every subject that you start studying here at Course Hero, which makes learning very convenient and hustle-free.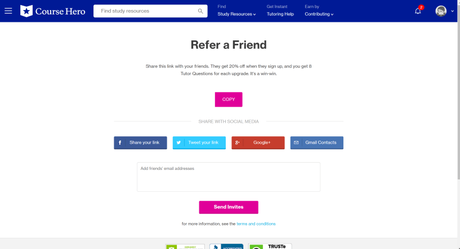 They cover almost every subject, be it Economics, or literature, or biology, or history, accounting, or psychology, and everything in between, which you could possibly think of.
You will get a whole set of practice problems, study guides, videos, class notes, as well as a detailed explanation of each and every subject available here. All in all, it is one of the best learning platforms that are there today, so, worry not, you would not be disappointed at all.
Let's have a look at some of the best features of Course Hero.
Scholarships:
Yes, you heard right. You also get a scholarship if you study at Course Hero. These Course Hero scholarships are updated regularly, so you need to check them every now and then, and keep applying until you get one.
Also, you can apply for as many scholarships as you want as long as you qualify. Remember, to increase your chances of getting selected, you need to give proper and unique, thoughtful and creative responses to help set you apart, as well as apply for multiple scholarships, again, keep coming back to the site regularly to check if any new scholarship has been updated and apply quickly before the last date passes.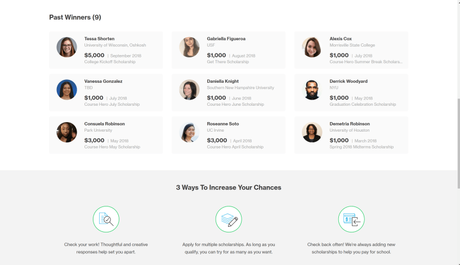 Along with these quick hacks that I gave you to help you get that scholarship, here are some of the currently active scholarships that you can check out at the official site too:
The winner gets a $5,000 scholarship, and there is only one winner for this. The deadline is the last day of the month and approximate time for application 10 minutes.
The winner gets a $5,000 scholarship, and there will only be one winner for this. The approximate time for the application is 10 minutes. The deadline is April 15, 2019.
The amount of this scholarship is $10,000, and there will be only one winner for this too. The deadline for this is October 31,2019. The approximate time for this application is c minutes.
Courses at Course Hero:
Course Hero gives access to all the subjects and courses. You can proceed by finding your school or just choosing the subject you wish to get help for.
There are 8 subjects in all and each of them contains sub-topics. Each of the subjects has over 1 million questions and 100,000+ questions in them. You can also sort by the book you want.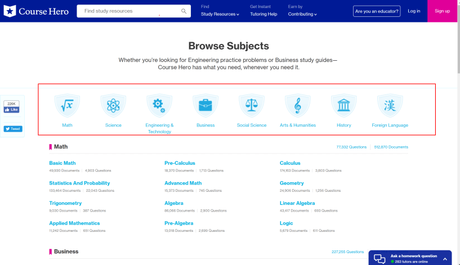 Just choose the book name and you can find the explanation and the questions for them.
Course Hero: Setting Up Account
Setting up your account with course hero is very easy, no rocket science. All you need to do is, log in to your account and follow the following simple steps to get your course, document, or a question unarchived:
The course would then appear in your active courses' list.
For a course-
You need to change the filter that is present at the right hand of the screen from 'active' to 'archived'.
Then, you need to click the three vertical dots that are displayed on the course you would archive, and then select 'unarchive'.
For a study document or any question-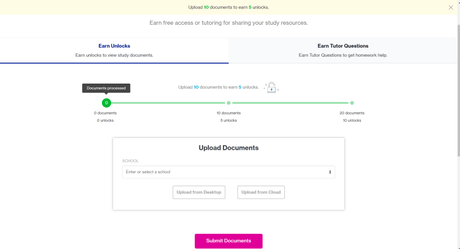 First of all, you need to select 'my library', which you will find on the left-hand navigation panel, and then change the filter, which will be found at the top right-corner, from 'active' to 'archived'.
Next, click on the three vertical dots which are on the study document or Tutor question and select 'unarchive'.
And that is it. You are done here. Wasn't that simple?
Adding Course to Course Hero:
You can simply log in to your account and then click the 'Add a course' button, which you will find in the center of your study dashboard.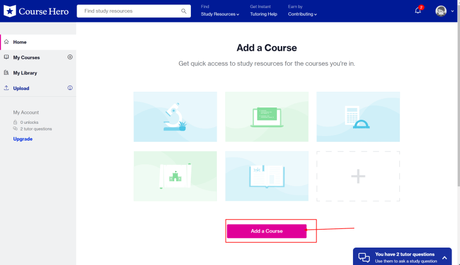 Then you will have to follow a series of simple steps to add the courses in which you are currently enrolled. Adding a course to the dashboard helps you to have quick access to that course page and the study materials related to that. And once you complete the course, you can archive it very easily so that your study dashboard displays only the current courses of yours.
Course Hero Pricing:
The pricing plans for Course Hero are quite affordable and you can choose out of monthly, quarterly or annual plan.

If you are uploading documents, you will get paid from $0.50 to $0.75 per document for uploading documents that are useful.
For tutoring, you will be paid somewhere around $1 to $5 that depends on your complexity of the question. When you unpack a single question, there might be other questions too inside.
​ A common problem with online jobs is not the pay-per-task, but the inconsistency of available work. If you combine Course Hero with other methods of making money online though, you'll always have a pocket full of extra money
Since the company, Course Hero is US-based, all prices of all the courses on the website of are in US dollars. And if you are located outside of US, then keep potential currency conversions in mind, according to the currency you have, when making purchases at Course Hero.
What if I don't like Course Hero after subscription?
You can cancel your current subscription at any time so that you are not charged any further. But this will not automatically refund any recent or any new recurring charges.
However, to cancel your current subscription, you can follow
Once you do all these steps carefully, you will receive an email confirming your cancellation. Once the membership expires or gets canceled successfully, your account will return to a Basic account, i.e. you will have Premier access until then.
Career:
When it comes to career opportunities that Course Hero has to offer, there are endless options through which you can join the team and help in creating a change. Course Hero is more than happy to partner with tutors and educators to help their students achieve their academic goals. So, if you share the same passion and vision as the team at Course Hero does, then you are the right person.
You will get the chance to impact the lives of more than 10 million students and how? You will be helping them to create a better future for themselves and transform the world with their knowledge.
You need to log in to your account, and take the cursor to the profile picture to visit your 'Account settings'.
Then you need to click the 'Stop Recurring Membership' button.
Then simply follow the instructions given on the page to confirm the cancellation.
Is Course Hero Legit?
I would say, Yes. The two most affordable online tutoring platforms are Chegg and Course Hero. Your subscription is taken care of and you would never feel looted.
Based on the eligibility requirements, your Premier subscription fee will be refunded if you are unable to earn a higher GPA in the academic term during which you first subscribed for the course learning at Course Hero, as compared to the academic term immediately prior to your subscription.
Talking about the eligibility for Better Grades Guarantee, you are needed to have used Course Hero in the last six months and should also have unlocked at least six study resources or must have asked at least three questions from the tutor, and when all these points are satisfied, then, you must apply for the refund within six months after the date of first registering as a paying subscriber at Course Hero.
Customer-focused - Course Hero has been succeeding just by prioritizing their customers more than anything else, and that too both current as well as future, and satisfy them in every possible way by solving their issues with an exceptional experience.
Responsible - Each team member at Course Hero knows his responsibility and takes smart, strategic risks and also, they are accountable for the whole company's success and failure. The team takes pride in making progress, and enabling the others to do the same.
Collaborative - Course Hero comes together to give better results than anyone could give on their own, and this is only possible because of the ceaseless hard work and dedication that they put by coming together as a whole team.
Always learning - each member at Course Hero has a strong desire to keep learning and updating their knowledge as per the needs and demands of the society. They try every bit to net let the fear of failure get in the way of their students.
Gritty -The team at Course Hero knows that every step in this journey of transformation counts and so they think strategically every time as to how to create great outcomes for the company.
Why Should You Choose Course Hero?
Course Hero has been providing an open platform for all the learners who are willing to learn out there, where they can learn and share study resources and also get access to high-quality resources. You can master your classes with millions of study resources that are provided here and that too related to all the subjects that one could possibly look for.
And yeah, these are available 24/7, so you do not have to worry about your study shift-learn as per your convenience and comfort.
Course Hero has the vision to create a world where every student can graduate, all confident and prepared for further battles in life, they believe in supporting the learning of students together.
They have understood that usually, the road to graduation is not all hunky-dory, but actually, it is all stressful, and debt-ridden uphill battle sometimes, that almost 40 percent of students fail, and that is a fail that Course Hero takes on itself. That is the only reason that the company has come up with educators to help and support student learning and complement what is happening in the classroom so that they do not fail anymore, and learning is no more a burden for them, this is what Course Hero has envisioned over time.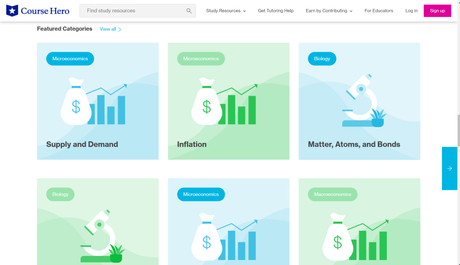 Course Hero is working in every possible way to bring more students to the podium on graduation day, and be proud for what they have accomplished, and be all set and ready to build great lives for themselves and win the further battles of life. Course Hero aims every bit to get them there. Above all the perks, you also get a scholarship for the studies, yes, thank me later!
Refer-a-friend Program:
We all know that studying is all better when you have friends around you, to share their perspective on the subjects, and this concept has been brought here in this refer-a-friend program.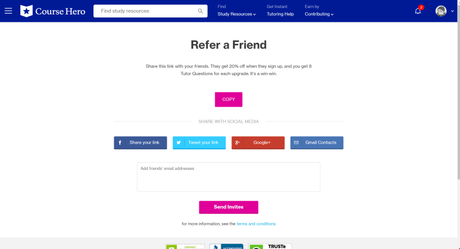 What you need to do is, tell your friends how amazingly superb Course Hero platform is, and what you get in return is- eight tutor questions for each friend who becomes a premier member of Course Hero. And not just this, your friend who joins also gets something- A 20% off their first membership purchase. So, it's a win-win situation. To know more, visit the site.
FAQs about Course Hero:
Through the tutor questions facility, you can get help from the 24/7 online tutors available at Course Hero. Once you create an account at Course Hero, You get two free tutor questions, which would be valid for 30 days.
And you can also pay for tutor questions for $3. And not just this, with each Premier Membership, you get some designated amount of tutor questions, which again would depend upon the membership package that you are going for. The tutor questions which will be unused, get expired upon the expiration or cancelation of any membership that you had earlier, and cannot be redeemed for cash.
No, tutor questions cannot be redeemed into cash under any circumstances.
The only restriction that applies to tutor questions is that you will be required to verify your credit or debit card before you can redeem tutor questions.
There is a platform guideline, and Honor code policies that ensure that the questions that you ask meet them. And all the asked questions must go through the standard quality check before they can be received by the tutors and the tutor could give back the explanations on them.
If a question has been sent back to you for revision, you can simply update it by going back to the question that you formed and then check and follow the provided feedback comments on how to make the appropriate updates in them so that they satisfy the eligibility criteria.
Can I redeem tutor questions for cash?
Conclusion: Is Course Hero the Right Choice to Master Your Class?
Course Hero is an online learning platform where you can get millions of study materials and resources that would help you in better learning and improving your class performance. The Course Hero is working every bit to help the students and educators create a world that has more graduates and make this world a better place.
What restrictions apply to tutor questions?
Course Hero is an education technology website that is based out of Redwood City, California, that is trusted among the students across the globe for a quality learning, with the aid of practice tests, 24/7 tutor questioning facility, lab reports, essays and a lot more of resources. The questions that are submitted, are paired with the answers provided by the tutors, and also the original study materials created and uploaded by the educators.
I have fondly used the Course Hero for a lot of time and I have loved the tutors and the online tutoring methods.
Why was the question that I sent was sent back to me for revision? And how should I fix this issue?
So, with all these features in my Course Hero Review, it has a lot to offer, and all the quality education that it has been offering, I do not see any reason to not try their services out, as they are offering one of a kind education quality.