I just re-wrote the bio page on my website, which I think is a good thing for every artist to try to do about once a year.  After all, it is the quickest way for someone who's never heard of you to get an impression of what you do and what you're all about.  The previous version was very informal and conversational, which was fun, but now I think it covers more bases and is a bit more professional.  (Of course, next year I'll look at it and think, "Ugh–OMG I need to update this!")  But for now, I like it!
Here's my new bio:
What I do
I paint dramatic trees in a realistic style, colorful flowers in a decorative, semi-abstract style, and cosmic landscapes from my imagination.  I paint in water mixable oils on canvas or hardboard, painting quickly in no more than 2 or 3 layers, and often alla prima, or all in one sitting.  A painting can take anywhere from a couple hours to a few weeks to finish.  My larger paintings often take weeks because I'll paint one layer and then come back to it later to add subsequent layers of paint.  I tend to block in the whole canvas with color as fast as I can, and then go back over that with progressively more detail.
Why I do it
I make paintings because I want to add beautiful things to the world.  I think of this as good karma.  I want to express my love for life and my sense of awe at the immensity, and the simplicity, of the natural world when seen through our eyes.  I think of humanity not as separate from nature, but as an integrated piece of the whole, and I want to cultivate a respect for nature.  When I'm working I think about peaceful things—the lovely elegance in the petals of a flower, the interplay of vast celestial bodies seen from afar, or the feeling of hiking in the woods surrounded by greenery, sunshine, and forest sounds.  I am inspired by the wisdom and all-encompassing influence of Mother Nature in relation to us humans.
How I got here
I began teaching myself to paint at a very young age.  As a small child I was interested in art, as most children are, but I became really focused on painting around the age of 12.  This is when I sold my first painting.  I was a serious student and graduated high school first in my class.  By that time, I'd started thinking of myself as an artist.  During my college years I worked as an art instructor at a local community college.  I delved into jewelry design, pottery, and photography, but always came back to my greatest passion, painting.  In 2005, I graduated with a 4.0 GPA from Goucher College in Baltimore, Maryland with a degree in studio art and honors in the major.  This is when I began my career in earnest, my whole life having led me to the genesis of my business, Art By Cedar.  I had my first solo show in a gallery in 2006.  Since then my work has been featured in solo and group exhibitions in galleries, arts centers, and alternative venues in the Baltimore area and beyond.  I am represented by several art galleries in the United States, and I've sold many paintings to art collectors around the world, who often find my work through my presence on the Internet.
More about me
I make my home, for now, in Baltimore, MD.  My art studio is beautiful and well-appointed, and takes up the entire basement of my house.  I always say I am extremely lucky because the walls of my home are like an art gallery!  I am married to a computer geek, my love and best friend, who was my high school sweetheart.  We have a young son, a dog, and a cat.  I create paintings, pack and ship them, market my work and run my business in short spurts of activity, in between being a mom, working out, voraciously reading novels, gardening, traveling the world, cooking and enjoying local organic food.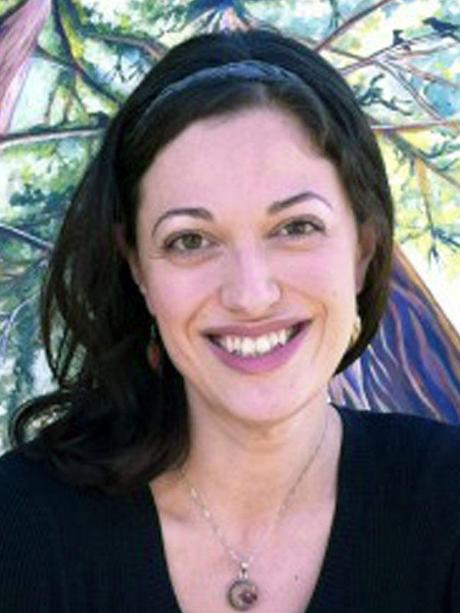 Artist's Statement
Nature themes are prominent in my artwork.  Whether I am painting a towering evergreen, a fall tree in vibrant reds and oranges, a stylized scene from a lotus pond, a happy sunflower, or an imaginary swirling cosmic landscape, my paintings are always about nature's exhilarating beauty and the awe it inspires in me. I work from life, from photographs, and from my imagination, sometimes combining all these things into one image, using elements of both realism and abstraction. My goal is to combine vivid color, light, composition, and content to create sincere, spiritual, lasting images that invoke the excitement we humans can feel at being a small part of something incredibly big and interconnected. My art is an exercise in wonder and gratitude.
My medium of choice is oil colors on canvas. I tend to work rather quickly, which helps me get everything out on the canvas the way I imagine it. My processes range from careful and precise photorealism to extremely loose abstraction, but my work always remains representative of things in the physical world.