Earlier there were only 2 fatalities from this shooting.   It has been a busy news day in Cupertino, California where Apple has it's headquarters, and from which the announcement about Steve Jobs was issued. 
There have been a number of manhunts around the country featured in the news today.  I have to admit this one appears impressive - and expensive.While the only information available so far suggests someone who was disgruntled, and simply snapped, an impulsive act, the number of weapons quickly to hand suggests to me that there may have been more planning behind these events, at least so far as the shootings of the employees at the quarry.
My emphasis has been added with the larger type in the body of the article -DG.
NBC, msnbc.com and news services
updated 10/5/2011 6:54:24 PM ET
Manhunt after 3 die in Calif. workplace shooting
Neighbor: Suspect was upset he had been moved from day shift to night shift
Visit msnbc.com for
breaking news
, world news, and news about the economy
CUPERTINO, Calif. —
SWAT teams were searching door to door with guns drawn Wednesday after a gunman killed three co-workers and wounded six at a morning meeting at a quarry in this Northern California city.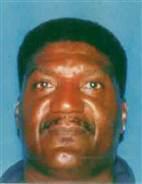 City of Cupertino via AP
Shareef Allman Schools were on lockdown or closed in the Silicon Valley city of Cupertino and nearby Los Gatos as police searched for the suspect, Shareef Allman, 47.
Two people died at the scene and a third died several hours later at a local hospital.
Two brothers, who were also union leaders at the quarry, were among the victims,
NBC affiliate KNTV reported
, quoting a brother of the men. One of the men died and the other was wounded, KNTV reported.
Potential reductions in employee hours at the quarry were cited as a possible reason for the shooting, but one of Allman's neighbors
told the San Jose Mercury News
that he had been upset over having been moved from the day shift to the night shift.
That move interfered with his plans to spend more time with his teenage daughter, Rose Douglas said.
Allman also is suspected of wounding a woman in an attempted carjacking more than two hours later.
Santa Clara County Sheriff's Lt. Rick Sung said Allman was at the routine safety meeting at 4:30 a.m., became disgruntled and left. He said Allman then returned and started shooting people at the quarry inside the Permanente Cement Plant.
One of the victims, now in critical condition, was shot in the face outside of the meeting room, according to a sheriff's deputy at the scene who declined to be named.
Video: New details on workplace shooting suspect
Allman, from San Jose, reportedly was carrying a 9mm handgun and a rifle at the quarry.
"The only reports we have right now is that he was disgruntled and he was unhappy. Whether it was work-related or home-related, we don't know at this point," said Santa Clara County Sheriff's spokesman Jose Cardoza.
Hosts public access TV show
Allman is a truck operator at the quarry. He also produces and hosts a public access television show for CreaTV in San Jose.
He was one of 130 series producers who came in once a month and provided content, said Suzanne St. John-Crane, executive director of CreaTV. She said she had spoken with him numerous times but did not know him well.
"Based on what we know now, we're shocked and devastated and feel for the families of the victims," St. John-Crane told The Associated Press. "But he didn't work here. I want to make that clear. We're very frightened."
Business records show that in 2004, Allman started a youth development organization called Helping Hands Changing Hearts, which listed its location as Allman's home address. However, the IRS automatically revoked the organization's exempt status as a nonprofit for failure to file proper tax forms for three consecutive years, records showed.
The shootings rattled those who know Allman, said Paulette Conner, a neighbor in his San Jose apartment complex. Police were still talking to Allman's teenage daughter inside their apartment late Wednesday morning, she said.
"He's always had a smile on his face," said Conner, 57, who has known Allman for five years. "I've never known him to have any violent tendencies. Never. Ever."
Conner said Allman occasionally griped to her and others over the years about his job, including his various shift changes and some co-workers, but she never imagined that he could do something violent. She said Allman is a local fixture who has been heavily involved in San Jose's black community.
"He is very kind, sociable person and a really good father," Conner said. "I've never known him to be a mean person."
A friend of Allman who once worked with him as a club bouncer said he was a strong Christian and even aspired to be a comedian. "As a bouncer he always had to be peaceful. He was always able to resolve conflict and be in control," James Ragland told the San Jose Mercury News.
Woman later shot near workplace
After leaving the quarry, the suspect reportedly attempted a carjacking at the parking lot of a Hewlett-Packard building in Sunnyvale, shooting a female driver in the leg. He did not manage to get the car from her and fled on foot, leaving behind his vehicle
Police recovered four guns used in the attack, one of which was a fully-loaded AK-47 or SKS assault rifle, roughly 150 yards from Allman's tan Mercury Cougar, the sheriff's deputy at the scene said.
The deputy said Allman was scared away from the HP parking lot by another person in the lot. That woman got out of her car, startling Allman, who fired shots at and hit her car before fleeing on foot, he said.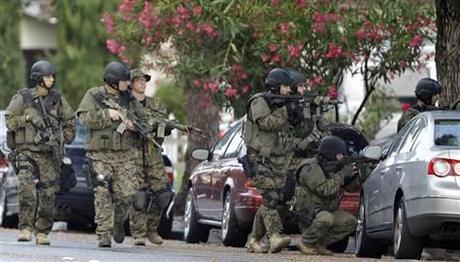 Paul Sakuma

 / 

AP
Police search a neighborhood in Cupertino, Calif., Wednesday looking for Shareef Allman. Three of the victims were taken to Santa Clara Valley Medical Center, including the woman shot in the carjacking, hospital spokeswoman Joy Alexiou said. One victim was treated and released, while the other two were in fair condition, she said. Their names were not immediately released.
Another victim was taken to the emergency room at Stanford University Medical Center in Palo Alto, but the hospital could release no other details, spokeswoman Paula Zimlicki said.
Allman is described as African American, 5'11'', and 260 pounds, with numerous tattoos, according to KNTV.
Allman has a minor criminal record, consisting of driving with a suspended license and a 1992 misdemeanor charge for forgery, reported
The San Jose Mercury News
Permanente Cement Plant, owned by Lehigh Hanson, Inc., is a limestone and aggregate mining operation and cement plant located in the foothills above Cupertino.
The Associated Press and Reuters contributed to this report.