I heard this on the news Monday evening. 
This subsequent report did clear up two questions; apparently the shooter (alleged) left the courthouse while the jury was deliberating, but before they arrived at a verdict.  It also appears that he was convicted for sex with teenage girls, 15 and 17, but not for those relationships being violent, which also suggests that his sex crime didn't raise any kind of red flag to expect him to react thisway. 
The items I'm still waiting to hear explained include where and how he got the firearm used, and what if any prior convictions to the underage sex partner charges might be on his record. I will provide updates as that information emerges.
However my expectation is that he either purchased the firearm legally, or - consistent with the Bureau of Justice Statistics, which argue for private transfer/ transactions requiring background checks and registration that just under 10% of criminal firearms are from straw purchases and...:
According to the Bureau of Justice Statistics, 40 percent of criminals obtain their firearms from friends or family
From
MPR
: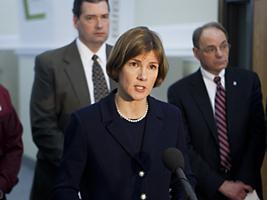 Minnesota Attorney General Lori Swanson speaks at a press conference concerning a recent shooting at the Cook County Courthouse Monday, Dec. 19, 2011 at the St. Louis County building in Duluth, Minn. (Derek Montgomery for MPR)

View full slideshow (3 total images)
Audio
Man faces charges in NE Minn. courthouse shooting
by Dan Kraker, Minnesota Public Radio December 19, 2011
LISTEN
Embed | Help

<iframe title="minnesota_general_features_2011_12_19_schlienzcharged_20111219_64s_player" type="text/html" width="319" height="83" src="http://minnesota.publicradio.org/www_publicradio/tools/media_player/syndicate.php?name=minnesota/general/features/2011/12/19/schlienzcharged_20111219_64" marginheight="0" marginwidth="0" frameborder="0" allowFullScreen></iframe> Duluth, Minn. — A 42-year-old Grand Marais man was charged Monday with attempted murder for allegedly opening fire on the Cook County prosecutor and a trial witness at the courthouse last week.
Daniel Schlienz made his first appearance in court at the St. Louis County courthouse in Duluth, where bail was set at $2 million or $1 million cash. He has been in custody since Friday, when he is accused of bringing a gun into the Cook County courthouse and shooting Cook County Prosecutor Timothy Scannell and witness Greg Thompson.
During a news conference in Duluth, Attorney General Lori Swanson said the incident "strikes at the very pillars of justice." She said it will undoubtedly prompt a look at how security is handled at county courthouses.
Assistant Attorney General Bill Klumpp said Schlienz is charged with two counts of attempted premeditated murder. Klumpp noted that one gunshot just missed Scannell's heart and another barely missed the femoral artery in his leg. Thompson's wound also just missed the femoral artery, Klumpp said.
"Obviously had the heart or the femoral artery of either of these people been shot, the likelihood is they would have bled to death right there before anyone could have saved them," Klumpp said.
Instead both victims are recovering at a hospital in Duluth, close to where today's events took place. That's because the Cook County Courthouse remains closed.
Daniel Schlienz booking photoAccording to the criminal complaint, Schlienz told investigators he did not want to kill anyone. Rather he meant to hurt them and give them something to remember, indicating they had, "screwed with the wrong guy."
"We'd submit that the evidence in the case would show otherwise, given the fact that these two people were shot twice," Klumpp said.
The charging document lays the foundation of the Attorney General's argument that the crime was planned. It says Schlienz admitted hacksawing cross hatch marks into the tips of six bullets found on him, and that he admitted using them because he believed they would inflict greater damage.
The prosecution said Schlienz got the semi-automatic pistol from his home while the jury was deliberating. He allegedly told investigators he planned to get revenge on Scannell if he was found guilty, and did not have a plan for escape — instead he had thought of killing himself, or having a cop shoot him.
Prosecutors also say Schlienz told a former girlfriend he had a plan in case he was convicted, and told her, "You'll know it when you see it."
Like many other rural Minnesota courthouses, the Cook County courthouse has no metal detectors. But Klumpp said similar incidents in the past have involved family court.
"The truth is we've been very fortunate we haven't had more problems," he said. "Sometimes tensions run very high."
Cook County courthouseSwanson said the Cook County shooting will prompt a closer look. But she said it's a balancing act.
"Balancing openness and the need for the public to be able to access their government, against the need for public safety," she said, adding that strained county budgets also need to be considered.
Cook County Sheriff Mark Falk said Scannell and Thompson are both doing very well. Of Scannell, he said recovery will take time.
"He thinks it's going to be a long recovery, both physically and emotionally," Falk said.
Besides attempted murder, Schlienz is charged with assault, possession of a dangerous weapon in a courthouse complex, obstructing arrest and illegal possession of a pistol by a felon.
During his court appearance, Schlienz was wearing an orange jump suit and handcuffs. He was brought before St. Louis County Judge Shaun Sloerke. Klumpp argued bail should be set at a high amount, saying Schlienz was a "significant public safety risk." The hearing lasted less than 10 minutes.
Schlienz's next court appearance is Jan. 10 in Cook County.
(MPR reporter Elizabeth Dunbar contributed to this report.)