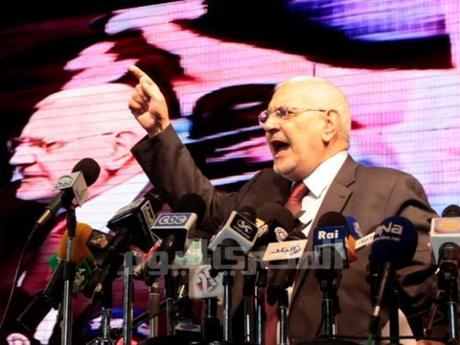 Presidential Candidate Aboul Fotouh
Dear readers,
wow, I almost fell off the grid! I have not facebooked, blogged, or done much of anything but teach, write and care for my family over the last few months. But I am trying, I am recommitting, and renewing to the blogosphere.
So where were we? Oh yes, democratizing the new
Egypt
. That is the ticket. Well, things are a little tough these days. We are coming up on a presidential election in Egypt. The Presidential elections are scheduled for May 23-24th. In the meantime, the Daily News of Egypt is going out of business, which is a real blow to objective reporting in the region. Daily News Egypt: Final Words  
On April 17, ten presidential hopefuls in Egypt were disqualified from contesting the Presidential election by the head of Egypt's election commission. The head of Egypt's Election Commission is Farouk Sultan. The disqualified include Hosni Mubarak's former spy chief Omar Suleiman, Muslim Brotherhood Khairat el-Shater, Ayman Nour and Hazem Abu Ismail.
Suleiman apparently failed to get enough endorsements from 15 provinces. Shater was barred because he was imprisoned under Mubarak. Although the MB is not my cup of tea, Shater's expulson is particularly unfair because Shater was imprisoned for a political crime under Mubarak. Abu Ismail is out of the race because his mother holds another nationality, which is one of the changes to the constitution made in a referendum last year.
Analysis of Specific Provisions of Constitutional Referendum
. The Muslim Brotherhood has announced that it will replace Shater with Mohamed Morsy.
According to the Egypt Daily News, "The presidential election starts on May 23 with two days of voting and is expected to go to a June run-off between the top two candidates. Front-runners include the Muslim Brotherhood's Mohamed Morsi, former member of the Islamist group Abdel Moneim Abol Fotoh and former Arab League chief and Egypt's foreign minister for a decade, Amr Moussa." The SCAF is due to hand over power to the elected presidential candidate on July 1, 2012.
Thanassis Cambaniss wrote a prescient analysis for The Atlantic. I heard him on PRI, and his comments rang true.
Egyptian Political Transition Faces Crucial Test
. He makes a few important points. First, he makes the crucial point that the Presidential Committee is opaque. It is not clear how they were appointed, or how they make their decisions. Their decisions are not subject to appeal, and they are an extension of the power of the SCAF's. I liked his observation that Egypt is struggling with a "fake rule of law. "
I would like to make the observation that although there is an elected parliament, the court system has not experienced any reforms since the Revolution. Further, the executive is being run by the SCAF, which presumably has an interest in who wins the Presidency. Accordingly, two of the three branches are not subject to popular control in any real sense.
On April 19, 2012, The SCAF asked the nation's constitutional court to rule on whether top officials from Hosni Mubarak's era can run for the presidency. Shafiq successfully appealed a decision excluding him from running under the Political Isolation Law, which strips Mubarak era officials of political rights for 10 years.  I agree with the Wasat Party that it is a little hard to understand why Shafiq is being allowed to run, given that he was a prime minister under Mubarak. MP Calls Shafiq reinstatement a threefold scandal
Today, April 26th, 2012, the Presidential Election Commission released its final list of presidential contenders. According to the Egypt Independent, my favorite Egyptian English language paper, the final list includes the following 13 candidates.
Freedom and Justice Party nominee Mohamed Morsy, 
Socialist Popular Alliance Party nominee Abul Ezz al-Hariry, 
Democratic Generation Party nominee Mohamed Fawzy Eissa, 
Democratic Peace Party nominee Hossam Khairallah, 
Salafi-oriented Asala Party nominee Abdullah al-Ashal, 
Tagammu Party nominee Hesham al-Bastawisi, 
and independents former Prime Minister Ahmed Shafiq, 
former Arab League head Amr Moussa, 
Islamist reformer Abdel Moneim Abouel Fotouh, Mahmoud Hossam Galal, 
Islamist Mohamed Selim al-Awa, Nasserist Hamdeen Sabbahi
Leftist attorney Khaled Ali.
These are exciting times for Egypt.  Hopefully, they will be democratic as well as exciting.
~WMB