Update as promised.
from

MSNBC.com

:
By NBC News staff and affiliates

Police

arrested a suspect Tuesday in the

Tuscaloosa, Ala., bar shooting spree that left 17 people injured.


The Tuscaloosa News reported Nathan Wilkins turned himself in to police Tuesday morning in the nearby city of Jasper.
The owner of a FedEx, Ken Barfield, said Wilkins walked in after making eye contact from the parking lot and said 'Yeah that's me.' I guess when you do something that high-profile, you expect everyone to know who you are."
Barfield then called police, who arrived a few minutes later, while Wilkins waited inside.
Wilkins has not been charged as of yet, but could face attempted murder and firearms charges, Tuscaloosa Police Chief Ken Anderson said in a televised news conference.
Four of the 17 remain hospitalized, according to local reports. One person is in extreme critical condition, and three others are in serious critical condition, Anderson said.
The News quoted Sgt. Brent Blankley, of the Tuscaloosa Police, as saying the shooting happened around 12:30 a.m. Tuesday at Copper Top bar. A gunman with a military-style assault rifle fired at least 11 shots into the bar in the city's Temerson Square.


The shooter then fired at fleeing patrons.


Barfield told the paper the man said he had been at the bar high on drugs "and a few other things."
Tuscaloosa Police Chief Steven Anderson said at least one victim in the bar was the shooter's target.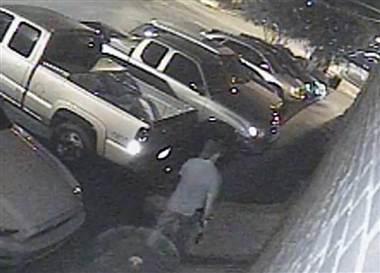 A man who allegedly opened fire outside a crowded bar walks in downtown Tuscaloosa, Alabama, Tuesday morning. Tuscaloosa police say 17 people were wounded when a gunman opened fire outside a crowded bar in downtown Tuscaloosa.The 17 people injured in the shooting were admitted to DCH Regional Medical Center in Tuscaloosa, Mary Wyatt, spokesperson for the hospital, toldNBC News affiliate WAFF.

Three of the 17 injured were students at the nearby University of Alabama, Anderson said.




The police department issued a security camera image of

the

suspectvia its Twitter feed, which showed a man from the back as he walks down a sidewalk with what appears to be a gun in one hand.


"The individuals there were very blessed that they were not killed," Sgt. Blankley

told NBC News affiliate WVTM.


Police are looking into whether the shooting is connected with another that happened Monday night when a 30-year-old man was shot at his house less than an hour before the Cooper Top bar incident.
Anderson said investigators are not sure if shooting was part of a biker gang dispute.
Anderson said investigators are not sure if shooting was part of a rival biker gang dispute.
"We're waiting for physical evidence to be examined to see if there's a link between the two," said Sgt. Kip Hart, assistant commander of the Tuscaloosa County Metro Homicide Unit.
Police said they don't know if Wilkins in custody had a weapon.