Hey folks, I know it's been a while since I've done one of these, but I think a lot of these ideas are really cool! Lemme know what you think!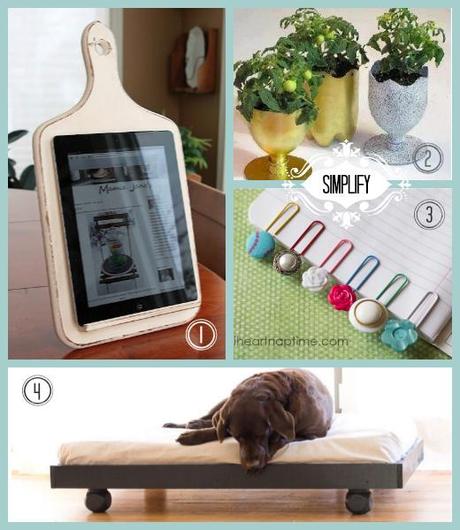 SIMPLIFY
1. DIY Tablet Kitchen Stand – I need one of these before I destroy my iPad while trying to make dinner
2. Upcycled Soda bottle/CD Planters – check out these neat planters made from 2 liter soda bottles and old CDs
3. Repurposed Paper Clip Bookmarks - You can use buttons or even earrings to make these simple bookmarks.
4. DIY Dog Bed – Make this dog bed from an upcycled crib mattress.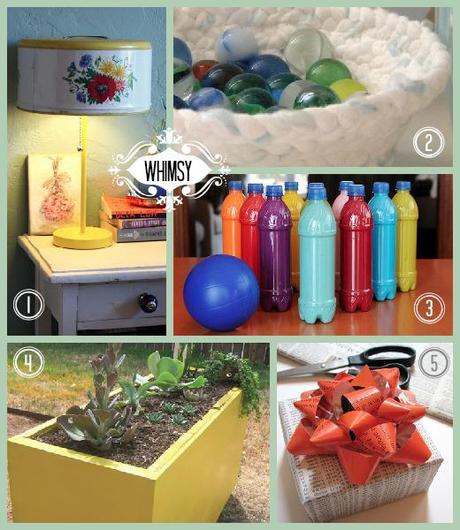 WHIMSY
1. Vintage Cake Carrier Lampshade – Remember those nifty kitschy cake carriers from the 50′s? Well if you find one at a garage sale you can easily make one of these
2. Upcycled Tshirt Rope Basket - Braided bowl from upcycled tshirts.
3. DIY Bowling Alley – DIY bowling pins made from recycled water bottles. This is the cutest thing ever!
4. Upcycled File Cabinet Planter – Yes. That really is a file cabinet.
5. DIY Magazine Bow – Yep. that gift bow was fashioned from a magazine page!