In continuing with the movie theme, I have found an upcoming film that will either leave me feeling one of two ways:
My super sweet soul mate is out there waiting for me to find him (just like Where's Waldo)
I will leave hating all men
As you may have guessed, this one is for the ladiesssss!
'The Vow' – February 14, 2012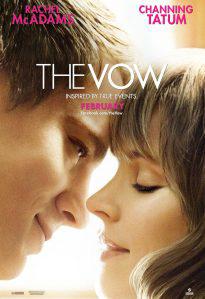 Photo Courtesy: filmofilia.com
"The Vow" stars possibly the two best actors in romantic drama history: Rachel McAdams and Channing Tatum.
According to IMDb, "A car accident puts Paige (McAdams) in a coma, and when she wakes up with severe memory loss, her husband Leo (Tatum) works to win her heart again."
Huge, right?! First of all, it's hard enough to find a significant other in this battlefield also known as love. Jordin Sparks said it best: "Why does love always feel like/a battlefield/a battlefield/a battlefield?"
I couldn't even imagine the rage blackout I would be in if my husband forgot who I was! I mean trying to get a man to wife up is hard enough the first time, but having to do it a second time…I don't have the words.
What's interesting about this movie is that it's based on a true story. Newlyweds, Kim and Krickitt Carpenter were on a road trip to visit Kim's parents in Phoenix, Arizona. When they got into a severe car accident, it left Krickitt with retrograde amnesia. The accident erased "virtually her entire memory of the previous 18 months—including any recollection of the man she had fallen in love with and married," reported People.
"When the nurse asked, 'Who's your husband?' she replied, 'I'm not married."
Since I've effectively ruined your emotional state with this sad story, I do have some happy news! It took quite a lot of time but Krickitt and Kim began dating and in 1996 got married again! I am not sure if Channing and Rachel's characters achieve the same fate, we all saw "Dear John," right? Still recovering from that blow.
Piece of advice: don't cry on your keyboard. I'm still having trouble using the "G" on mine.