With my Xmas break really kicking into gear, I have boatloads of time on my hands. I have many activities planned, such as:
Spending time wandering around beautiful Scranton, PA with my beautiful mom
Watching every Alec Baldwin movie available on Netflix
Learning to read then reading a book or two
Actively staying out of the stores to avoid panic attacks and crazy shoppers
Along with all these wonderful activities to pass the time, I am hoping to see some quality movies. While some of these films do not come out during break, I feel it is my duty to share them with you. I'm aiming to pay the matinée price because a girl has to cut costs somewhere, right?
'What to Expect When You're Expecting' – May 11, 2012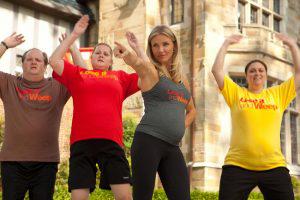 Photo Courtesy: filmofilia.com
A friend of mine sent this movie trailer to me and I made the decision that this is a must see.
Based on the book, "What to Expect When You're Expecting" by Heidi Murkoff and Sharon Mazel, the film follows five couples and the "joys" of being pregnant.
Not that I know, but are there really joys to being pregnant? Has anyone seen "Teen Mom" on MTV? All you need to watch is the first 4.7 minutes of that damn show and you will see there are no joys involved.
I digress. "What to Expect When You're Expecting" stars a bunch of stars including, but not limited to:
J.Lo (Jenny from da Block)
Wendi McLendon-Covey (the blonde cop from "Reno 911")
Cameron Diaz (should have married Timberlake)
Matthew Morrison (love his haircut)
Rebel Wilson (the lady roommate in "Bridesmaids" that got the free tattoo)
Dennis Quaid (DILF)
Anna Kendrick ("TWILIGHT")
Chace Crawford (Gossip Guy)
Favise quotes from trailer: "Last week, my kid ate a cigarette." and "I was breast-fed myself until I was six and look how good I turned out."
Why should you go see this with me: With an all-star cast and the hilariousness that all these pregnant women will be bringing to the table, I just know I will be giggling in the theater and all the way home. I just hope there are no violent birth scenes and/or surprises like there was in "Knocked Up." Still scarred Katherine Heigl, still scarred.
Another reason…Cameron Diaz is pregnant (in the film) and she still looks better than me. Damn you.
Stay tuned for more movies!