From New York to London to Milan and finally Paris, we have seen the gorgeous designs of Spring 2012 collections come down the runways of what we call "Fashion Week". Once all is said and done and each of these fashion meccas have been visited by a storm of editors, bloggers and buyers we actually end up with almost an entire month of fashion weeks, leaving barely any gaps as far as looks and trends for the upcoming season. Sportswear, ready to wear, and elegant couture- you get a taste of it all from different designers.
I love fashion shows for one reason above the rest—they don't only show off the clothes, but they showcase that brand's ideal image. Karl Lagerfeld designs for the Chanel woman, and only on his fantasy filled catwalks do we get to see what type of woman that is. Since people will style things the way they will, it is only the first presentation of some of these garments that we get to see as intended. The designer dresses you see on red carpets are sometimes altered to be more commercial or now come in a more desired color, but it is true art what we see on the runway before it gets interpreted as it will. Everything including the music, the backdrop, the shape of the runway, which model wears what and with what accessories is part of that season's collection.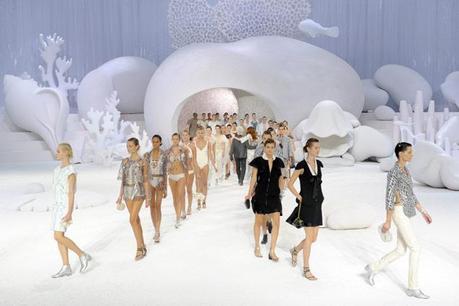 Karl Lagerfeld is known for his grandiose runway shows in Paris and the Chanel S/S 2012 show was no different. Inspired by the iridescent and natural beauty formed by the sea, show-goers were transported to a magical underwater world.
This morning I saw Refinery 29 post about their 14 most coveted dresses from all across the fashion week spectrum, and they certainly chose some winners! But fashion certainly expands past the notion of a pretty dress. If you're anything like me a fancy dress is one thing I don't find as great of a need for in my closet; sure they're some of my favorite things to look at, admire and WISH I had, but my lifestyle just does not call for as many cocktail dresses as it does chic skirts, unique tops and the close-to-perfect pair of pants that I can mix and match in so many different ways. So let me present to you a part two, if you will, of Refinery 29's top 14 dresses with a top 10 non-dress, street chic looks from this past month of runway shows.
#10- Louis Vuitton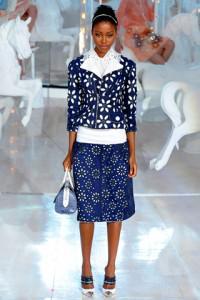 The Louis Vuitton S/S 2012 show was about as opposite from the Fall 2011 collection as possible. Instead of the strong military inspired looks bound with leather and bright colors, we saw outfits that were light as air and sugary sweet all centered around a larger than life carousel. This look stood out as one of the less frilly and fussy styles for all of the right reasons. The mix of the two blue eyelet fabrics are the perfect inspiration for mixing prints- keep them similar but different. A great transitional look from winter to spring.
#9- Giles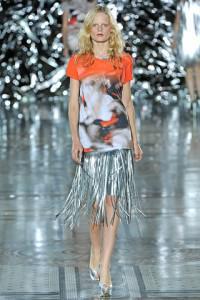 Straight from London Fashion Week, designer Giles Deacon brought his A-game with metallics and pops of color. Sure, this skirt looks a little over the top, but by the time spring rolls around I think many of you will change your minds. Fashion is supposed to be fun isn't it? The graphic jersey knit balances it out for a unique and fashion forward style.
#8- Prabal Gurung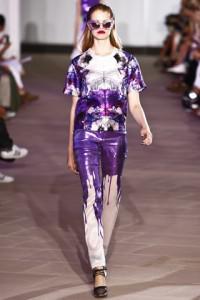 Another slightly futuristic and out there look, this outfit came from my most favorite collection of the season! Prabal Gurung presented a whole collection of show-stopping looks that push the envelope from high-fashion to avant-garde while still retaining a wearable factor. The idea of sheer pants with peek-a-boo panels and a metallic finish just scream killer style!
#7- Chanel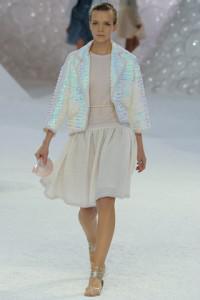 I love that everything about this look is so typically Chanel done in a completely reinvented way! The soft, petal pink basic skirt and top, the pearl strand instead of a belt and of course the iconic tweed jacket just disguised under flashy sequins—everything came together to portray exactly what Lagerfeld intended with this show.
#6- Rebecca Minkoff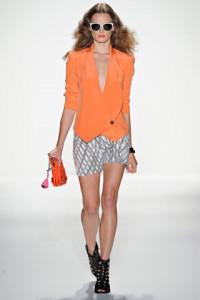 Rebecca Minkoff has found her stride in designing for a woman who desires every day clothes and accessories with a slight edge. Her collection in New York showed some of the season's hottest trends without being too dramatic. I never knew I even wanted a sherbert orange blazer, but now I know I need one!
#5- Burberry Prorsum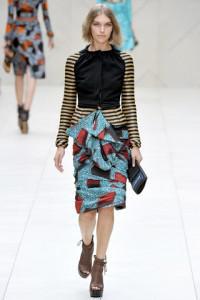 Trading in a classic 60′s London vibe from Fall 2011 for a charming nostalgia this spring, creative director Christopher Bailey described this as a collection to "celebrate things that take time to do". Filled with loads of handicrafts and wonderful textures and prints, I chose the look above specifically because of the versatility of both pieces. They look stunning styled together for a super chic look and would work just as well with other pieces. What more can you ask for?
#4- Peter Som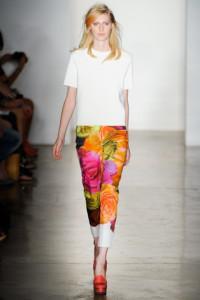 The idea of a bold, printed pant doesn't usually get me crazy but somehow Peter Som has convinced me with this effortless outfit. The quality of that white shirt mixed with the ultra-vivid rose print that is reminiscent of watercolors seems to be the perfect springtime outfit. Not to mention his styling for the show which included dip-dyed hair and bright loafers, this collection was full of excitement!
#3- Theyskens' Theory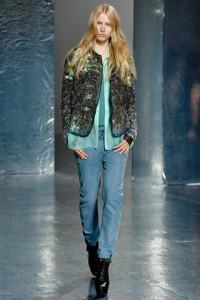 Leave it to the mastermind Oliver Theyskens to create a whole new cut of denim for his ideal customer, the cool downtown New York girl. He envisioned a pair of high-waisted jeans that would also slouch of the hips for a cool boyfriend style. His solution? A double waistband! Paired with must-have jackets and plenty of mint green, this was a highly coveted collection to add to his growing popularity with Theory.
#2- Isabel Marant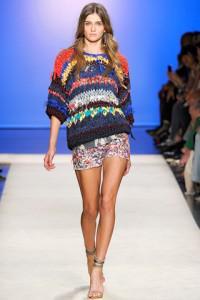 Showing in Paris, one might expect the collections to be all about glamour and sophistication, but Isabel Marant showed a collection that is much more earthy and appealing to every day wear. Inspired by "a girl living our of her suitcase for her summer travels", Marant hit the nail on the head with her chunky knits like the one above in bright colors and unique patterns. There is something so "off" about this collection that it works- very, very well.
#1- Balmain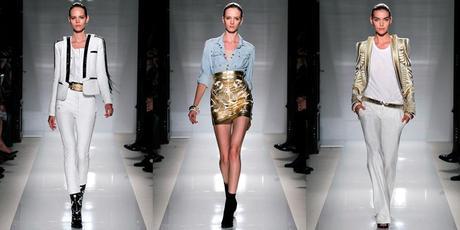 I couldn't even limit myself to only one look from Balmain's S/S 2012 collection! There were too many separates that were so classic of the brand image and full of fashion high-notes that I had to show off all of my favorites. Starting with the all white modern pant suit, complete with contrasting black details for an edgy finish, this look will inspire plenty of outfits out of my own closet! The gold metallic brocade skirt with the chambray denim shirt is an outfit I would wear straight off the runway (although I'm sure it can be reproduced on a much smaller budget than these Balmain pieces call for). And is there anything more iconic than a Balmain jacket, especially worn over something as simple as white on white?
All three of these looks stood out to me to prove that fashion goes far, far beyond a pretty dress. These separates take more styling and work to pull together but the end result is much more chic! Plus you can wear each of these pieces with something else for a totally new style you've never worn before. What's your vote—dresses or separates?