Sharing with you today a fantastic list of upbeat wedding songs that DJ Creations put together just for you! Wedding songs that will fill the dance floor, that will put a smiles on faces, the perfect wedding songs that will create a festive mood on your wedding day!
Upbeat Weddings Songs
Adventure Of A Lifetime – Coldplay
Beautiful Love – Angelika Dusk feat. Playmen
How Deep Is Your Love – Calvin Harris & Disciples Lean On – Major Lazer X DJ Snake feat. M0 Moves Like Jagger – Maroon 5 Feat. Christina Aguilera Dance me to the end of love – Pieter Embrechts & The New Radio KingsThis Girl – Kungs & Cookin' On 3 Burners LOST ON YOU(ADDAL REMIX) – LPI Never Felt So Right – Ben DelayThe Violin Song – Monoir & Osaka feat. Brianna Don't Be so Shy (Filatov & Karas Remix) Feel – Mahmut Orhan Feat. Sena SenerCake By The Ocean – DNCEDrinkee – SOFI TUKKERCarnival Of Rust (Lost Stories Remix) – Poets Of The FallWEDDING DJ :
DJ CREATIONS

LOVE4WED SELECTED VENDORS
Dj Creations are on Love4Wed Selected Vendors.
WEDDING DJ'sDj Creations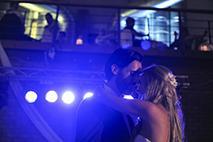 VIEW PORTFOLIO
For more information on how to become part of our Selected Vendor Guide click here
Google+

Pinterest

Twitter