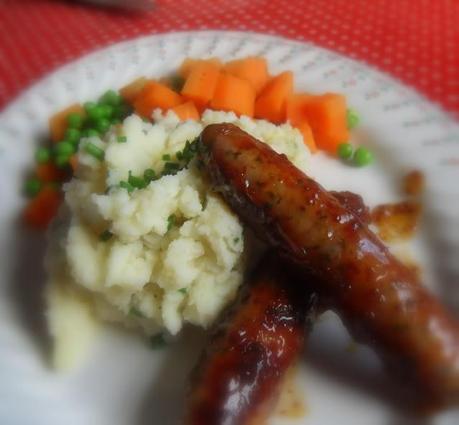 Todd just loves his Banger's and Mash. If I want to make him happy, that's all I have to cook up. He could eat them more than once every week!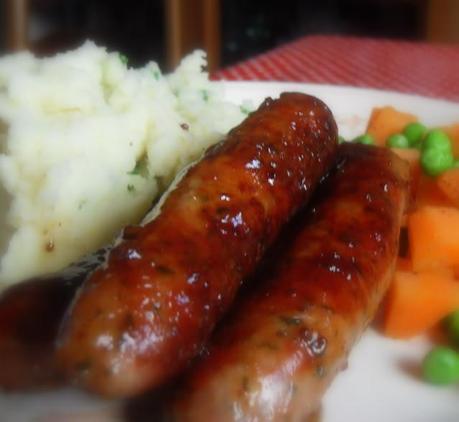 I do think they have lovely sausages over here in the UK. . . well the best quality ones at any rate. The el cheapo ones are just plain nasty . . . but you could say the same thing about cheap sausages anywhere in the world. Full of fat and fillers, they are just horrible. There's no denying it.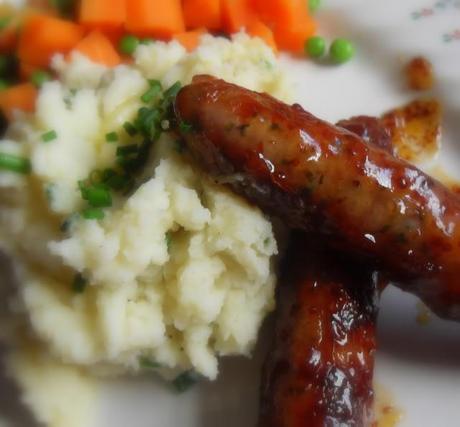 But there is nothing tastier or more beautiful than a really good Butcher's sausage. I've said it before and I'll say it again . . . you can tell a good Butcher by the quality of his sausages!! We've got the best here in town, I think. R & J Dodd . . . there, I said it!


I picked up a pound of his lovely Pork and Chive sausages yesterday and I wanted to do something special with them, without destroying Todd's fancy . . . you know the old Banger's and Mash thing.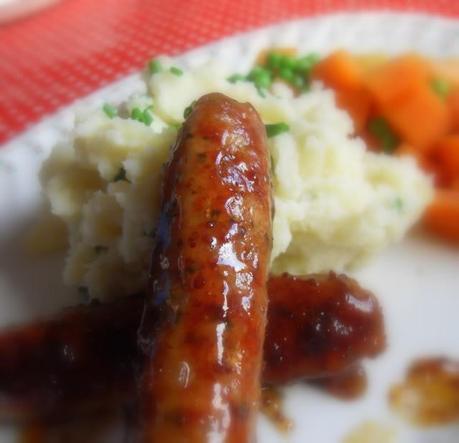 Anyhoo . . . I took the premise and I ran with it, glazing the sausages in a deliciously sticky sweet, fruity and spicy glaze and pimped the mash up with some chives and buttermilk. I love taking the boundaries of the traditional and stretching them!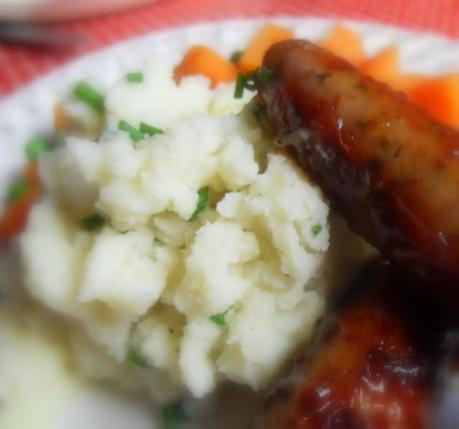 Todd thoroughly enjoyed. Mission accomplished. He didn't even miss the Bisto.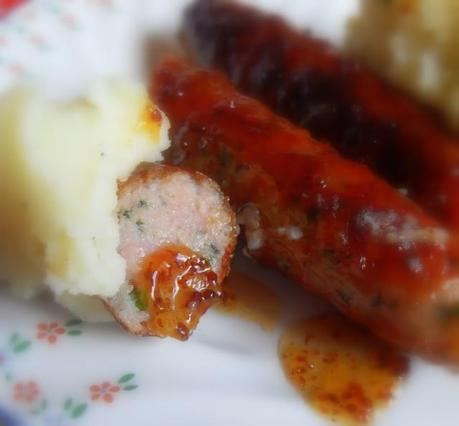 *Sticky Bangers with Buttermilk and Chive Mash*
Serves 4
Printable Recipe
This ain't yo mama's bangers and mash!
1 pound good quality butcher's sausages
2 dessert spoons of mango chutney
2 dessert spoons of apricot preserves
2 dessert spoons of grainy Dijon mustard
For the mash:
2 pounds floury potatoes, peeled and cut into chunks
( a maris piper, or a russet type of potato)
2 ounces milk (1/4 cup)
2 ounces butter (1/4 cup)
4 to 6 ounces of buttermilk (1/2 to 3/4 cup)
1 bunch of chives, finely chopped
salt and black pepper
Heat a large skillet over medium high heat. Add about a TBS of oil or less, just enough to coat the pan and allow it to heat up. Add the sausages in one layer, reduce the heat to medium and cook, turning frequently, until nicely browned all over and cooked through, about 20 minutes.
In the meantime place the potatoes into a pot of lightly salted water and bring to the boil. Cook until fork tender and then drain well. Place back into the saucepan and shake over the residual heat of the burner to dry out. Mash well with a potato masher. Beat in the milk, butter and buttermilk until ight and fluffy. Season to taste with salt and pepper and stir in the chives. Keep warm.
Stir together the mango chutney, preserves and mustard. Turn up the heat under the pan of sausages. Pour the mango mixture over top. Heat to a boil and cook for about 5 to 10 minutes, until the sausages are lightly glazed and sticky, but not burnt. Remove from the heat.
Divide the sausages and the mash amongst 4 heated plates and serve immediately along with your favorite vegetable. (Todd likes peas and carrots. He's so predictable!)