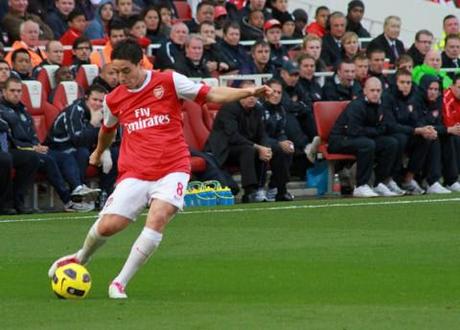 Arsenal and France player Samir Nasri has reportedly rejected Arsenal's improved contract offer which would have seen him earn £90,000 a week. Photo credit: Ronnie Macdonald
Arsenal's Samir Nasri can't get by on £90,000 a week. Not when Manchester United's Wayne Rooney's on £250,000.
The onset of the Premier League season fills me with sick. I won't be renewing my season ticket. I'm dialling out. It's easier than you think. Life's too short to spread yourself too thin, I've made arbitrary deep cuts before without a moment's regret and saved a lot of time, like ballet and chess and Formula 1. If it means I have to abandon my epic poem called "101 Things I Hate About John Terry", well, that was a waste of time too.
It was Ryan Giggs that did it for me. Giggsy! The unimpeachable Welshman, the one and only spotless family man in the bonfire of the gluttonies in Manchester, the loyal one-club pro who lifted Man United to a generation of glory.