The saying goes that "Necessity is the mother of invention." Dudes appreciate practical items that are not only indispensible, but that also have a bit of character. Whether its sleek or simply unique, gadgets of that sort make excellent conversation starters and can be a way of expressing ourselves. We seek to live our lives to the fullest, and using spin-offs of everyday gadgets and gear helps us do that. Today we present you with some unique products for everyday necessities. Take a look and realize that you don't have to settle for the mundane anymore. Take the challenge to seek out and utilize original and sometimes even odd versions of everyday necessary items. Be sure to share what you find with your fellow bros by pinning up those pictures on Dudepins.com.
Beer Mittens: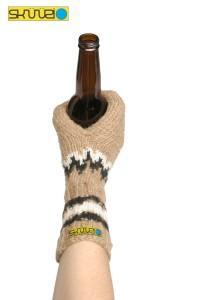 (Source – amazon.com)
Most of us don't live in some place like Hawaii or Mexico where shirts are optional and a cold beer outdoors is never a question, only an answer of, "hell yes." Of course there are still times like when we want to enjoy and ice-cold beer in our backyards or even somewhere in the wilderness when it's freezing outside. As long as if we've got our mittens, it's no problem. WRONG! Beer bottles and mittens do not mix. You'll end up feeling like a desperate bear trying to guzzle down a bottle of beer. Those Coca Cola polar bears don't count because, yeah, they're not real! So to solve this devastating problem beer mittens have been invented. All you have to do is slip them on and slide an ice-cold beer into the pocket. It's so easy you might even forget about it and start walking around with an empty beer bottle in your beer mittens. Buy it here. $29.99
Punching Bag Laundry Bag: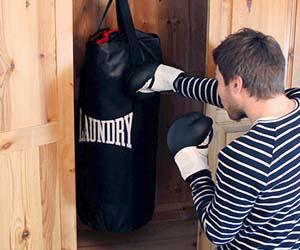 (Source – sneakhype.com)
This isn't just any laundry bag; it's a punching bag laundry bag. SWEET. When it looks reminiscent of a punching bag, it's full and means it's time to do the laundry. You'll get it done right after throwing a few punches. Some people say that they work hard and play hard. With this punching bag laundry bag, you can work hard while playing hard. Oh yeah. Get it here.  $32.00
Skull ice-cube mold: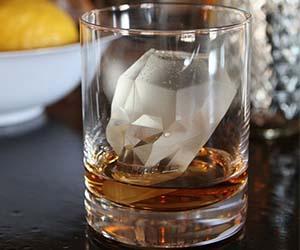 (Source – amazon.com) 
Why use regular ice-cubes when you can use skull ice-cubes. Use this to make any one of your favorite manliest cocktails that calls for ice. You'll successfully enhance its dangerous appeal. Would be very fitting for 'The Godfather' cocktail. Get it here.  $11.04
Star Wars Falcon Bottle Opener: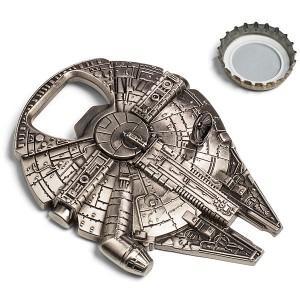 (Source – think geek.com) 
Opening a bottle of pop or beer is just so much more satisfying when using a miniature model of the Millennium Falcon also known as YT-1300 492727ZED. It's cool enough to hang on your key chain, and you might even find a little Chewbacca in there. Get it here. $19.99
 Katana Swords Bookends: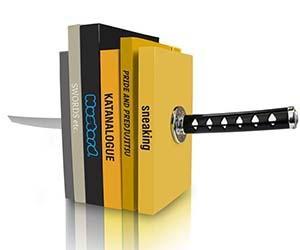 (Source – thisiswhyimbroke.com)
The katana sword is a traditional Japanese weapon that was once worn by samurai. If you can't get your hands on the real thing, try out these katana sword bookends. Would be very fitting for skewering those darn textbooks. After doing so don't forget to meditate, just like how the samurai once did. Get your zen on and buy them here. $30.00
Lighter Cufflinks: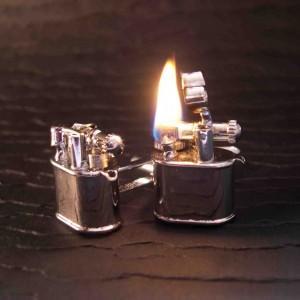 (Source – yougneek.com) 
These lighter cufflinks are so bad-ass you are required to read a warning document and accept the terms before purchasing. As long as if you're not an idiot, you shouldn't worry too much. Just be sure to not use these while you're wearing them. I imagine James Bond using something like this to burn some evidence. Get it here. $89.99
Pistol Lamps: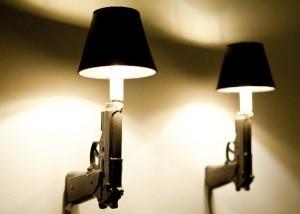 (Source – etsy.com) 
Now every time you're about to flip the light switch you can be super cool and say, "ready, set, FIRE!" And then blast those lights on with gusto! You will make quite an impression when you bring a girl home. You can do no wrong with a little bit of humor.  Get it here. $175.00
5-Minute Breakfast Sandwich Maker by Hamilton Beach: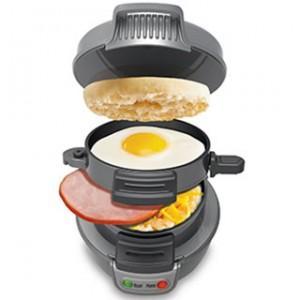 (Source – hamiltonbeach.com) 
Check this out. It's like having a robot make you can Egg Mcmuffin right in your own home. All you have to do it add the muffin, egg, ham, and cheese and you've got a quick and easy breakfast in five minute. Find inspiration from our post on bacon, and make a killer bacon breakfast sandwich. Share with us your findings. With this breakfast sandwich maker you'll not only save money, but you'll also save yourself from the disappointment of most fast food breakfast sandwiches. Do breakfast the right way. Get it here. $29.99
Beercade: The Last Barfighter: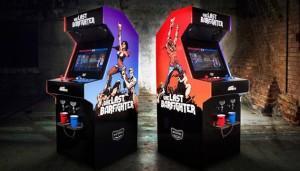 (Source – hiconsumption.com) 
What is a beercade you ask? It's a beer dispensing arcade machine. This machine was created for an advertising campaign for Big Boss Brewing Company. We love to compete just for the hell of it, so when you bring beer into the picture you've got a major throw-down. The winner of the digital fight wins a 16 oz cup of beer. It's too bad the beercade isn't available for purchase, as it would be a terrific addition to any man cave. Watch the Big Boss Brewing advertisement with the glorious beercade here and dream about the day they sell these on Amazon. Beer is worth fighting for, and yes, its a necessity.
Hope you have been inspired to start using cool everyday necessities. Be sure to post what you find on Dudepins.com!