Travelling along the South Coast is starkly different to other coastlines in Australia. With warm sandy beaches, an abundance of wildlife and relatively untouched landscapes this region offers that of the North coast but with half the crowds. Venture to any of these beaches for a relaxing afternoon, or if you are in the mood for a trek take a walk in any of the National Parks that dot the coastline.
Fishing, swimming and surfing are all possible on the South Coast so why not dabble in something you haven't tried before? Having traveled primarily on the North coast of Australia myself, the South is the perfect change of scenery. Make sure to pack your swag, because beachside camping is one for the bucket list.
Enjoy!
Pebbly Beach  
Pebbly Beach on the South Coast is one of the few beaches in the country where travellers will have competition in the waves with none other than Australia's most adorable native wildlife, the wallaby.
Located in the Murramarang National Park, Pebbly is a great place to spend the night. With an abundance of camping and furry animals bouncing around, you won't ever want to leave. Close by is the equally stunning Depot Beach: Grab your hat and take the bushwalk to the surrounding areas. You will not be disappointed.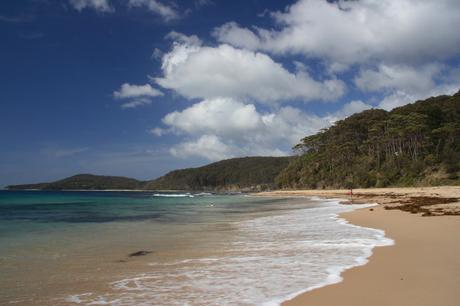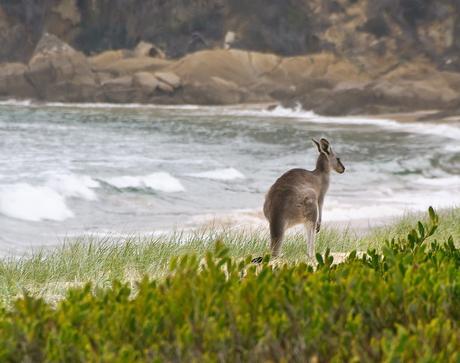 Bittangabee Bay
This beach is unforgettable because it is quite literally a slice of paradise: crystal clear waters, soft yellow sand, swimming, snorkeling and fishing. Make sure to take your binoculars as whales can be spotted from the bay during the annual migration season.
Located in the Ben Boyd National Park, this beach offers near untouched views, but isn't at all difficult to find. Take the Ben Boyds walk, a short trek up to a tower lookout with splendid views of the area.
You can also take the more challenging Light to Light walk, a three-day trek through beautiful parklands. We didn't take this walk due to time constraints, but adventurers coming back raved about its views, animal sightings and coastal heritage spots.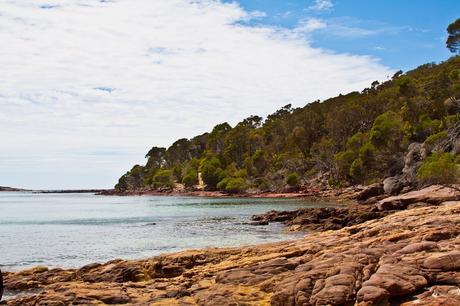 Killalea Beach
This beach is the perfect spot for a weekend getaway. Coined by locals as 'The Farm', this beach is popular with surfers and swimmers alike. The clean picnic areas, barbeques, and camping areas offer a nice spot to unwind, and relax. There is also a bunkhouse within the campgrounds which offers backpacker-style accommodation for the less prepared traveler.
With other beaches like Minnamurra close by, travellers have multiple choices on where to swim and stay. Pop into the Park Kiosk on the way for a snack between beaches.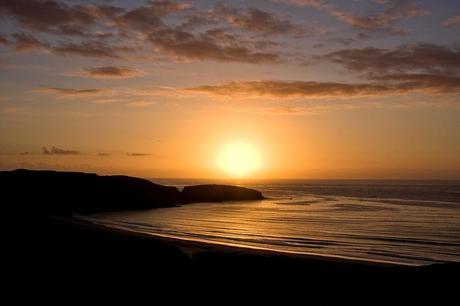 Minnamurra Beach
Minnamurra Beach stuns all. Rocky headlands, volcanic islands, and blue water. This beach is a hit with locals, also known as 'The Mystics', Minnamurra boasts some of the best surfing on the South Coast.
Grab your favorite book, sit on the grassy headland and watch the tide pull into shore. Like many small beaches on the coast Minnamurra isn't patrolled so take care swimming, and make sure to listen to locals and surfers, as they know the waters well.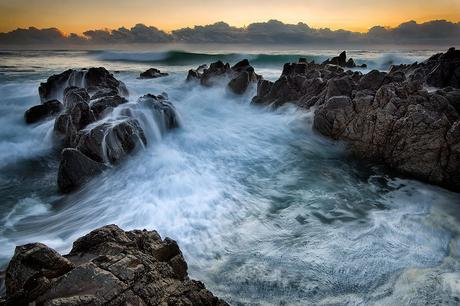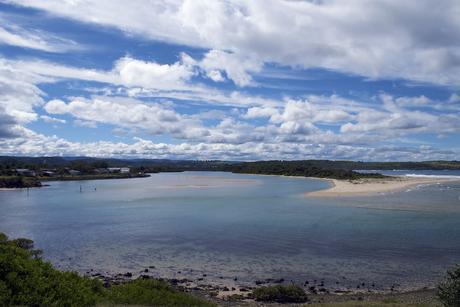 Tathra Beach
This beach offers something for everyone. Surrounded by both the Bournda National Park and the Mimosa Rocks National Park, Tathra is the perfect place to explore.
Take any one of the scenic bushwalks and spot an abundance of flora and fauna. If you are lucky you might spot a Little Tern, one of the parks endangered seabirds. The northern end of the beach offers a sheltered swim area, but if you don't feel like swimming, hire a boat and go fishing.
Tathra has a local vibe, beautiful scenery and epic wildlife, and is thus never short of amazing.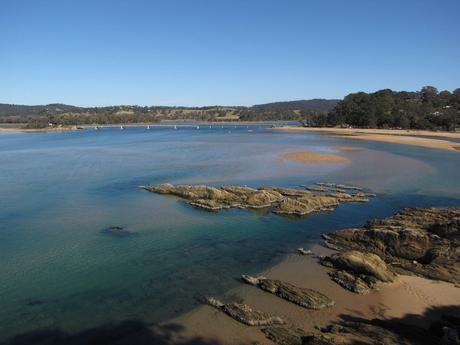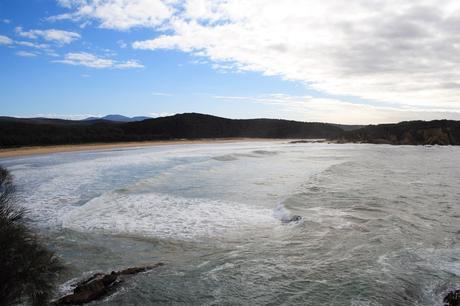 Nelson's Beach, Tathra
Kiama
If you still haven't got enough of the coast, drop into Kiama. With jaw dropping cliffs, rock formations and blowholes you will definitely get your coastal fix. Take the 22-km coastal walk along the headlands to find smaller beaches to snorkel.
Highlights of the walk, if you finish it, are the Werri Lagoon, and the Kiama Lighthouse. Established in the late 1800's, the Lighthouse holds an interesting history, including being damaged by vandals. Make sure to drop inside, as it now houses a quaint museum.
Kiama is a nice spot to finish your trip. With lots of cafes and shops, it offers a little luxury after beach campy and sandy tents. I recommend dropping into The Hungry Monkey; the Belgian waffles are life changing.
Tip: Although the surrounds of Kiama are beautiful, this town can be overrun by tourists in the holidays, so make sure to account for this before your travels.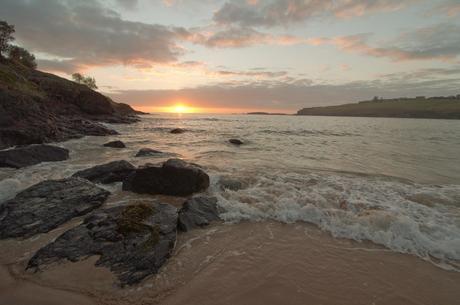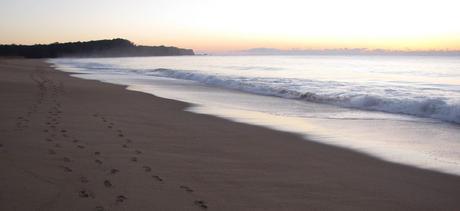 Which beach is best?
Minnamurra Beach was ultimately our favorite destination, with epic rock formations this place felt truly mystical. Kiama offered a challenging yet equally as beautiful walk, finishing with the best meal of the trip. Pebbly Beach was the most comical, with Kangaroos hopping around, Pebbly made for a good laugh and a great start to our trip.
The South coast is an amazingly unspoilt destination, I cannot recommend visiting this stretch of land enough!
About our guest post author
Olivia Bourke is a keen traveller, an amateur photographer, and a practicing yogi. Olivia loves bushwalks, long road trips and delicious brunches. Read more of her stories at http://greatlost.com/
Inspired?
Flip this story to Flipboard and/or pin this image to your Pinterest boards: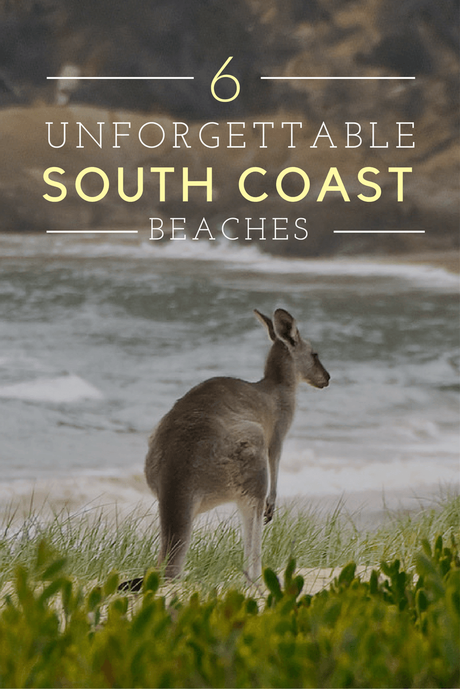 (Visited 4 times, 2 visits today)