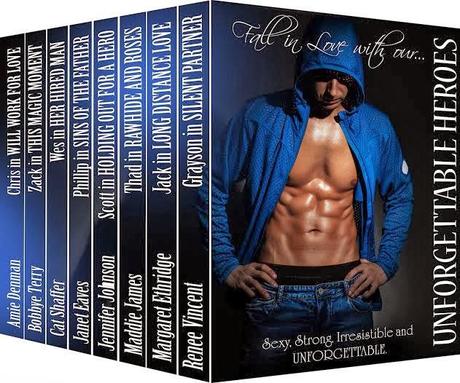 UNFORGETTABLE HEROES
Eight Contemporary Romance Novels

Several of Turquoise Morning Press' award-winning and bestselling authors share their favorite contemporary romance heroes – all boxed up for you in one sexy and irresistible package!

From a sexy carpenter to magnetic CEO, a rough-and-ready cowboy to a "homeless man," a classic car buff, a starving artist, a Latin-style dancer, and an FBI agent – each unique hero has his own story to tell, and a heroine who just can't forget him. Ever.

With an introductory promotional price of only 99¢, how can you resist this unforgettable boxed set, either?

 
Release date: January 30, 2014
Publisher: HYPERLINK "http://www.turquoisemorningpress.com/" Turquoise Morning Press

ISBN: 978-1-62237-258-4

Promotional Price: $0.99

Retail Price: $4.99 (April, 2014)
iTunes:

$0.99
Available on iPhone, iPad, iPod touch, and Mac.
Category:

Contemporary
Published:

Jan 26, 2014
Publisher:

Turquoise Morning Press
Seller:

Smashwords
Print Length:

1724 Pages
Language:

English
Requirements:
To view this book, you must have an iOS device with iBooks 1.3.1 or later and iOS 4.3.3 or later, or a Mac with iBooks 1.0 or later and OS X 10.9 or later.


WILL WORK FOR LOVE

by Amie Denman, EPIC Award and Gayle Wilson Award of Excellence finalist.

Hurricane Destiny leaves a trail of destruction across the island of St. Thomas, jeopardizing the wedding of Whitney Oliver's best friend. When Whitney arrives on the island, she finds a disaster only a sexy carpenter like Chris Maxwell can repair. Despite the sizzle between them, Chris has secrets that threaten his construction business and force him to work for Whitney's love.

THIS MAGIC MOMENT

by Bobbye Terry, award winning author of contemporary, historical and fantasy romance.

Zack Graham, CEO of Scrumbles Snack Cakes, is energetic, magnetic and forget it—no women for him, except to relieve an occasional sexual itch. He's a workaholic who refuses to let a woman make a fool out of him again. But what about Crandall Drake, the CEO of Pretzelicious Pretzels? He tells himself all he wants is sex. His heart tells him it wants more.

HER HIRED MAN

by Cat Shaffer, Golden Heart finalist and award-winning journalist.

Hot nights, a double sleeping bag and a stranger for a husband…how much can one city girl take? Lillian Osborne needs a husband for a weekend. Wesley Hatfield needs money to customize his beloved classic car before Detroit's biggest auto show. The perfect agreement turns out to be anything but when their accommodations turn out not to be what Lillian had expected.

SINS OF THE FATHER

by Janet Eaves, Amazon bestselling author of the Ladies of Legend contemporary romance series.

Just like the Princess in the classic tale Sleeping Beauty, Aurora's life doesn't really begin until her heart is awakened by a handsome struggling artist. But with her life in danger, Aurora must hide who she really is. Unbeknownst to her, her struggling artist isn't who he appears to be either.... Friend, lover, or foe?

HOLDING OUT FOR A HERO

by Jennifer Johnson who writes comedic romances so entertaining even guys read them. Author of the TMP top-selling Rescuing Riley.

Abigail Benton is a bum magnet, according to her dad, so when she becomes attracted to Eli, a homeless man at the community center where she works, she wonders if what her dad says is true. But when Eli saves her life, Abigail decides she is going to return the favor and save his life by turning it around. Trouble is, Eli isn't on board with her plan.

RAWHIDE AND ROSES

by Maddie James, Amazon bestselling author of contemporary and western romance.

She's roses, he's rough-and-ready rawhide. Kim Martin is hardly equipped for a Colorado camping trip, especially when her mountain guide is a rough-edged cowboy who is as untamed as the wilderness. Thad Winchester's patience for city women is wearing as thin as the seat of his jeans. But there is something about Kim that puts his hard-and-fast don't-touch rule to the test.

LONG DISTANCE LOVE by Margaret Ethridge, contemporary romance fan favorite and TMP top-selling author of Commitment.

Sometimes the distance between two hearts can be measured in frequent flier miles. Love may be a many splendored thing, but it's rarely convenient. Can FBI Agent Jack Rudolph and fiercely independent Ellie Nichols find a way to make a long distance relationship work?

SILENT PARTNER

by Renee Vincent, award winning author of historical and contemporary romance.

Grayson Anders is a talented Latin-style dancer and wealthy co-owner of a happening nightclub. Chloe LaRoche is a talented artist, but failing entrepreneur with her once thriving studio now on the brink of foreclosure. When the two indulge in a passionate, out-of-control, one night stand, they awaken the next morning consumed with inspiration. Grayson finds his perfect dance partner while Chloe finally finds her muse. Will her secret destroy both their dreams?

Silent Partner by Renee Vincent
My rating: 5 of 5 stars
Silent Partner by Renee Vincent was originally published in 2011 and is now a part of an 8 book box set - Unforgettable Heroes.
Grayson Anders is a wealthy club owner who plans to expand his enterprise by opening a dance studio. He is a good looking guy whose confidence borders on arrogance. Accustomed to having his pick of women, he zones in on a beautiful woman at this club and leads her to the dance floor. The dance is magical and the chemistry between them leads to a night of passion.
Chloe LaRoche has had to start her life over after her original plans were destroyed forever. Now she has her own art studio and is the proverbial starving artist. She goes out to a popular Boston dance club called Gyrations and meets an alluring, hypnotising man tempting Chloe to take a few risk in life.
When Grayson wakes up to an empty bed he is puzzled and a little shaken. Why did the beautiful women leave without saying goodbye? He has to find her because he plans to have her as his first dance partner in the new studio. The problem is he doesn't even know her name!!
Finally he manages to locate Chloe but is rocked to the core by a stunning revelation. This is something so monumental for Grayson he simply can not cope with it. But, once he has managed to recover from the shock he knows he has ruined the most special thing he ever had. Now what is he going to do about it?
This is a short story that really packs an emotional punch. Grayson is a guy that has never really faced a great deal of adversity and when it comes his way he is ill equipped to handle it. Meeting Chloe , a beautiful and talented artist with a fierce independent " I don't need anyone" attitude knocked Grayson off his high horse. Now in order to make up for a HUGE mistake he will have to think of a way to approach Chloe so that she will give him a chance to explain. But, will it be enough after the way he hurt her? Will she be able to forgive him?
Grayson learns some valuable life lessons he probably never would have considered if he had never met Chloe. He is a much better man with more depth of character at the end of the book as opposed to the man he was in the beginning. That certain person that comes into your life and changes you for the better, that true spirtual connection that bonds two strangers together for a life time often comes along when we least expect it. For Chloe and Grayson the impact of their connection took them both by surprise. In the end it was a very nice surprise! I loved this story! There is a lot of depth and character growth and plenty of take your breath away moments. I highly recommend this book. As a part of the box set you can't ask for a better bargain. This book alone is worth the price!
Overall this one is an A+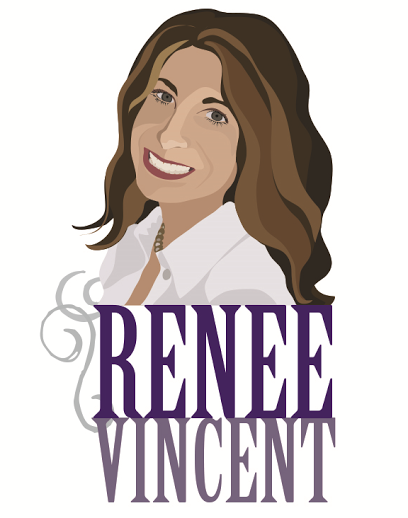 About the Author Renee Vincent:

I'm an author, a dreamer, a horse owner, and a medieval history buff. I'm a fun-loving, mildly eccentric, free-spirited kind of girl with a passion for books. From an early age, I've always had scenes playing out in my head. Whether it was a story with a moral or a tale with a twist, those ideas have never let me sleep until I wrote them out. And considering I have an eclectic ensemble of stories swarming in my brain at any given time, I write under a couple pen names to accommodate the various genre categories.

Renee Vincent

Historical & Contemporary Adult Romance

From the daunting, charismatic Vikings, to the charming, brazen Alpha male heroes of modern day, you'll be whisked away to a world filled with fast-paced adventure, unforgettable romance, and undying love.

also writing as

Gracie Lee Rose

Lighthearted, Fancy-free Women's Fiction/Chick Lit

For those who love to read fun, wholesome, and endearing romantic stories (with a smidgen of spunk) that your mother, sisters, friends, and daughters can enjoy.

Find her online:

HYPERLINK "http://www.reneevincent.com/" http://www.reneevincent.com/

HYPERLINK "http://www.pasttheprint.blogspot.com" http://www.pasttheprint.blogspot.com

HYPERLINK "http://www.twitter.com/ReneeVincent" http://www.twitter.com/ReneeVincent

HYPERLINK "http://www.facebook.com/reneevincentauthor" http://www.facebook.com/reneevincentauthor

HYPERLINK "http://www.goodreads.com/author/show/3005290.Renee_Vincent" http://www.goodreads.com/author/show/3005290.Renee_Vincent

And get EXCLUSIVE access to all Renee's giveaways by signing up for her author newsletter: HYPERLINK "http://www.reneevincent.com/p/contact.html" http://www.reneevincent.com/p/contact.html