Blogging Marathon# 26: Week 4/ Day 1
Theme: Revisiting Old Posts with New Pictures
Dish: Undrallu & Allam Pachadi (from June 2006)
Revisiting old posts with new pictures is something that I have been planning to do for quite some time now. But time seems to be of premium these days and since I can't even catch up with the present, past keeps waiting. So this week's theme is perfect as it lets me update some of my very old posts that are in dire need of better pictures.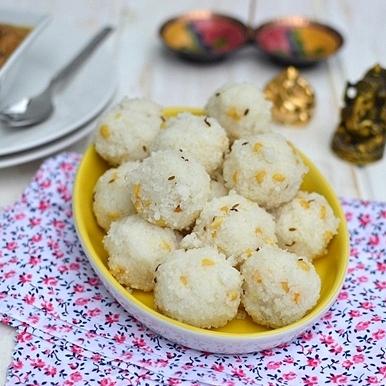 When I started blogging almost 8 years ago, I didn't have any props and I didn't even think of buying any props for blogging. All I used to do was cook at night and click with the flash glaring right onto the plate. Didn't realize that food needs to be presented in an appetizing way. It was only recently that I started playing around with the props, settings and the camera.
So I'm revisiting this
Undrallu post
, which is one of the most popular posts on this blog, from my newbie blogging days. Undrallu are offered as prasadam or offering on Vinaya Chavithi/ Ganesh Chathurthi, but in our family these are made as snack/part of a meal during other times of the year too.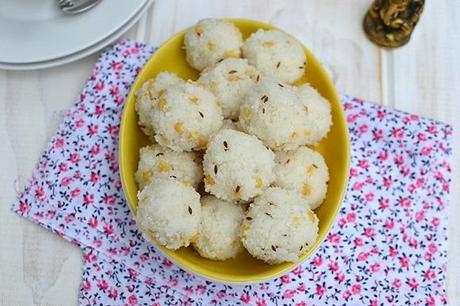 For Undrallu
:
Ingredients
: Rice rawa - 1cup** Cumin seeds - 1tsp Chana dal - 2tbsp Salt - to taste
Method
:
Soak chana dal in water for at least 10 minutes.
Heat ½ tsp oil in a pan; add cumin seeds and once they start to splutter add chana dal, salt and 2 - 2½cups of water. Water quantity depends on the type of rice you are using. Bring the water to a rolling boil.
Lower the heat and slowly add the rice rawa while whisking the water mixture constantly to avoid forming lumps. Mix well; cover and cook until all the water is absorbed and the rawa is completely cooked through, about 3-4 minutes.
Turn off the stove and let it cool completely.
Once cooled, take equal portions of the mixture and from into balls.
Lightly grease a steel plate or other container that fits in a pressure cooker. Place the rice balls in the pressure cooker and steam (without the whistle) for 10-12 minutes.
Enjoy them hot or at room temperature with allam chutney or any of your other favorite chutneys.
** To make Rice Rawa:
Add 1tbsp water to 1 cup of rice and rub the water so all the grains are damp. Let the rice dry for 10-15 minutes. Then grind to form a coarse powder. Alternately use Cream of Rice cereal readily available in the breakfast aisle of the grocery store.
Allam Pachadi/ Ginger Chutney
: This is a spicy sweet chutney that goes well with idlis, dosas, vadas and of course undrallu. Only a very small piece of ginger is needed to make this chutney.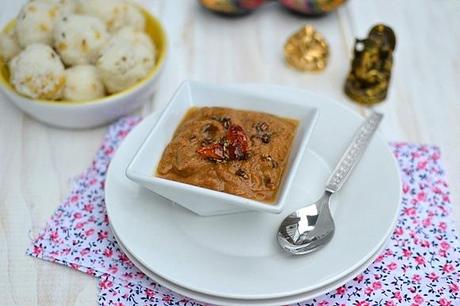 Ingredients
: Ginger - 2" piece, roughly chopped Tamarind pulp - 1-2tbsp
Jaggery - 2-3tbsp
Garlic cloves - 2, minced (optional) Dry red chilies - 3-4 Chana dal - 1tbsp Urad dal - 2tsp Cumin seeds - 1tsp Fenugreek seeds - ¼tsp
Salt - to taste
For Tempering
:
Mustard seeds - 1tsp
Dry red chilies - 2
Curry leaves - 6-8 (optional)
Method
:
Heat ½tsp oil in a small pan; add chana dal, urad dal, fenugreek seeds and cumin seeds. Once the seeds to splutter and the dals start to change color, add the garlic cloves (if using) and dry red chilies. Cook until garlic starts to smell fragrant, about 1-2 minutes. Turn off the heat and add ginger. 
Once the mixture is cooled, grind along with tamarind pulp, jaggery and salt to a smooth paste. Add water as needed to get the desired consistency.
Heat 1tsp oil in a small pan, add the mustard seeds and once they start to splutter add the dry red chilies and curry leaves. Pour this over the chutney and serve.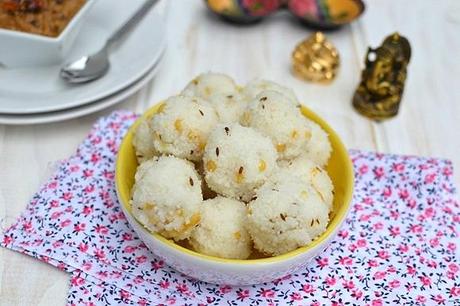 Lets check out what my fellow marathoners have cooked today for
BM# 26
.