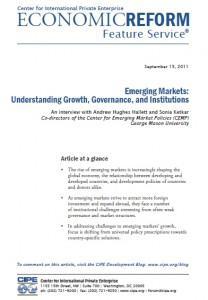 Even before the recent economic downturns in Western economies, investors and international development professionals have been interested in emerging economies. The BRICs – Brazil, Russia, India and China – have commonly been the focus of discussions about emerging markets but that is changing and the definition of emerging markets is expanding. For example, the Financial Times' BeyondBRICS section covers countries as diverse as Turkey,Poland, South Africa and Thailand. Many African economies are on the rise as well, though governance and institutional challenges remain.
The language used in conversations about emerging markets is also fascinating. "Developing countries," sometimes exclusively perceived as desperate places where people depend on humanitarian aid for their survival, transform into "emerging economies," regions with untapped potential whereinnovation can thrive.
In many emerging markets, however, political instability and poor governance remain major obstacles, repelling investment that drives growth. A lack of transparency and poor governance within local businesses themselves also deter international investors.
To explore those and other issues crucial to the development of emerging markets, George Mason University in Virginia recently established the Center for Emerging Market Policies  (CEMP) as a hub for research and teaching on international commerce, economics, and public policy issues relating to emerging markets. In this Economic Reform Feature Service article, Co-directors of CEMP Andrew Hughes Hallet and Sonia Ketkar explain why adherence to good corporate governance practices affects foreign investment and growth; the rise of country-specific solutions for political and economic reforms; and the prevalence of public-private partnerships in infrastructure development.