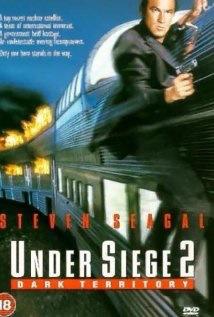 Director: Geoff Murphy
Writer: Richard Hatem, Matt Reeves (Screenplay) J.F. Lawton (Characters)
Starring: Steven Seagal, Eric Bogosian, Everett McGill, Katherine Heigl, Morris Chestnut, Peter Greene, Patrick Kilpatrick
Plot: Casey Ryback hops on a Colorado to LA train to start a vacation with his niece. Early into the trip, terrorists board the train and use it as a mobile HQ to hijack a top secret destructive US satellite.
There may be spoilers the rest of the review
Verdict: Die Hard on a Train?
Story: Under Siege 2 Dark Territory starts by showing a new government satellite that can pinpoint anything on Earth, one of the men involved in building the satellite Travis Dane (Bogosian) isn't part of the first test due to his death. We move to meet Casey Ryback (Seagal) who has to take care of his niece Sarah (Heigl) as they travel across country by train.
When a group of mercenaries take over the train lead by Travis Dane a ghost from the past has come back to get revenge on the government by stealing and trying to sell his creation to the highest bidder.  This leaves Casey having to once again come up to face a group of terrorists putting American lives in danger.
Under Siege 2 Dark Territory is pretty much just Die Hard on a train, yes the acting isn't as high standard and the suspense isn't built to the level expected. Nothing really pushes the boundaries of the genre but is an easy watch. The villains are very generic with one being the brains the other being the muscles and as you would expect there are bad one liners.
Actor Review
Steven Seagal: Casey Ryback is the elite trained soldier who is also a chef, he is traveling with his niece when the train he is on gets hijacked by terrorists leading him to use his skills to save the lives of the people on the train and the people they are targeting. Steven gives us the performance you would expect to see from him in this film.
Eric Bogosian: Travis Dane is the former employee that decides he wants his invention back while looking to sell it to the highest bidder, he is very calculated and willing to kill anyone who gets in his way. Eric makes for a good intelligent villain but could have had done with him is left to the indignation.
Everett McGill: Marcus Penn is the head mercenary hired to make sure Dane has all the protection he requires, he will kill anyone who gets in his way even though he sees his mercenaries as disposable. Everett does a good ruthless villain role.
Katherine Heigl: Sarah Ryback is the niece of Casey who hasn't forgiven him for the death of her father but deep down she knows he is the only family she has. She becomes the traditional feisty pawn used by the terrorists to get Casey attention. Katherine is good for the basic damsel in distress with attitude.
Support Cast: Under Siege 2 Dark Territory has a supporting cast that includes standard mercenaries, military men along with the token comic relief character.
Director Review: Geoff Murphy – Geoff gives us an action film you know where it will go but is still worth the ride.
Action: Under Siege 2 Dark Territory has good even if it is all basic action being used throughout.
Thriller: Under Siege 2 Dark Territory does keep you on the edge of your seat with the action from start to finish.
Settings: Under Siege 2 Dark Territory has a good setting which is needed for the idea behind the film.
Special Effects: Under Siege 2 Dark Territory has good special effects when needed but you can see them being computer generated in moments.
Suggestion: Under Siege 2 Dark Territory is one for the action fans to enjoy only. (Action Fans Watch)
Best Part: Bobby
Worst Part: Nothing truly original
Favourite Quote: Penn 'You ruined my coat'
Believability: No
Chances of Tears: No
Chances of Sequel: Talks for one.
Post Credits Scene: No
Similar Too: Die Hard
Oscar Chances: No
Box Office: $104 Million
Budget: $60 Million
Runtime: 1 Hour 32 Minutes
Tagline: Five million tons of hijacked metal. One billion dollars of satellite weaponry. One American city is targeted for nuclear destruction and only one hero stands in the way.
Overall: Action film 101
Rating