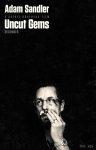 New York City jeweller Howard Ratner is always wanting to make a big score and pretty much risking it all over and over again on high-stakes bets.
⭐️
The hype surrounding this film has been on another level with praise towards it being a fully tense experience and making people feel sick. Having awards buzz around it as well and all I can be is totally shocked and bewildered to why that has happened. I found the film to be a very boring and drawn out 2 hours and 15 minutes, left wondering why I stuck it out until the end.
The biggest issue I had with the film was Howard Ratner, a truly horrible man who did not deserve any sympathy or empathy. Everything he did was his own fault and the reasons behind it never really made any sense other than having major gambling issues. I hated him, which I feel is the reason that I hated the film. He was loud and pathetic from the very start and treated his family in the worst possible ways. Quite frankly he deserved everything that he got, messing with the wrong people was never going to end with a lovely happy ending for him.
The story is around the rare uncut rock of Ethiopian gems he manages to get his hands on and believes this will be the way out of his debt and hitting it big. When basketball player Kevin Garnett sees it, something he feels he must have and it will be his lucky game charm. Again maybe the whole basketball thing was something that is missing on me being from the UK and not really getting the game as much as football here.
Considering the serious nature surrounding gambling addiction it doesn't even hit anything near that for the character. That might have made you feel a little bit of sympathy at some point, especially if you have had close exposure with that yourself or someone close to you. Something that was missing surely? I personally did not experience anything positive surrounding this film. I don't even get how people found it tense as I just did not care one tiny bit about any of the characters.
Another thing that had me baffled was the awards buzz around Adam Sandler, really pleased he did not get Oscar nominated as it would have been even worse. All he does is shout, which for me is not good acting at all. If you are going to be loud you need to have the ability to also show emotion for this to actually work.
Not in with the crowd when it comes to this one then, extremely overrated and nothing positive to take from it. Horrible characters and therefore a truly horrible film all round. Which I wasn't really expecting in all honesty, I felt with the hype surrounding it I would be truly blown away by it and the tense feeling but that did not happen at all. I guess we cannot enjoy and like them all!