The best travel experiences are those of discovery. It does not have to be a life-changing discovery as those recounted in a lot of romantic stories nowadays. Simple, small discoveries will do.
It was with the longing for a simple discovery that my friends and I planned our winter trip earlier this year. We were all born and raised in a tropical country where the sun shines all year through, so we wanted to find out what a snowy winter would feel like.
We packed our bags to fly to South Korea. It is close to where we live, and it is not an expensive destination. Of course, some of us also secretly hoped we would accidentally bump into a K-pop (Korean pop) girl group member there.
South Korea has been doing a good job promoting itself as a tourist destination through its dramas and pop idols. Most of my friends and family who hope to visit South Korea one day state drama shooting locations as the places they want to see when they get the chance to visit. Those who claim to be K-pop fans would usually think strolling around one of the big entertainment agencies or getting inside a music show taping are among the things to do while in Seoul.
My friends and I touched down Seoul on a night in early February, and we were immediately greeted by our main purpose of visit : snow. It covered the sides of the runways. The freezing temperature didn't make us any less excited. Little did we know how big an influence it would have on the rest of our trip.
We stayed in a decent guesthouse at Hongdae, which is known for its lively atmosphere day and night. The guesthouse owner warned us that the following two days were forecasted to be the coldest days of the year's winter in Seoul.
The reality of what this meant finally sank in the following day, and led me to my first lesson from the trip : other than wanting to see snow for the first time of your life, or to experience winter sports, there is hardly any other good reason to travel in winter.
We headed to Bukchon Hanok Village the next morning, and struggled to stand the chill that was slapping our faces and gripping through our gloves. Although the red wooden traditional houses along the small alleys looked beautiful, especially in contrast with the cold surroundings, all we could think of was finding some place indoors to warm ourselves for a bit. Never has a sign saying "Handicraft Workshop" made anyone so happy as one we saw on a door that morning. We rushed inside and tried to be more interested in the handicraft makers than the built-in heaters.
We continued our day with a visit to Myeongdong shopping district. After one lunch and two dinners, by the end of our second night in Seoul I already established that Korean dishes are really good, especially in Korea itself. Surprisingly, a friend of mine who has lived there for a year disagrees. To be fair, my judgment was probably influenced by the fact that as first time visitors, my friends and I opted to eat at places which would not normally be an everyday choice for one who actually lives in Seoul.



We really liked everything we tried : geranjjim, haemultang, dalkalbi, kimchi jiggae, the infamous Korean barbeque samgyeopsal with its soju accompaniment, up to the snacks sold by street vendors.
Another food-related discovery that I learned during this trip was that I am actually more of the food-enthusiast kind of traveler. My favorite time of the day during our trip was always meal time, and the thought of having something new and different to eat each time just excited me. I am glad that I took notice of this. Knowing my traveling preferences would help me plan my future getaways better, making sure that I focus my energy and spendings on the things that I enjoy more.
The following day, to avoid cold as long as possible, we decided to go for an indoor tourist destination. Lotte World theme park it was. Forgetting about cold for a full day was refreshing. Of course after that we had to throw all hopes of similar comfort aside as we directly headed to Namsan Tower, one of Seoul's important landmarks standing on Mount Namsan.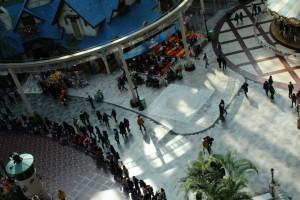 Inside Lotte World
I happily lined up in front of the stand, and not only did I get nicely framed polaroids of myself in Hanbok in the end, I also got to infer the following: traditional dresses always seem to make girls look prettier. Is it due to their unique designs, or the fact that people only wear them on special occasions, I don't know. But I always feel pretty when I wear my country's traditional dress, and I certainly felt pretty wearing Hanbok.
We spent the rest of our stay visiting Seoul's Eye Trick museum and shopping souvenirs at Dongdaemun district, and flew back home on the fifth morning.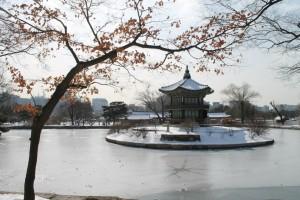 Gyeongbokgung in Winter
It is the uncovering of novel lessons, the encounter with the unexpected that will be long remembered, and eagerly recounted of a journey. When people ask me about my winter getaway, they wouldn't really expect a story of how different the ambience of taking a subway in Seoul is from that in Taipei, the shock we had when a Korean salesgirl tugged my boyfriend's arm to get him inside a skincare shop and buy me something, or what idiosyncracies of my friends I learned about in that short amount of time. But as it turns out, those really are some of the most memorable parts of my visit to Seoul, more than the images I have of Gyeongbokgung, Bukchon, or Namsan.