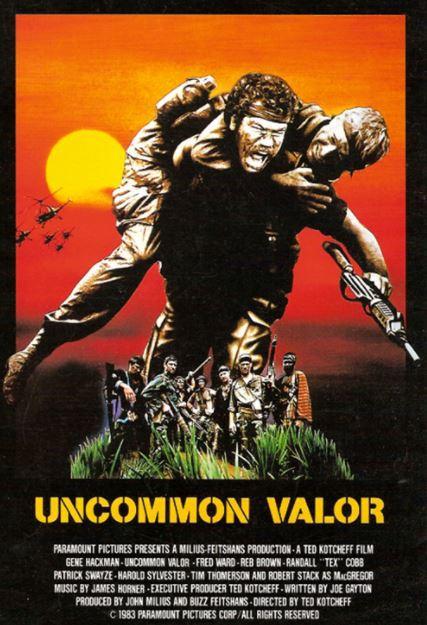 Director: Ted Kotcheff
Writer: Joe Gayton (Screenplay)
Starring: Gene Hackman, Robert Stack, Fred Ward, Reb Brown, Patrick Swayze, Harold Sylvester
Plot: Ten years after his son went M.I.A. in Vietnam, U.S. Marine retired Colonel Jason Rhodes assembles a private rescue team to find Americans held in P.O.W. camps in Laos.

Tagline – Seven men with one thing in common.
Runtime: 1 Hour 45 Minutes
There may be spoilers the rest of the review
Verdict: Good War Movie
Story: Uncommon Valor starts when Col Jason Rhodes (Hackman) recruits for Vietnam soldiers Wilkes (Ward), Blaster (Brown), Sailor (Cobb), Johnson (Sylvester), Charts (Thomerson) and son of a mission in action soldier Kevin Scott (Swayze) to go on a mission in Laos, to free the soldiers in a prisoner of war camp believed to be controlled by the former Vietnamese soldiers.
First he must get them back into shape, before taking them on this mission which could break the bonds that are being rebuilt between the countries and go against the men's wishes. This is a life or death mission that could be for the right reasons, but deadly for those involve.
Thoughts on Uncommon Valor
Characters – Col Jason Rhodes had to eave his son in Vietnam while escaping the enemy, never giving up hope of finding his son alive, her learns of a prisoner of war camp and puts together a team to rescue those prisoners and return them to his family, what is a broken man inside but a determined one on the outside we have a leader that will put this team together. Wilkes is the member of the team, still suffering from the nightmares of what happened to him, maybe the deadliest member of the unit, he will be the one to watch out for through the film, the rest of the unit have their strengths and weaknesses which helps bring them together to be the full unit.
Performances – Gene Hackman was always a brilliant choice in a leading role, this is no different because he can control the people well, while also being able to show of his strengths as an actor. Fred Ward shows us a great performance in his supporting role, while Patrick Swayze comes well in this film, he is the rookie character and working in this role we see his strengths too.

Story – The story came out when people were still feeling the effects from the Vietnam war, American families were not complete and loved ones were still unaccounted for, this story shows us just how far soldiers would go for a loved one with the unit they were close to during the war. While the story is good it does play into what you will expect with an American group of soldiers being better than anyone else, which entertains throughout.
Action/War – The action is mostly saved for the finally, which does feel safe with everything and is filled with war themed battle going on.
Settings – The film keeps us in a couple of locations, first the training camp to prepare for the battle, then the mission to the location before the final battle, this works for the film, we don't need to see more or less from the settings.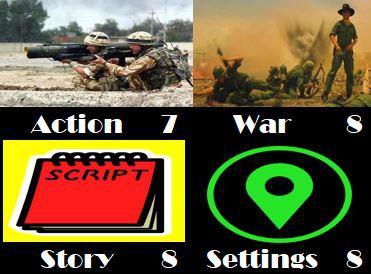 Scene of the Movie – Final battle.
That Moment That Annoyed Me – It is more of America to the rescue.
Final Thoughts – This is a good war film that plays everything safe and makes us believe that the war wasn't over on the first date believed, it was the prisoners of war that still needed rescuing from the impending fates.
Overall: War fans will enjoy this one.
Rating

Advertisements