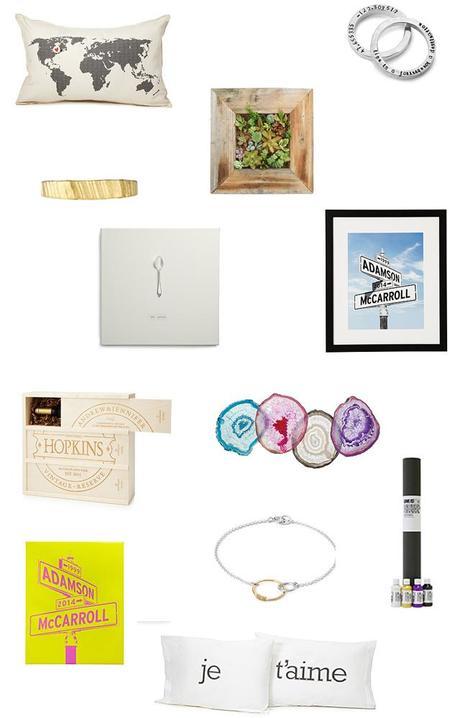 Heart Marks the Spot pillow, Succulent Living Wall planter, Latitude Longitude custom rings,
Eucalyptus Wedding gold band, Anniversary canvas, Intersection of Love Print,
Family Vintage Wine box, Agate coasters, Custom Love is Art kit,
Intersection of Love color print, Links of Love bracelet, Je T'aime pillow
–
With my one year wedding anniversary around the corner, mothers day this weekend, and a graduation next week I have gifts on my mind. I love gift giving. Before I got married my husband and I took the "Five Languages of Love," test and while neither of us got gift giving, it is still one of my favorite things to do. I honestly love seeing the faces of those I love the most light up. I will spend weeks on end thinking about and then searching for what I think is the perfect gift. This upcoming anniversary has had me a little stressed. I know the first year is suppose to be paper but who really wants that? So I have been racking my brain on what to do. When this happens I always turn to my favorite place to find unique gifts. The type of gift that you know people will want even if they have never mentioned it. This mecca of inspiration is none other than, Uncommon Goods. They seriously have one of the best selections of curated gifts for anyone in your life – wine enthusiasts, gardeners, anniversary, wedding, ect. I mean they have you covered from all ends. And I can assure you, no matter who you give your gift to, it will be one of the most unique things they receive.
I still remember when my first wedding gift came in the mail. I was so excited and immediately tore into the paper. We went traditional and didn't use any gifts until our wedding but I proudly displayed them in a spare bedroom. I would walk in and just sit in awe of everything. It wasn't about the gift but the fact that this entire process was actually happening. It was a very surreal moment. I am extremely grateful for everything I received and use most everything weekly but it is the ones that were so unique and special which I cherish most. You know, the ones people really spent time thinking about and picking out especially for us. Since it is so close to my anniversary and it is summer (wedding season) I decided we could all use a little gift giving inspiration especially for that special someone in your life or for the couple about to be married. Whether you are looking for a personalized gift for the home, for your partner, or something to show your love Uncommon Goods has it.
–
For more unique gifts for any occasion check out Uncommon Goods website
–
–
while this post was sponsored by uncommon goods it is a place I have personally shopped for years. all opinions are my own
–