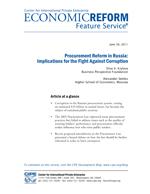 With corruption in the Russian procurement system costing an estimated $35 billion, many are now calling for reforms to Russia's procurement laws in hopes of limiting corruption.
The current federal law regulating government purchases was adopted in 2005 as a measure of reducing corruption and government spending, and was amended in 2009 and 2010. This law "establishes the main principles of public procurement and regulates the relationships between government personnel and private sector actors taking part in the process."
But since the law's inception in 2005, government officials and businesses have found ways to bypass regulations, awarding contracts to certain firms and even embezzling initial payments without performing. Now the key players, along with a vigilant public fascinated and outraged by the waste, have engaged in heated debates regarding proposed amendments to the procurement law.
Not surprisingly, those in favor of the current law include "the entrepreneur community, bidding firms, and certain arms of the government" – those with an incentive to continue their corrupt rent-seeking practices at the expense of the entire Russian population. Meanwhile, opponents include "government and municipal clients and the majority of functional government departments."
Dina V. Krylova (Business Perspective Foundation) and Alexander Settles (Higher School of Economics, Moscow) explore Russia's procurement law, along with its revisions and proposed amendments, in their feature service article, "Procurement Reform in Russia: Implications for the Fight Against Corruption."
In it they recognize the positive social goals achieved by the 94-FZ procurement law but also note the lack of further transparency reforms in the procurement process and the resulting negative effects.
Article-at-a-glance:
Corruption in the Russian procurement system, costing an estimated $35 billion in annual losses, has become the subject of sustained public scrutiny.
The 2005 Procurement Law improved many procurement practices but failed to address issues such as the quality of winning bidders' performance and procurement officials' undue influence over who wins public tenders.
Recent proposed amendments to the Procurement Law generated a heated debate on how the law should be further reformed in order to limit corruption.
Download the full article in PDF format.