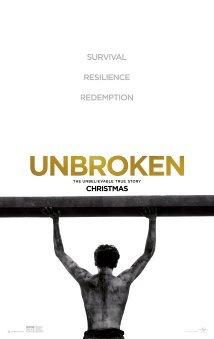 Director: Angelina Jolie
Writer: Joel Coen, Ethan Coen, Richard LaGravenses, William Nicholson (Screenplay) Laura Hillenbrand (Book)
Starring: Jack O'Connell, Domhnall Gleeson, Garrett Hedlund, Takamasa Ishihara, Finn Wittrock, Jai Courtney, Maddalena Ischiale,
Plot: After a near-fatal plane crash in WWII, Olympian Louis Zamperini spends a harrowing 47 days in a raft with two fellow crewmen before he's caught by the Japanese navy and sent to a prisoner-of-war camp.
There may be spoilers the rest of the review
Verdict: Not Powerful Enough
Story: Unbroken starts by showing an American fleet of fighter pilots on their latest mission, we focus on one plane with Louis Zamperini (O'Connell), Phil (Gleeson), Mac (Wittrock) and Cup (Courtney) as they get caught up in a dog fight while their plane is malfunctioning the unit find themselves facing a very real reality they might not make it back to base.
We move back to meet Louis in his childhood years as we see that he is a rebellious teenager with his Italian heritage making him distant to the rest of the community. When Louis gets challenged by his brother Pete to focus on athletes we see how he becomes one of the best long distances runners of his time representing America in the Olympics.
The story jumps back to the stricken fighter plane that does make it back with a risky landing but most importantly they are on land again. Louis, Phil, Cup and Mac return to the air with a new team and plane on a rescue mission, before that plane suffer mechanical difficulties. We move back to the Olympics showing the final where Louis wins the attention of his nation with his recorded breaking final lap, before returning to see the plane crash into the ocean.
The plane has just three survivors Louis, Mac and Phil and the three have to work together to survive in the middle of the Pacific Ocean with very limited supplies. We see the days pass by as the trio have to overcome obstacles in the fight to survive. 47 days pass before Louis and Phil get found by the Japanese who take them to the POW camp. The camp is run by Watanabe (Ishihara) nickname 'The Bird' who puts his prisoners through punishments but the main focus is on Louis.
Unbroken tells a brilliant powerful story only it doesn't seem to grasp the idea of how to achieve all of the powerful moments. The almost pointless tease crash or damaged plane scene seems to just be there to drag the scenes out so we can learn more about Louis back story. It really offers nothing once we have the actual plane crash. The flashbacks to his childhood feel like a carbon copy of most of the Forest Gump running scenes and get fast-forwarded to almost be jammed in to say he was in the Olympics which we also don't know where he finished without researching ourselves. That is my rant side of the story over with, the stranded scenes do work very well but they do all seem to have perfectly trimmed beards through them. Once they get captured what should be very much a powerful rebellious attitude against his enemy just seems to fizzle out. I really don't want to sit here and slam this because the story of survival is real and incredible but we just don't get to feel how difficult it really was. Overall this story comes off very flat and uninspiring.  (5/10)
Actor Review
Jack O'Connell: Louis Zamperini is the rebellious teenager who becomes an Olympic hero before becoming a fighter pilot during World War II. After his plane crashes he takes charge of the situation keeping his two fellow survivors alive as long as he can. When he is captured he comes head to head with Watanabe who pushes him to the limits where he just won't back down from. Jack gives a heavyweight performance and could easily be one of the underrated ones of the year. (9/10)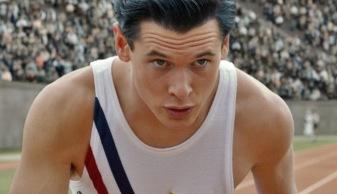 Domhnall Gleeson: Phil is one of the pilots who goes down with the plane but survives along with Louis as they are both taken into a POW camp by the Japanese. Domhnall does give a good performance but not his fault here but I didn't know if he was in the second half of the film or not. (7/10)
Takamasa Ishihara: Watanabe is the leader of the prisoner camp who puts his prisoners through tests to see if he can break them, it becomes apparent that through both respect and hate that he wants to make an example out of Louis. Takamasa gives a good debut performance here but never feels as intense as I believe the character is meant to be. (6/10)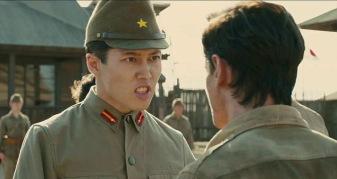 Support Cast: Unbroken has a big supporting cast of fellow young male actors who are on the rise which include Garrett Hedlund, Finn Wittrock, Jai Courtney and Luke Treadaway as they all perform very well in the role that take on. Each shows that they will be heading to bigger things in the future.
Director Review: Angelina Jolie – Angelina struggles to make this film as powerful as it should be, we have lack of explanation to very simple things missing in this film which would be key to what actually goes on during the film. (4/10)
Biographical: Unbroken tells a brilliant story of survival against the odds during the war, but there are many of these stories out there. (7/10)
War: Unbroken does show two sides of the war, being stranded and being a POW. (8/10)
Settings: Unbroken uses the settings to create the authentic looking location for all the events to unfold. (9/10)
Suggestion: Unbroken is one to try but I do feel it doesn't match up to many other powerful drama about survival. (Try it)
Best Part: O'Connell performance.
Worst Part: Not enough focus on the rest of the prisoners.
Favourite Quote: Pete 'If you can take it, you can make it'
Believability: It is based on the true story. (10/10)
Chances of Tears: No (0/10)
Chances of Sequel: No
Post Credits Scene: No
Oscar Chances: Nominated for 3 Oscars including Cinematography, Sound Mixing and Sound Editing.
Box Office: $161 Million
Budget: $65 Million
Runtime: 2 Hours 17 Minutes
Overall: Unbroken is filled with great performance but they all get buried by poor story telling.
Rating