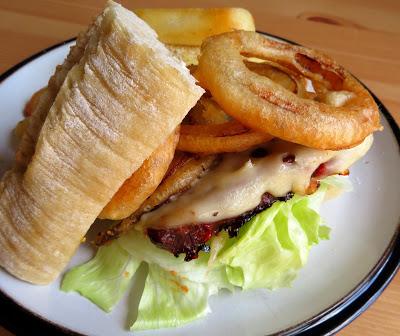 We had some meatloaf leftover from the other day and today I decided to make us some delicious meatloaf sandwiches with some of it, but not just any meatloaf sandwich . . .  Ultimate Meatloaf Sandwiches!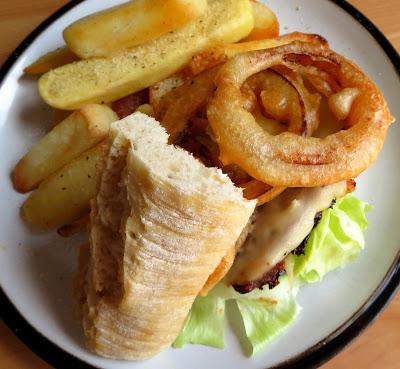 So what  exactly constitutes the Ultimate Meatloaf Sandwich??  Well, it could be any number of things according to who you are talking to.  Taste is subjective after all.  This is only my opinion of course!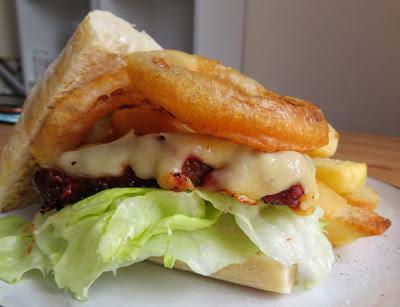 To any good sandwhich bread is key and today I used a  French Baguette, which I cut into 4-inch lengths, which was to me the perfect size each for one.  I then cut them in half horizontally.  I didn't toast them because I didn't want them to get too hard or difficult to eat.  I left them in their natural state.  Soft, slightly crisp and a bit chewy . . .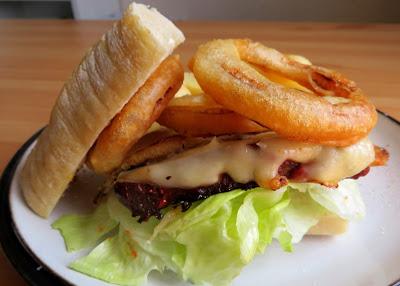 You also want some leftover good tasting meatloaf.  My
Diner-style Glazed Meatloaf recipe
from the other day is the perfect one in my opinion and once allowed to cool and set in the refrigerator overnight, it slices perfectly.  You don't want to be greedy with your slices and go too thick.  1/2-inch is the perfect size.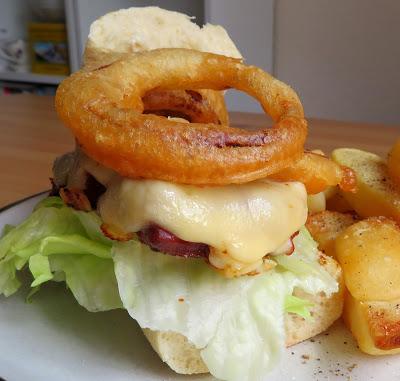 You brown off the meatloaf slices in a skillet after brushing them on each side with BBQ sauce. I used Jack Daniels BBQ sauce which I had in the refrigerator. To me it has the perfect tang.  Once you have flipped the first side over you will want to lay a slice of cheese on top of the browned meatloaf to melt.  I used Leerdammer which is a Swiss type of cheese.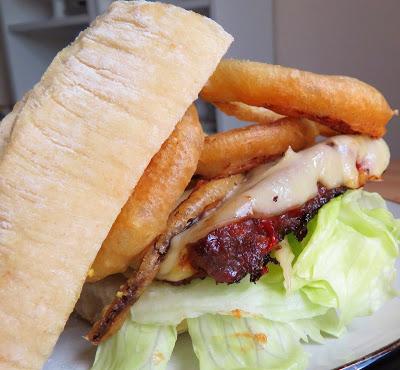 Both of the cut edges of the baguette were spread first with some horseradish sauce and then some grainy mustard for plenty of zip!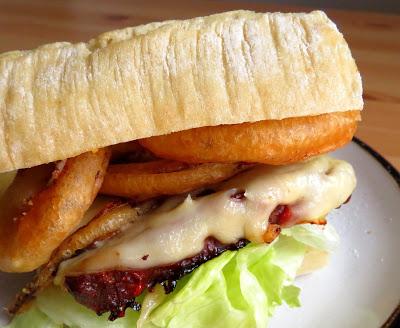 I applied a layer of crisp iceberg lettuce on top of the bottoms of the baguettes.  You can't get much better than iceberg lettuce in a sandwich . . .  mild and crisp.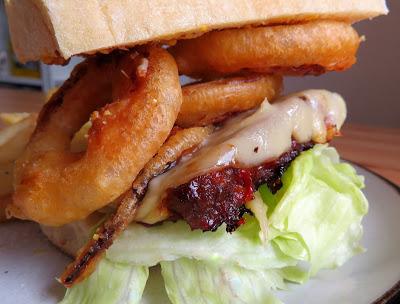 I lay the browned meatloaf slices on top of the iceberg lettuce, cheese side up  . . .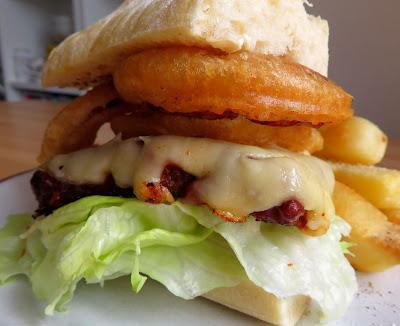 And then I added the "piece de resistance" to the tops, over that cheese  . . .  crisp battered onion rings.  Yes, I did make my own today.  They were very easy to make and I did them before I started making the sandwiches, leaving them in a low oven to keep warm.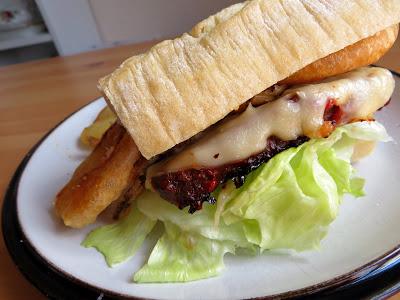 Now you can lay the top of the baguette over the onion rings and get ready to enjoy!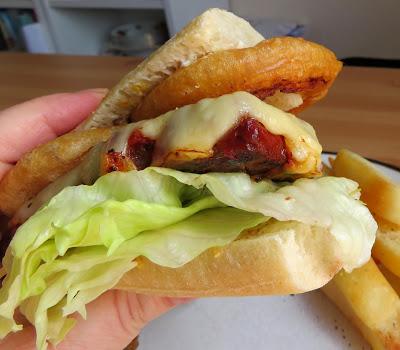 Oh boy, just look at that.  I can't wait to dig in!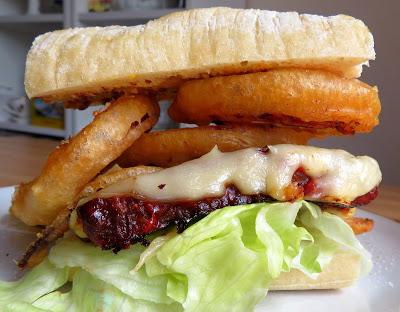 This truly was one amazingly delicious Meatloaf Sandwich, which is why I crowned it the Ultimate Meatloaf Sandwich.  Don't take my word for it of course.  Make your own and you will see!  Of course you will have to bake your family a meatloaf first!!!  I doubt they will complain!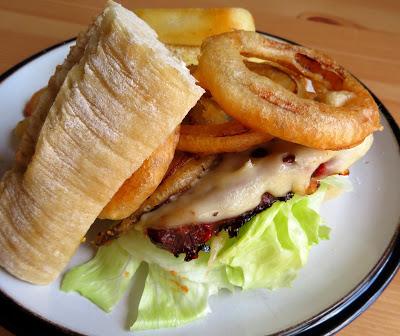 Ultimate Meat Loaf Sandwich
Yield:
1
Author:
Marie Rayner
I don't call this the ultimate meatloaf sandwich for nothing!  This is one heck of a tasty sandwich! This recipe can easily be multiplied to feed as many as you like.
Ingredients:
1 (4-inch) length of a French Baquette, cut through the middle horizontally
1 TBS horseradish sauce
1 TBS grainy mustard
1 TBS your favorite BBQ Sauce
1 slice of cheese (I like Leerdammer Swiss)
iceberg lettuce
1 thick slice of cooked leftover meatloaf
onion rings (frozen or homemade)
Instructions:
Place your onion rings into the oven to cook according to the package directions if using frozen ones. If making your own, follow the recipe to make your own and keep warm while you build your sandwich.
Lightly spray a non-stick skillet wih some canola oil spray and heat over medium heat.  Brush your slice of meatloaf on both sides with some BBQ sauce and place into the heated skillet.  Cook until golden brown on the underside and then carefully flip over and brown the other side, placing the slice of cheese on top so that it can melt.
Brush both cut edges of your baguette with some horseradish sauce and grainy mustard.  Lay some iceberg lettuce on the bottom slice, top with the heated  slice of meatloaf, with melted cheese side up.  Top with a few hot onion rings and the top slice of baguette.  Enjoy!
Did you make this recipe?
Tag @marierayner5530 on instagram and hashtag it #EnglishKitchenCreated using
The Recipes Generator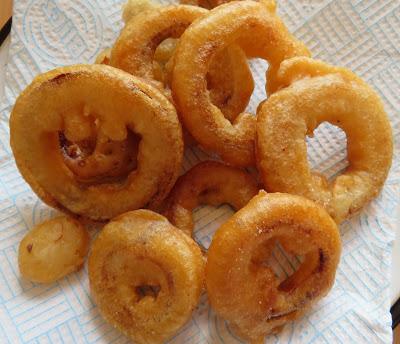 Easy Onion Rings
Yield:
2
Author:
Marie Rayner
Crisp and tasty onion rings with a spectacularly light batter! The key to a light batter is the sparkling water.
Ingredients:
1 large onion, peeled, trimmed and cut into 1/3 inch slices
peanut oil for frying
140g self raising flour (1 cup}
180ml sparkling water (3/4 cup)
fine sea salt
Instructions:
Slice your onion and separate into rings. Have ready an oven tray lined with paper towels.
Whisk together the flour and sparkling water until smooth in a medium sized bowl. (It will foam up so be careful.) Season generously with sea salt.
Heat a quantity of peanut oil in a deep skillet, making sure it is no more than 1/3 full.
Once the oil is heated to 185*C/365*F , dip some of your onion rings into the batter and carefully drop into the hot oil. Fry until golden brown on one side and then carefully flip over with a fork to fry on the other side. (about 2 to 3 minutes all together.)  Remove to the lined baking tray to drain.  Repeat until all of your onion rings have been battered and fried.  Keep warm in a low oven.
Did you make this recipe?
Tag @marierayner5530 on instagram and hashtag it #EnglishKitchenCreated using
The Recipes Generator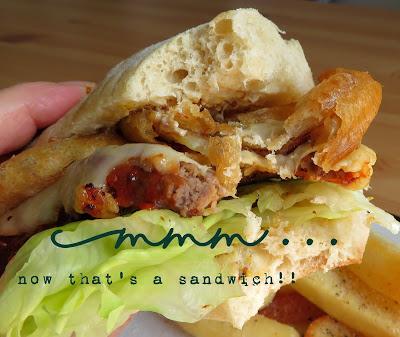 These sandwiches were incredible.  Todd had two slices of meatloaf on his.  You won't find anyone complaining about eating leftovers when you place one of these tasty baby's down in front of them! I guarantee!

Follow my blog with Bloglovin