Original content: Ultimate Honeymoon Packing List In 2019
Brides put so much thought into the ceremony and reception that we often leave honeymoon planning to the last minute. Luckily, you found us! This honeymoon packing list contains all the His and Hers items you'll need for every moment of your honeymoon journey.
Regardless if you're heading for the hills or destined for sandy beaches there are items that you absolutely must bring with you, and a few that are just for fun. We cover the essentials, the nice-to-haves, the practical, and the romantic honeymoon necessities in this handy list. We've put our effort into planning so that you can focus on enjoying your moments without having to worry that you've forgotten something critical or wind up spending an unneeded fortune at the resort.
Read on for honeymoon peace of mind.
Must Haves
honeymoon-packing-list-luggage-with-clothes-334x500.jpg', null)" class="icon-facebook wwm_socialshare_imagewrapper facebook_custom">Facebook
There are plenty of home comforts that you can leave back at the house and still have an amazing time at the resort. Other items, however, can cause quite a bit of stress if they slip your mind. First things first on your honeymoon packing list, the essentials:
Passports, driver's license, and another id like visas
Plane tickets
Travel insurance info
Hotel confirmation – and restaurants
List of contacts – friends, family, banks, etc.
Medical information – prescriptions, allergies, emergency contact, doctor contact, etc.
Photocopies of all documents – stored separately
Credit card(s)
Emergency cash
Traveler's checks
Something to read on the plane: kindle or hard copy
Camera
Smartphone
Chargers for all of your devices
Electric converter – your devices won't plug into European outlets
Carry-on bag
Basic toiletries – toothbrush, deodorant, etc.
Change of clothes – maybe you want to get comfier on the plane, maybe you want a quick change as you unpack at the resort.
Planning for these honeymoon essentials makes sure that you can get from home to your destination, and navigate the entire trip while comfortably avoiding any bureaucratic nuisances.
Honeymoon Packing List For Bride (Tweak for Destination, Activities and Season)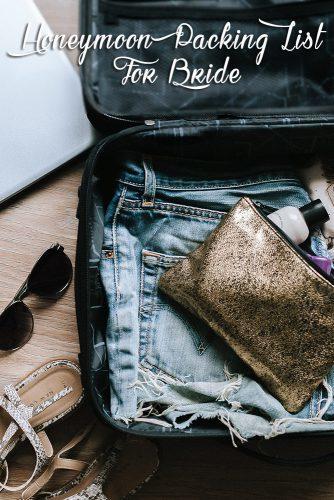 honeymoon-packing-list-luggage-with-clothes-and-other-items-334x500.jpg', null)" class="icon-facebook wwm_socialshare_imagewrapper facebook_custom">Facebook
This portion of the honeymoon checklist is just for Her. There are certain things that don't really apply to the groom that you as the bride absolutely need to plan for in order to have a stellar time. Plan ahead and pack these items to avoid stress and disappointment:
Your fanciest outfit for at least one romantic dinner or dancing outing.
That "little black dress" for that second date or a more casual romantic evening.
A light jacket or sweater for unexpected cold nights or layovers during your flight.
A cardigan in case a restaurant goes a little overboard with the A/C.
A few days' worths of casual tops.
Casual pants or leggings.
1 Sundress.
A few pairs of shorts.
2 swimsuits – 1 for water sports, 1 for looking good.
Sneakers
Sandals
Flats
Heels
Cheaper jewelry – you want to look good but you don't want to attract thieves.
1 Hat
Bikini wrap
Sunglasses
1 clutch, 1 purse
3 bras – one comfy, one for dates, one super sexy
More socks and underwear than you think – too much is better than not enough in this case.
We set up this honeymoon packing list for sunny destinations. If you're headed for the slopes or any other colder climate, you'll have to adjust. The point is to plan for indoors, outdoors, travel time, and the unexpected. Don't overdo it, the lighter you travel the easier it is, but do plan for every probable situation.
Honeymoon Packing List For Groom (Tweak for Destination, Activities and Season)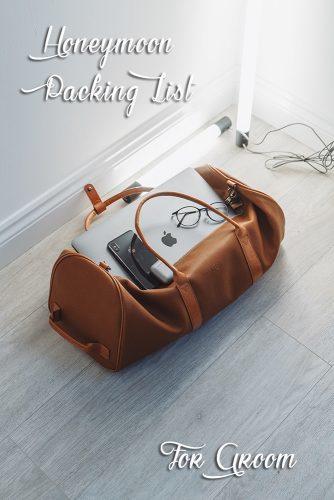 honeymoon-packing-list-casual-luggage-with-smartphone-and-notebook-334x500.jpg', null)" class="icon-facebook wwm_socialshare_imagewrapper facebook_custom">Facebook
This is the most romantic trip He will ever be on. A little planning will avoid those frustrating moments when things don't seem to go his way. Maximize the good time by making sure that these honeymoon clothes are included in your honeymoon packing checklist:
A blazer – take your wife on a romantic date
Suit pants
Button down shirts – bring a few (white, black, and your fave color)
Jeans and/or khakis
"Office casual" pants
A light sweater or cardigan
Oxford or polo shirt
Casual t-shirts – for lounging
Bathing suit – suitable for the beach, pool, and hot tub.
Extra underwear and socks
Dress shoes
Sneakers/running shoes
Sandals
Dress belt and casual belt
Sunglasses
2 ties – you may want a second option depending on where the night leads you.
Again, this is a beach honeymoon packing list. If you're headed somewhere other than a tropical paradise make sure to adjust for the climate. Also, if you have some adventure baked into your honeymoon plans (like climbing to the top of Machu Picchu) make sure to bring appropriate footwear.
Honeymoon Packing List: Clothes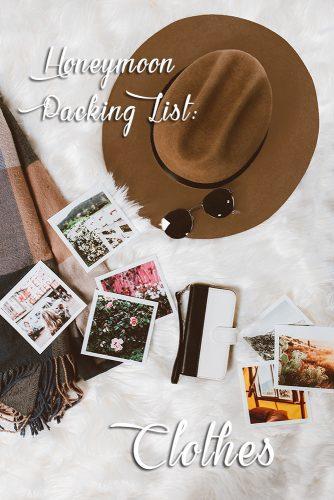 honeymoon-packing-list-photos-and-clothes-334x500.jpg', null)" class="icon-facebook wwm_socialshare_imagewrapper facebook_custom">Facebook
This is a vacation. You're going to want to hit the beach, take in some entertainment, and indulge in fine dining. But, this isn't just any vacation. It's your Honeymoon! It's only natural that you're going to want to "consecrate your marriage" with some naughty time. We encourage you to bring your A game, but a single outfit won't do. Here's how to make your destination wedding packing checklist sexy:
For Him
Black drawstring charmeuse pants
Front-zip lycra shorts
Cobra print pouch briefs
Velvet smoking jacket
Okay, so maybe you won't be bringing every single item on this list, but it's important to choose at least one (or something similar) sexy outfit along with you on your honeymoon. Looking great feels great, and she's sure to appreciate the results.
For Her
Your hottest full lingerie set
A teddy
Fishnet stockings
The first night is usually the big night that we plan for, but we often neglect the rest of the vacation. Plan a few surprises for your new husband and make it a vacation he'll never forget. You should even consider honeymoon dresses for couples for when you're hitting the town. Sometimes a sexy evening gown is just as good as lingerie.
For Both
If you've always wanted to be a little more experimental in the bedroom, your honeymoon is the perfect time to try new things. It's likely you'll be aware of each other's comfort limits which makes it nice and easy to spice things up with a new toy or a little role play.
What To Pack To The Beach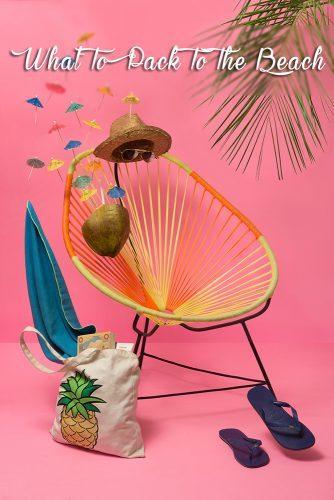 honeymoon-packing-list-funny-beach-items-334x500.jpg', null)" class="icon-facebook wwm_socialshare_imagewrapper facebook_custom">Facebook
Aside from your clothes for honeymoon and bathing suits that we mentioned above, there are a few extra items you'll want to bring along with you for warmer destinations. Here's what to pack for the beach:
For Him
A tote or practical bag
RFID wallet
Beach towel
Sunscreen
For Her
Moisturizer
Tanning lotion
Beach towel
A practical tote
For Both
Packing for the beach isn't as simple as you'd think. Your first priority is to be able to spend hours in the sun without risking damaged skin. You don't want to have to run back to the resort or the nearest store to get something you wish you'd brought. You also don't want to feel at risk leaving your things on the sand while you take a quick dip in the sea.
Hats – ball caps won't cut it on your honeymoon
Tylenol – If you're prone to headaches in the sun
Something to red
Water
Snack
Or money for water and snacks
ID if possible – maybe you'll want to rent a bike or Segway
The best-balanced trip comes with preparation. While you're building and perfecting your destination wedding packing checklist take that extra step and plan what the both of you can carry on you comfortable. He can carry the water and books while you tend to the lotion, cash, and ID. The partnership approach will ensure that you both have a blast and have the freedom to be spontaneous.
Toiletries Packing List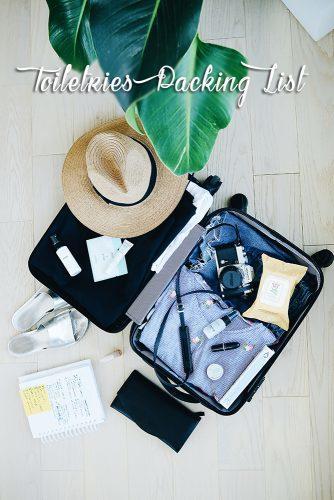 honeymoon-packing-list-luggage-with-items-for-holidays-334x500.jpg', null)" class="icon-facebook wwm_socialshare_imagewrapper facebook_custom">Facebook
The nice thing about this section of toiletries list for travel needed for a wedding getaway is that your hotel has more than a few available. A complete toiletries list is a definite must for any vacation, here's what you can't forget:
For Him
Toothbrush
Razor – or trimmer/scissors if you're sporting a beard
Shaving cream
Moisturizer, facial cream, or whatever else you're into
Robe
Slippers
Your favorite soap
Deodorant
Cologne
Towel
For Her
Toothbrush
Razor
Shaving cream
Foundation, blush, mascara…your entire makeup routine
Brushes, applicators, removers
Tampons or pads
Robe
Slippers
Your favorite soap
Towel
Deodorant
Perfume
Nail file
For Both
Shampoo
Conditioner
Q tips
Nail clippers
Floss
Hand sanitizer
Mouthwash
Toothpaste
Go through this last and call the hotel ahead of time. Take stock of what they provide with the room, and make sure to bring your own if they aren't on the hotel's list.
Items You'd Better Pack Here Don't Buy There
You are asking yourself Why you should follow this list of items you should be packing for the honeymoon. Why bring all this stuff along when you could just buy it once you arrive? It may be more expensive for one thing. Another incentive is that you may be attached to many of these items. Your moisturizer may not be available in the country that you're visiting, and what they do have may feel uncomfortable. This part of the list Recommends the things you should make sure to bring from home. Some we've already mentioned; some are brand new:
Medications – both over the counter and prescribed
Guide books
Electric converter
Toiletries like cologne, perfume, razors, etc.
If you absolutely must buy a few things once you've arrived at your destination, try to do a little research first. Get an idea of how much things cost where you're going and make the appropriate room in your budget.
Extras Honeymoon Checklist
Your standard vacation requires a standard packing checklist. Your Honeymoon, however, demand a wedding extras checklist! There are a few little extras you'll be happy you brought along for this special occasion.
Special social media pages – so that your friends and family can see what a blast you're having in real time.
Thank you cards – so you can thoughtfully fill them out on your downtime.
Sexual aids and your preferred method of birth control – if applicable.
Optional Extras
There are a few items that you don't really need, but you should definitely consider in case they float your boat.
Romantic candles
Massage/essential oils
Playlists for every mood
Gifts and/or notes for each other
When you're planning your honeymoon don't think about the destination. Think about the hundreds of moments you'll share and what you need to make them comfortable, fun, and romantic. If the item you're considering bringing on your big trip doesn't check at least one of those boxes, you should probably leave it at home.