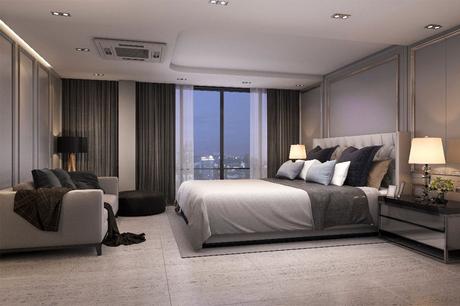 Are you wondering whether it is time to refresh your bedroom but you do not know where to start? A bed and a wardrobe is Ahrefshe most important furniture in your room. You will be surprised to see how much a new bed and a closet can transform the look and feel of your room. Besides, a comfortable bed is crucial for your sleep and it also affects your daytime productivity, while the right wardrobe helps to organize your clothes and accessories. Follow the steps below and you will know how to choose the right bed and wardrobe that will refresh your bedroom.
1. Choosing the right bed
The size of the room
Before choosing a bed it is important to carefully review your room. Pay close attention to the height and the width of the room and even the size of your windows. A clear understanding of the measurements of the room is crucial in order to buy a bed which will be proportional to your room space. Next, choose the right height of the bed. A variety of different options is available on the market but you should consider whether your bed is intended to save space in a room or do you want to go all out and get a tall king size bed. Later, you should decide on the budget you would like to spend on your new purchase.
The purpose, function and material of the bed
You also should consider the purpose of your bed: is it for the bedroom, kid's bedroom or a bed for the guest room? Knowing the purpose of your bed will make your decision easier. Second, think about bed functions. Would you like to have to have a bed with additional shelves to save the space in your room? Third and the most important aspect is the material of your bed which depends on the style you want to achieve in your bedroom and your personal preferences. Do you like metal or wood or other materials? When you are buying any furniture it is key to find the best ratio of price and quality. It is also recommended to buy furniture with a warranty.
2. Picking the ideal wardrobe
How much storage facility do you need?
Before ordering a new wardrobe, you should consider where you are going to put it (is it for the bedroom or the corridor), how much storage facility do you need, how many people are going to use it and how big or small your room is. If this is going to be the main storage facility in your bedroom, carefully consider materials your wardrobe will be made of and pay attention to ergonomic features and functionality of your shelves. How much space can you allow for your wardrobe? If you have a limited space, consider building in or sliding door closets and use the whole wall wisely by getting a tall wardrobe. Also, consider mirror panel doors because glass creates airy and brighter feel while a subtle matte finish blends in to the interior smoothly.
3. Harmony in the bedroom
A decision to remodel your bedroom is not easy but now when you have decided on the right bed and wardrobe, a job is half done. However, not forget the key element that unites furniture and decorations in your room - the harmony. Each detail should have its place and purpose in the room, whether it is functional or decorative. Visit online store pigu.lt and choose from a variety of beds and wardrobes for your room at very reasonable prices. Let your creativity shine!