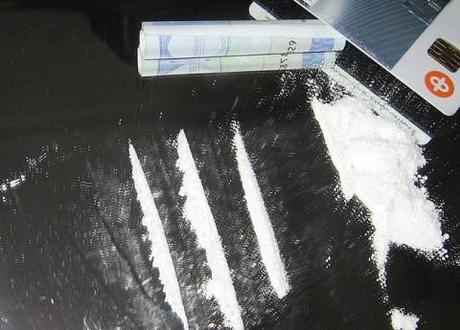 Lines of cocaine ready to be snorted. Photo credit: Zxc
The British media went into overdrive on Tuesday after a UN report apparently claimed that violent drugs gangs have turned areas of UK cities into no-go zones. Mainstream news outlets including The Independent, The Daily Mail, The Telegraph and The Sun reported comments by Professor Hamid Ghodse, president of the UN's International Narcotics Control Board, which seemed to compare parts of British cities to Latin America's crime-ridden favelas: "In many societies around the world, whether developed or developing, there are communities within the societies which develop which become no-go areas. Drug traffickers, organised crime, drug users, they take over. Examples are in Brazil, Mexico, in the United States, in the UK, Birmingham, Liverpool, Manchester, and therefore it is no good to have only law enforcement, which always shows it does not succeed."
But not everyone got in on the "drugs mobs" action. The Guardian opted not to report on the comments, on the basis that the substance of the UN report did not justify the hysterical headlines. With Professor Ghodse now saying his comments were misunderstood, is there more to this story than meets the eye?
Drugs mobs in charge? "Heavily-armed gangs now run sections of Manchester, Birmingham and Liverpool in a way normally seen only in countries such as Mexico or Brazil," wrote Graeme Wilson in The Sun. Describing the UN report as "devastating", Wilson reported that the UN found "the epidemic of drug abuse was being fueled by our broken society, unemployment, and high-levels of immigration".
Calm down, dears. However, The Guardian took a different view, with Home Affairs Editor Alan Travis unconvinced by this interpretation of the report: "There is no evidence in the UN drugs report that like some Brazilian favelas there are no go areas in Liverpool, Birmingham and Manchester because of armed drug gangs. The only thing it says is like Brazil, the British police use community engagement as well as law enforcement in those cities to deal with gangs," said Travis on Newsdesk live.
Poorly expressed. Professor Alex Stephens argued in The Mirror that the wording in the UN report is "unclear": "It gives the impression that its comments on no-go areas could apply equally to all of these cities. But it should have been more careful in specifying which ones it was referring to." Stephens said that there clearly are problems with social exclusion leading to drugs and crime in the UK, but that these are not on the scale of Brazilian cities.
Misunderstanding. The Manchester Evening News reported that Professor Ghodse felt his comments had been misunderstood, telling the paper he was trying to say that Manchester had drugs gang-related problems in the past. "He said there had been a 'misunderstanding' and said he had never meant to imply no-go areas still existed in the city. He said: 'It's the difference between "it was" and "it is". We have evidence that community policing has done well, it's about more than just law enforcement.'"
Anger at claims. Nevertheless, residents of Liverpool and Manchester were not entirely thrilled at having their cities singled out. "I don't know who this UN Professor is but I would be happy to meet him to show what a vibrant community Croxteth is – the chances are he has never been here," said Liverpool councillor Martin Cummins, reported Click Liverpool. And Sir Richard Leese, leader of Manchester council, told The Manchester Evening News: "Let's be clear – there is absolutely no comparison between Manchester, or anywhere else in Britain, and places such as the Brazilian favellas."