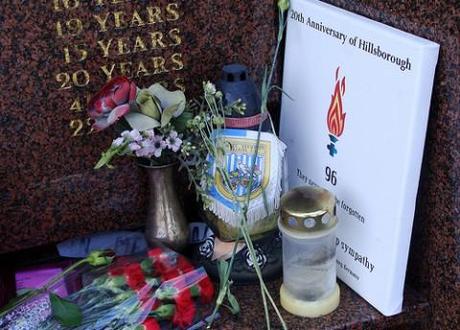 Hillsborough, twentieth anniversary. Photo credit: Ben Sutherland, http://flic.kr/p/6wR7kb
The UK government has caused controversy by appealing a decision to release papers relating to the 1989 Hillsborough football stadium disaster. The BBC made a Freedom of Information request in 2009 for documents that record then-Prime Minister Margaret Thatcher's discussions with ministers following the tragedy, in which 96 people died. Information commissioner Christopher Graham authorised the release of the documents last month, but the government has announced it will appeal the decision. Some have suggested this points to a cover-up; but is it just a matter of protocol?

Hillsborough disaster. Ninety-six Liverpool football supporters died following a crush at Hillsborough stadium that took place in a crowded tunnel and spectator pens. An inquiry was launched to examine the causes of the disaster; the resulting report also covered safety at football grounds. In 2009, the Hillsborough Independent Panel was founded to look into previously unseen documents relating to the tragedy.
Due process. The government has argued that it would be inappropriate to release the disputed documents to anyone other than the Hillsborough Independent Panel, who would then manage their wider dissemination. According to the BBC, a government spokesman said: "The Cabinet Office absolutely agrees with the principle of providing information to families about the Hillsborough stadium disaster, but we believe it is important that any release of information should be managed through the panel's processes and in line with their terms of reference." However, Martin Rosenbaum at the BBC contended that the government argument is flawed, pointing out that the Panel did not exist when the first request for the documents was made in 2009.
Petition. An e-petition calling for the release of the documents has garnered over 57,000 signatures. Liverpool manager Kenny Dalgleish and Newcastle footballer Joey Barton took to Twitter to urge people to sign. According to The Liverpool Daily Post, ten Merseyside MPs have written to David Cameron to urge him to reconsider the government's stance. There have been several accusations of government cover-ups after the disaster, particularly after it emerged in 2009 that police officers' statements had been altered.