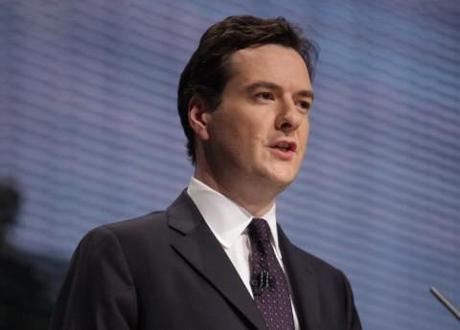 Chancellor George Osborne. Photo credit: Paul Toeman
It's been a bad day for the UK economy, the Coalition government, and, more personally, for Chancellor of the Exchequer George Osborne: Recent figures show that UK's GDP economic growth slowed to 0.2 percent in the last three months up until June 30. The Office of National Statistics, which released the figures on Tuesday, said that the slow growth was in part attributable to the extra bank holiday in April, owing to the royal wedding, and other "one-off" factors including the Japanese tsunami and earthquake.
"It is not possible to state precisely what the net overall impact of these special effects might have been. Analysis that we have carried out indicates that Q2's special events may have had a net downward impact on Q2 2011 GDP of 0.4 in the services sector and 0.1 in the production sector," the agency explained in a statement. "These estimates are broad brush and illustrative. There can be no certainty as to the impact of the special events and there may be other factors at play."
What is GDP? Gross Domestic Product is one of the most important measures of economic health and is based on three factors: The output measure, or the value of goods and services produced by all sectors of the economy; expenditure, or the value of goods and services purchased by households or the government; and income, the value of a country's overall income through profits and wages.
Chancellor Osborne attempted to put a positive spin on the report, claiming, "The positive news is that the British economy is continuing to grow and is creating jobs… And it is positive news too that at a time of real international instability we are a safe haven in the storm."
Now, the question is: Does anyone believe him?
Osborne read the 'Riot Act'? There's some evidence that perhaps even his own Government doesn't believe him: Immediately following the slow growth news, press reports circulated that Osborne took a dressing down from Prime Minister David Cameron's chief aide, Jeremy Haywood, over the economy. The Daily Telegraph, citing "Whitehall sources", claimed that Heywood complained that the Treasury had been too focused on deficit reduction and not nearly focused enough on spurring growth; in response, the paper reported, Osborne is now expected to unveil a new growth-centric plan in the autumn. The BBC reported, however, that Treasury sources dismissed The Telegraph's report at "rubbish".
Labour, unions don't believe Osborne. Already, critics are yelling from the gallery that Osborne's plan isn't working: Labour shadow chancellor Ed Balls accused Osborne of leading Britain into a "Greek-style trap" with his intense focus on cutting spending. Said Balls, according to the BBC, "Of course the deficit must come down in a steady way but our economy has flat-lined in the last six months. It's not growing.… In the end, unless you've got more people in work paying taxes, the economy growing, it is very hard to get these deficits down." The unions, which have enjoyed a particularly active spring, are similarly unimpressed: TUC general secretary Brendan Barber told BBC, "It's hurting, but it isn't working. Ministers told us that deep rapid cuts would get the economy back on course and leave the private sector room to grow. But the treatment has turned out to be worse than the disease."
Osborne needs a Plan B. Steve Richards, writing in The Independent, argued that despite the Coalition's famous U-turnrs, there appears to be no political will to explore an alternative to Osborne's punishing Plan A and its strict austerity measures. Appears to be – murmurings from inside the Coalition indicate that perhaps they're rethinking clinging to a policy of deficit reduction first and foremost, Richards wrote. Osborne, for example, has hinted that possible tax cuts could be on the way. Concluded Richards, "The economy will test relations within the Coalition more intensely than any event over its first stormy year, where there has been much agreement. But it is becoming increasingly obvious that it is in the interests of both sides to adopt a Plan B. They have already started to do so, even if it may be too little, too late and will be called Plan A."
Osborne in for a summer of pain. Calls for Osborne to come up with a Plan B or even an Plan A-plus are bound to get louder following the ONS's growth report, Peter Hoskin acknowledged at The Spectator's Coffee House blog. Osborne does have some room to maneuver, and there are some encouraging signs underneath the UK's slow growth. "But none of that will nullify the difficulty of the next few months, as the Chancellor struggles to come up with a autumn Budget statement that can make a difference."
Keep calm and carry on, Osborne. Despite the predictable hue and cry from Labour and others that austerity isn't working, Osborne is on the right track, claimed George Trefgarne in The Daily Telegraph. The problem, however, is the "political situation" that he has got himself into: "It is the anatomy of his plans and the way he has chosen to implement them that are the problem. For he has presided over an unprecedented squeeze on household incomes, at a time when most people can see for themselves that taxes have gone up, pay rises and bonuses are almost non-existent, and prices continue to increase." Trefgarne flagged up all the good Osborne's Plan A has done so far: The markets are pretty stable, and while companies might be "reluctant" to make investments, they're still banking cash. The cost of Government borrowing is down to "a level which even the thrifty Victorians would envy" and mortgage rates are at their lowest since 2007. The Chancellor should stick to his guns, make no more concessions on protecting specific groups from cuts, and follow a policy that will allow him to relieve some of the pressure put on households, including tax cuts.
More on the UK economy

The UK could lose its AAA credit rating – more signs Osborne's plan isn't working?
Don't investigate the BoE just yet
Japan: The economic quake
Double-dip recession or just a case of snow?
Austerity bites into UK growth