I want to make a line of winter hats that say "I'm not really this fat. I'm just wearing a ton of layers. Winter, ya'know?"
Some of you may know that I'm not a born and bred 'merican. I was born in the Caribbean, spent a few years in Chile, and then was plopped in Boston just in time to enter grade school. I wasn't made for this weather! Doesn't matter than I've been here 20+ years, my genes ache for the humidity and heat of the tropics. So in the winter, I layer. I'm talking long johns or fleece stockings, thick socks (or two if I can get away with it), pants, and knee high boots. Not to mention a tank top, a long sleeved undershirt, and a sweater. At least. Skirts require two pairs of fleece tights and thigh-high socks. And yes, this is all topped off with my Michelin Man puffy coat.
Right around this time of the year, I get real tired of it. The layers, the pants that won't zip because I've stuffed two other pants underneath them, and feeling like I might Hulk out of my coat because I'm wearing four or five shirts. So…this is what you wear when you can't bear the thought of anymore layers and you just want to wear your skinny jeans without feeling like a busted can of biscuits. Look, that's the smile of someone whose thighs aren't crying.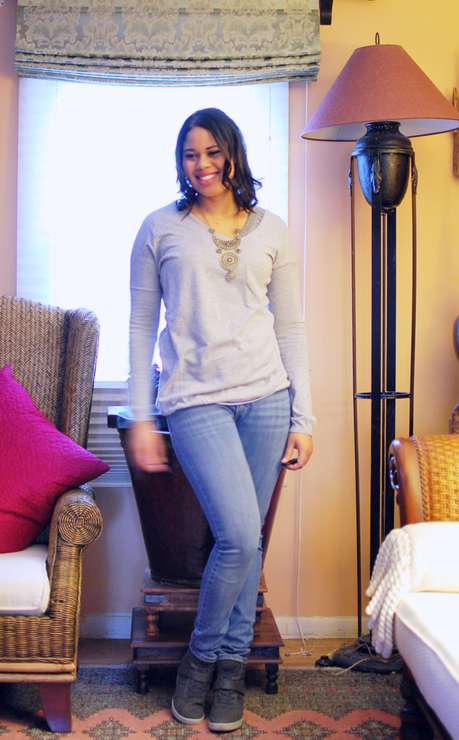 sweater – Vince
tee – American Apparel
jeans – Levi's
necklace – vintage
sneakers – DSW
Share/Bookmark