Uganda for beginners – an introduction for new expats
You're bound to fall in love with Ugandans' ever friendly and infectious enthusiasm for life. In a recent InterNations survey of expats living in 191 countries, Uganda received the highest marks for friendliness.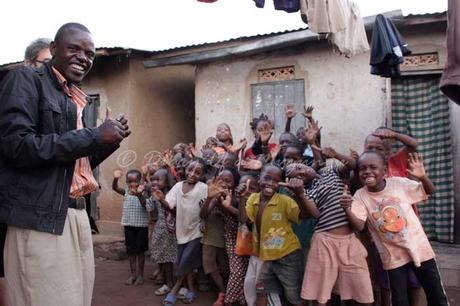 Ugandan kids have the best smiles!
Ugandans welcome people of all nationalities; it is an intrinsic part of their culture. The ability to speak English widely offers visitors a huge advantage but it's the wonderful welcomes and smiles that make this place accessible. One of my first bits of advice from a fellow Brit was: "You'll get used to Ugandans staring at you. Don't be intimidated. Just smile and they will return the most dazzling smile."
It's true.
Ugandans love talking about Premier league football, politics and how much they drank the night before. Ugandans love to party. Conversely, Ugandans are also avid church (or mosque) goers and very 'God-fearing.'
Read my most popular blog 50 reasons why I love Uganda.
Introducing Kampala, the capital of Uganda
Set on the edge of Lake Victoria, the world's second largest freshwater lake, Kampala is named after the Impala, who were once abundant on the city's historic Seven Hills. These days the city covers more than twenty hills. To see an Impala, you now have to travel to Lake Mburo National Park, three hours to the west.
Kampala nightlife is legendary across the region and the city is a great place to work, network and socialize. The expat community is welcoming and diverse. There is a great range of clubs, activities and restaurants.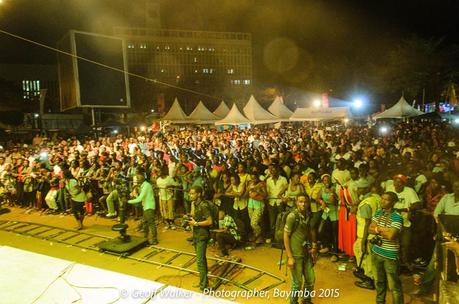 Bayimba International Festival of the Arts. National Theatre, Kampala. PHOTO Geoff Walker
Kampala is a great base for weekends away on safari, white water rafting or just chilling at a lodge with a wonderful view. Heavy traffic, sometimes potholed roads and bad drivers are some of the downsides to life in Kampala. When it's hot, tempers fray!
"Muzungu how are you?" Life as an expat in Uganda
Expats can't escape being called "Muzungu," meaning lost or confused (from the Swahili). Apparently this is how the first white people looked when we first arrived in East Africa. Read the full definition here What is a Muzungu?
"Bazungu" (plural) and white people generally are made to feel welcome, thanks to the good work of the European doctors, teachers and missionaries of the nineteenth century. In Uganda, knowing a white person is perceived to be a good thing, as we arrive with the possible offers of jobs, sponsorship and connections. Expats do get regular requests for work, school fees, the ubiquitous 'sponsorship' and occasionally cash. Ugandans are very polite so will ask nicely. It's okay to say no.
Are muzungus all rich?
My blog Are muzungus all rich? is one of my most popular reads.
Expat conversations often revolve around complaints about the potholed roads, the naughty traffic policemen, and being overcharged for things on the street. It's unavoidable: as a Muzungu, you are perceived to have money, even when you feel you are penniless.
What language do you speak in Uganda?

Uganda is home to many 56 ethnic groups and their languages. Luganda is the language of the Ganda people of Buganda, mostly resident in Greater Kampala. This is the language you will hear spoken most often in Kampala. The lingua franca of Uganda is English. (Phew!)
More important than the language you speak however is the manner in which you greet people. Greetings are hugely important in building relationships, as is the time to acknowledge people, particularly those of status. Take the time to say "How are you?" even if you are in a hurry.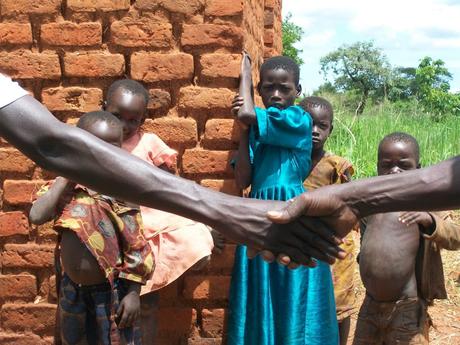 Shaking hands and greetings are very important in Uganda. Children in Ongako sub-county, Gulu, Uganda. PHOTO Jan Sharp
It is quite common to start a meeting with a prayer (so have a couple of lines ready!) Equally, it is common for expat visitors to be asked to make an impromptu speech at a meeting. You may be invited to a number of weddings as the guest of honour!
What's the weather like in Uganda?
Uganda is on the Equator and benefits from an unbelievably beautiful climate, meaning that most days are sunny with blue skies. Even when it does rain, the sun comes up quickly afterwards to dry up the puddles.

Lake Bunyonyi viewed from Bushara Island
Southern Uganda, and borders of Lake Victoria, are generally wetter, with rains generally spread throughout the year. Here most rain falls from March to June and during the shorter rain seasons of November and December. The effects of climate change mean seasons have become blurred. You will normally be able to look out of the window and decide whether you need to take an umbrella to work that day. Sunshine is never very far away. Think UK – but the opposite!
This whopping great pothole in the Industrial Area of Kampala has been filled in but most reappear. Terrific rains and poor drainage combine for maximum destructive effect
The country comes to a halt when it rains, and everybody hides inside. After the rain stops, expect mega-traffic jams. Kampala is a busy and often chaotic city especially if you're rushing to a meeting and get stuck in traffic for an hour. Have a good car radio, always have airtime on your phone and have a newspaper to hand so you don't feel you're wasting those precious minutes. Even better, get someone else to drive or work from home. It's a good idea to live near where you work or agree to work from home sometimes.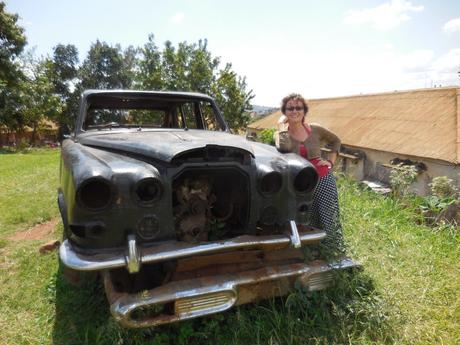 Posing next to Idi Amin's car at the Lubiri Palace, Mengo, Kampala
Driving in Kampala – not for the nervous is a tongue in cheek blog by a fellow expat.
Uber has arrived in Kampala, to the ire of the overpriced taxi drivers and the boda boda (motorbike) drivers. I had always found ''private hire' taxis in Kampala too expensive to use but Uber costs just a third of what traditional taxi drivers cost.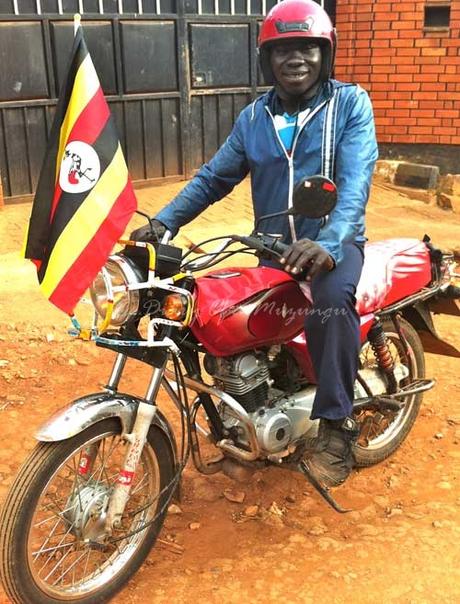 Boda boda motorbike driver with Ugandan flag. PHOTO Amy Fallon
Read How to ride a boda boda before you jump on that motorbike!
Healthcare in Uganda. Beware the Travellers' Health Book! Tropical disease diary
The provision of healthcare can be hit and miss. Local clinics and pharmacies can offer you the best advice on tropical medicine, but beware out of date drugs.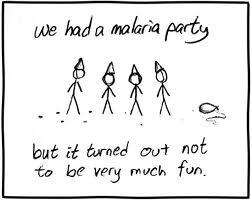 Regular health check-ups are advised, particularly for bilharzia (which you may catch in Lake Victoria or the Nile). Beware of malaria (we don't all have the same symptoms). Expats usually buy private health insurance which is not particularly expensive.
Read my Uganda travel advice I ignored including How to avoid Malaria and How to avoid Bilharzia.
What's on in Kampala?
Kampala is developing quickly and there is always plenty to do. Directories and listings sites include Visit Kampala, The Pearl Guide, The Eye, and Expats in Uganda. Many expats rely on friends' and colleagues' word of mouth recommendations. Online information is slowly improving, particularly through Facebook groups. I promote festivals and other events on my Diary of a Muzungu Facebook page. Twitter is a good place to find out what's on too. Follow me @CharlieBeau on Twitter.
There are many ways to meet fellow expats in Kampala. You will quickly find familiar faces. Generally, expats and Ugandans mix easily, but sometimes you just need to talk someone from back home who 'gets you' without having to explain the cultural differences.
Kampala has the friendliness of the village, but village life can be a bit oppressive sometimes. Wherever you go, you will bump into people you know – even up-country!
The overwhelming majority of visitors to Uganda love the place. Many of us extend our contracts; many of us decide to settle here. Mixed race relationships are common and I share some of my experiences here in How to date a Ugandan.
Enjoy the best nightlife in East Africa!
Kampala is a party city. Every bar plays loud music and it's quite common to dance all night at your local bar. There are no particular bar opening hours; many are open all day and all night – you can always find a drink in Kampala.

Where to eat fish on Lake Victoria. Ggaba, KSL, Kabaka's Landing Site, Buganda Kingdom, Mulungu, Kampala, Uganda
Very few Ugandans smoke, and culturally, it is frowned upon. That said, few people would complain if you light up. Although it is illegal to smoke in many places, it is rarely enforced. Virtually all clubs and restaurants are outside, or at least have an outdoor section, so you can smoke way where you like. Cigarettes are very cheap so expat smokers are very happy here!
Most people will tell you they find Kampala a safe city, however, don't leave your phone on the table while you're chatting in a café and be careful of your possessions when you are in busy bars (as in most cities).
Technology. How did we manage before the internet?
Access to the Internet is improving all the time in Uganda so Skyping friends and family back home is sometimes a better (and more relaxing) option. Vodafone's service covers Kampala, Entebbe and Mukono. With Vodafone's 4G LTE connection you can livestream movies on Netflix, stream music on Soundcloud (and keep up with all the latest hits from back home).
These days, your boda boda driver and your house girl have a mobile phone. They may even have a phone that looks better than yours. How long it will last for though, who is to say? Most of the phones in Uganda are cheap Chinese or Indian ones. Many are fake so do shop around carefully. Vodafone offer a range of original and authentic middle and high-end devices which are all 4G LTE-enabled (for the best 4G experience). Popular phones are the mid-range Xiaomi smartphone.
Plenty of places have free WiFi these days but you can't beat the convenience of your own personal – and fast – connection. I have a MiFi – a small pocket-sized device that lets me connect up to ten devices simultaneously. (Guess who's popular at meetings!) I normally charge it just once a day, before packing it for my day's activities around town. (Click here for a special Christmas MiFi offer). For home or small business, check out Vodafone's Boost Even router (to connect up to 32 devices). To check my data balance, I just use the My Vodafone app on my smartphone (and buy more data using a credit/debit card.
Not so long ago, banking and payments involved a lot of physical effort. We paid for everything with cash, waited in line at the bank to withdraw money using a chequebook and drove distances to pay bills. I remember my first trip to the bank in Kampala where I saw a man stuff wads of notes into his socks before leaving the bank.
Now, assuming you use the right bank, you can pay almost anything via your phone, by linking your online bank account to one of Uganda's mobile money systems. Revolutionary! Although European banks have had online banking for a long time, few are linked with mobile phone technology yet. Come to East Africa to see how it works!
I use mobile money to buy my internet data, pay water and electricity bills. I've paid for my health insurance via mobile money too. My friends and I regularly send small amounts of cash using these systems. (In Kenya, the M-Pesa system is used in almost every shop and bar).
What about the old-fashioned snail mail?
International delivery companies exist but there is also a Post Office on Kampala Road. How you deal with a trip to the Post Office is a good indicator of how you're getting to grips with life in Uganda.

Take note of the helpful instructions on the colourful letterboxes outside Kampala Road Post Office
Back in my VSO volunteer days, I was a regular visitor to the Post Office. Read "The cheque's in the post …." apparently.
What's your advice for living in Kampala? If you're planning a move here, what other questions do you have?
« Why I believe there's witchcraft (A tribute to my dog)