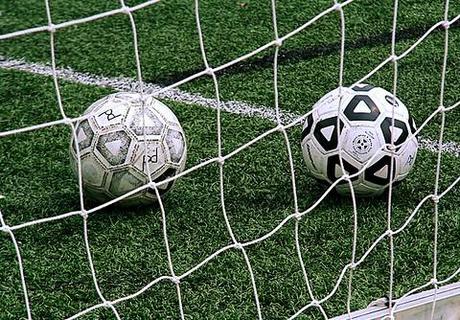 Soccer balls in the goal. Photo credit: Stevendepolo http://flic.kr/p/6Hc3VN
The background
England's pre-tournament injury crisis has deepened and further lowered expectations about the three lions' realistic chances of success in Poland and Ukraine. In the past week, two key midfielders – Manchester City's Gareth Barry and Chelsea's Frank Lampard – have been forced to pull out due to injuries and questions marks remain over the fitness of Tottenham's captain Scott Parker, who is carrying an achilles heel injury. While the injuries have thrown a spanner in the works, England fans do still have some reasons to be hopeful that the national team will perform well at the Euros.
Roy Hodgson is no mug
It's fair to say that the appointment of experienced manager Roy Hodgson did not send fans' pulses racing with excitement. That's partly because Tottenham's charismatic manager Harry Redknapp was most fans' first choice. But steady guy Hodgson could prove an astute appointment by the much-maligned Football Association. Highly respected tactics blogger ZonalMarking.Net concluded that conservative "system manager" Hodgson is just what an underdog like England needs to outstrip expectations and progress deep into the competition. The blog reminded that Uruguay won the 2011 Copa America and Greece won Euro 2004 playing "defensive and functional" football and suggested that realist Hodgson will keep it tight in much the same way. If England do need a plan B, Hodgson has demonstrated at West Bromwich Albion that he can send out a more attack-minded team.
"Hodgson is vastly experienced having worked for no less than 16 teams in eight countries and he is revered at some of Europe's biggest clubs," reminded Nick Wilby at Huffington Post UK. "He might not be the motivator that Redknapp would have been, but he is tactically astute and he'll be leaving no stone unturned."
Wayne Rooney will be fit for the knock-out stages
Much has been made of the fact that talismanic striker Wayne Rooney is banned from the first two group games. Sure, it's a shame. But it's a surmountable problem. Rooney's Manchester United teammate Ashley Young has proved he has the potential to be an able deputy; he scored in England's last four games and worked well off big man Andy Carroll in the 1-0 defeat of Norway in Oslo. And if England are able to progress out of the group stages they will have a fighting fit top class striker in Rooney to come in to spice things up.
Spain are the bookmakers' favourites to win the Euros. They are best-priced at 14-5. England are widely available at 12-1.
England do have (a few) genuinely world-class players
While England do not possess the dazzling array of talent of a Germany, Spain or Holland, there are a few genuine worldies in the squad. Buccaneering left-back Ashley Cole proved his class with sensational performances in Chelsea's Champions' League winning run. And Manchester City goalie Joe Hart is possibly the best stopper in Europe. Hart made crucial saves throughout the Barclays Premier League 2011/'12 season which powered is club side to the title. And then there's Rooney – an inclusion in many top pundits' best European XI side.
England midfield crisis. Lampard, Barry out. Doubts over Parker. Need experience, quality. Anyone got Beckham's number? Be great Euro shout.

— John Cross (@johncrossmirror) June 1, 2012
The pressure is off
With just days to go before Euro 2012 kicks off, the hype in England is relatively muted compared to previous tournaments. After the sensational end to the Premiership season and the drama of the Chmapions' League final it seems most football fans are happy for a bit of breather from football. Indeed, excitement about this weekend's Queen's Diamond Jubilee celebrations has somewhat overshadowed the usual pre-tournament hype. The lack of frenzied pre-tournament buzz could prove advantageous to Hodgson and his charges as it allows them time to prepare in peace. "It's hard to remember England heading to a major tournament with so little expectation and whereas the media have unscrewed the English wheels in the past, this year it seems it is very much a case of building for the future," observed Nick Wilby of Huffington Post UK.
Alex Oxlade-Chamberlain: England's ace in the hole?
Every major tournament sees the emergence of at least one young player as a footballing superstar. At Euro 2012, Arsenal's youngster Alex Oxlade-Chamberlain could well prove the continent's breakthrough performer. Although used sparingly by Arsenal manager Arsene Wenger, the Ox (nicknamed that thanks to his bulky, muscular frame) has sparkled when he's played, no more so than when he gave the AC Milan defenders twisted blood in the Champions League. Hodgson has already demonstrated a willingness to take a chance on Oxlade-Chamberlain and the spate of injuries in midfield means he's set for plenty of gametime.