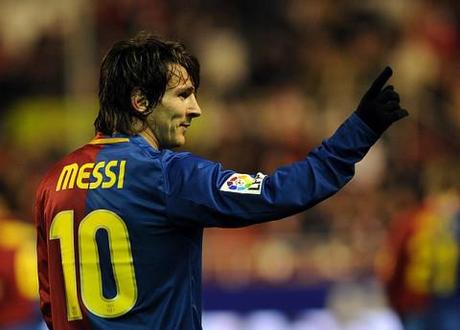 Lionel Messi: Photo credit: Prettyfriendship
Barcelona beat AC Milan 3-1 to progress to their fifth successive Champions' League semi-final. And, surprise, surprise, it was than man Messi who made the difference yet again. Barcelona's diminutive Argentinian talisman scored twice from the spot to break yet more player records – his 14 Champions League goals this season equals José Altafini's 50-year-old European Cup record. In total, Messi has netted an astonishing 58 times this season to confirm his status as the world's best footballer.
Barcelona's progress was not without some controversy. Although it is widely felt they were the better team they were fortunate to be awarded a crucial second penalty for shirt-tugging in the box. "The game is not about the man in green. It's a disgrace. I couldn't believe he called a penalty when the ball wasn't in play. It seems like Uefa want a certain two teams in the Champions League final," raged outspoken AC Milan striker Zlatan Ibrahimovic, who used to play for Barcelona.
Barcelona are likely to meet Chelsea in the semi-final. Most would concur that, over two legs, Barcelona should have too much for a Chelsea side who are in transition. This means a tantalising Barcelona versus Real Madrid final is very much on the cards. To "casual bandwagon fans all over the world" it is time to "rejoice with their collective erections for Clasico Fever," suggested AC Milan fan and blogger Matteo Bonnetti at ESPN Soccernet.
Ref ruined the game. Writing at Goal.com, Clark Whitney said that AC Milan have good reason to feel very hard done by: "Based on the precedent of thousands upon thousands of corner-kicks delivered this campaign in which shirt-pulling took place but no penalty was given, Milan and their fans can feel victimized," wrote Whitney, adding, "although Barcelona may still have been favourites with over 45 minutes to play, the penalty award and Lionel Messi's subsequent conversion (his second spot-kick of the game) was an unrecoverable blow that completely altered the momentum of the tie." "For fans, (referee) Kuipers' call was tragic across the board. Because whether pro-Milan, pro-Barca or neutral, the viewers were cheated out of what might have been a finale for the ages."
Forget about the penalty decision, Barcelona is in another stratosphere. Writing at ESPN Soccernet, Matteo Bonnetti of TheMilanGuy.com, kicked off: "Let me first get the most important sentiment off my chest: Barcelona did not steal this game in the sense that they didn't deserve it, rather had an inept referee gift them an opportunity that they clearly did not need. They are the best team in the world, had many more chances than Milan, and generally are about as unstoppable as an asteroid the size of one of Bobo Vieri's boobs shooting towards the earth at a high rate of speed." Bonnetti said there is not much point AC fans playing the "blame game" when the gulf in class between the two teams is just so large: "Today's match was yet another emphatic statement that the equilibrium in football is vastly disproportional. It's safe to say 15 out of the best 20 players in the world are on two different teams. Really, Barcelona is in another stratosphere. The fact that they can replace an injured Xavi with a FOURTH choice creative midfielder like Thiago Alcantara says everything you need to know about their impressive depth."
Messi makes the difference yet again. Matt Hughes of The Times (£) said Barcelona turned in a "curiously patchy performance" versus Milan but it was Messi who again was the difference-maker:  "The biggest difference between the sides, as is often the case, was Messi, who took his haul for the season to an incredible 58 by scoring two penalties and created the third for Andrés Iniesta … Almost as impressive as Messi's seemingly bottomless bag of tricks is his astonishing work-rate, however, as he demonstrated by creating and scoring the game's opening goal in the eleventh minute."