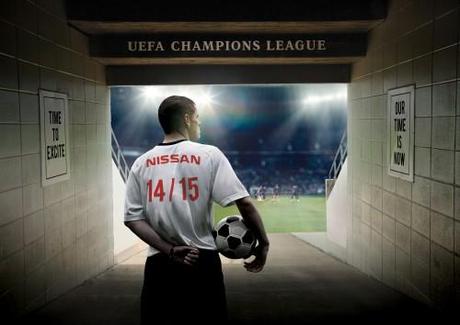 YOKOHAMA, Japan. (April 7, 2014) – Nissan Motor Co., Ltd. today confirmed a four-year global partnership with the UEFA Champions League including the UEFA Super Cup. This agreement represents the Japanese manufacturer's largest ever sponsorship deal and will establish Nissan as an official partner worldwide from 2014/15 to and including the 2017/18 seasons.
"Innovating to excite is what Nissan does, and as partners with UEFA we are looking to introduce new ways in which to enrich the UEFA Champions League experience," said Roel de Vries, Corporate Vice President and Global Head of Marketing and Communications for Nissan. "Europe's most prestigious football competition will be an important global platform for Nissan, and our aim is to show fans all over the world the excitement of both football and our cars. Both are created by amazing people who have a passion for what they do."
As an official partner, Nissan will have extensive rights to the matches, pre-match training sessions, content, media, hospitality, events and the Final.
Commenting on the agreement, Guy-Laurent Epstein, Marketing Director of UEFA Events SA, said: "We are delighted to have Nissan as an official partner of the UEFA Champions League as of next season. Nissan is a truly leading global company and is one of the largest automotive groups in the world. We feel that the partnership will provide a great deal of innovation and excitement across all markets worldwide, and we are convinced that Nissan can use the platform that the UEFA Champions League offers to further build on their current success."
According to de Vries, the UEFA Champions League has a cumulative television audience of over 4 billion a season and the deal will bring Nissan to new audiences and keep the brand at the fore over the course of the European football calendar.
"European growth is important to Nissan, and in UEFA we feel we have found the perfect partner to help us achieve our business goal of becoming the #1 Asian car manufacturer in Europe by 2016. We're excited and very much looking forward to the new season kicking off at the UEFA Super Cup in Cardiff on the 12th August," said Bastien Schupp, vice president, Marketing, Nissan Europe.
The UEFA Champions League is another example of Nissan's dedication to exciting sports which already includes the brand's proud sponsorship of the Rio 2016 Olympic Games, Olympic Teams GB and Mexico, Africa Cup of Nations, NCAA Football, Heisman Trophy, Canadian Football League and GT-R ambassador Usain Bolt – a renowned football fan.