Universal Concept Mental Arithmetic System (UCMAS) India organized 20th International and 14th National level UCMAS Abacus & Arithmetic Competition 2015 on 5th and 6th December at Delhi's North Campus of Delhi University. What a phenomenal organized event it was. There were more than 11,000 children from 57 countries accompanied with 25,000 parents. 5,500 children among these were from India's 22 states. This is the first international competition by UCMAS that is held outside Malaysia and the venue chosen for this prestigious galore was India. All appreciations go to Snehal Karia, CEO, UCMAS India and Professor Dr. Dino Wong, Founder & President, UCMAS International. UCMAS International headquarter is in Malaysia.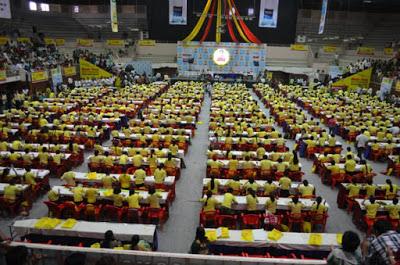 The India chapter of UCMAS has its headquarter in Vadodara, Gujarat. UCMAS has already spread its wings in 57 countries on the global map. The target of spreading it across 100 countries in next 5 years seems quite possible the way its operations are being managed under the guidance of Dr. Wong. In India, UCMAS has over 2,000 centers spread across 22 states. There are more than 300,000 students enrolled in these 2,000 centers across the country. India is the first country to launch International competition with almost 12,000 contestants from 57 countries. This is probably the beginning of a new era for UCMAS India after UCMAS international has entrusted its capacity and capability to hold this international event for the first time outside Malaysia. UCMAS International and UCMAS India are headed to be the record holders in Limca Book of Records' forthcoming issue as the last record of an international competition is 8,000 contestants. The earlier record of 8,000 contestants was achieved in its 19th international competition event held in Malaysia last year. Overdriving with 1.5 times capacity successfully this year and that too in India is a new achievement and a new record.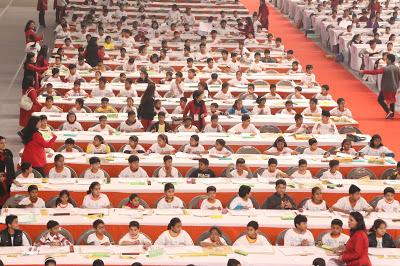 Japan, Korea, Taiwan and China are the earliest adaptors of Abacus. It was Dr. Wong who decided to start UCMAS to impart training for enhancing mental arithmetic capabilities with Abacus, in the kids of age group 4 to 15 years in Malaysia. Snehal Karia heads UCMAS not only in India but also in Canada, Mexico, and the US. The next year 21st International UCMAS Abacus and Mental Arithmetic 
event is scheduled to be held in Dubai, UAE. Probably India will have the largest pool of competitors flying to Dubai in 2016.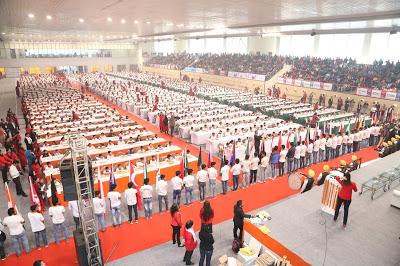 The training methodology has 8 levels with approximately 3 months duration for each level. As the kid qualifies for next levels, the necessity of physical abacus goes off. By this time, the kid has implanted a virtual abacus in the mind to carry out the calculations at a lightening speed. The first round in the morning saw approximately 1,400 students appearing for the competition in the hall of Delhi University Indoor Stadium. One round is of 8 minutes comprising of around 150 questions. Many students were seen solving questions without using their physical abacus.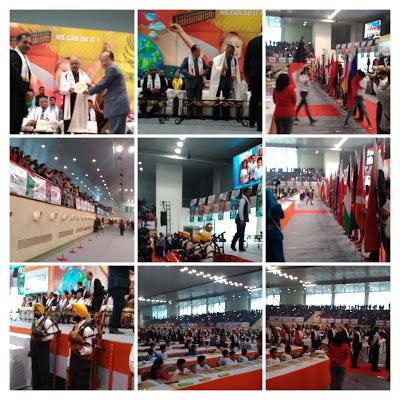 A large number of national and international dignitaries could be seen at the venue to witness this amazing event. The event was inaugurated by General Dr. V K Singh, Minister of External Affairs and Minister of State (Independent Charge) for Statistics and Programme. Other national leaders present were Mr. Vinay Sahastrabuddhi, National Vice President, BJP, Mr. Shyam Jaju, National Vice President, BJP, Dr. Preety Agarwal, General Secretary, Mahila Morcha, BJP, Mr. Arun Singh, General Secretary, BJP.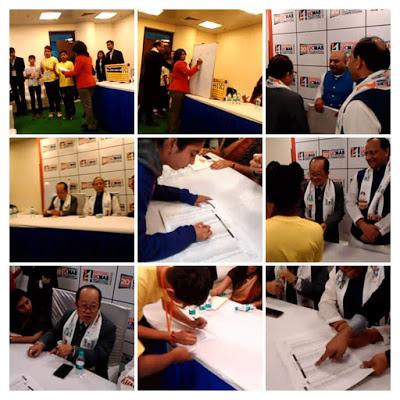 Among international dignitaries, there were Deputy High Commissioner and Second Secretary (Political), High Commission of Malaysia; Ambassador, Embassy of UAE; Ambassador of Republic of Kazakhstan; Jordanian Ambassador to India; and many more.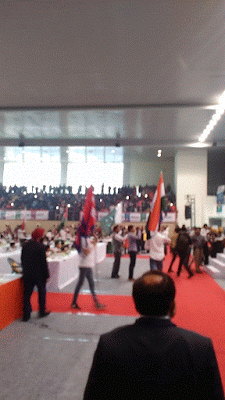 Above all the 12,000 kids from various countries and around 25,000 parents full of zeal and energy. The flags of 55 countries added a tremendous phenomenon to the event. Children from 28 Asian countries that included Malaysia, India, Bahrain, Afghanistan, Brunei, Baghdad, China, Cambodia, Iran, Indonesia, Iraq, Iran, Kazakhstan, Jordan, Lebanon, Kuwait, Mongolia, Maldives, Oman, Nepal, Palestine, Pakistan, Saudi, Qatar, SriLanka, Singapore, UAE, Syria and Vietnam. From 4 countries of America, the kids were from Canada, Trinidad, Mexico, and the US. From 8 countries of Europe, the kids were there. These countries included Austria, Andorra, Gibraltar, Germany, Spain, Russia, Turkey and the UK. The 3 Oceania countries included Fiji, New Zealand, and Australia. 13 African countries included Cameroon, Botswana, Ghana, Egypt, Ivory Coast, Lesotho, Kenya, Morocco, Lybia, Nigeria, Sudan, South Africa and Zimbabwe.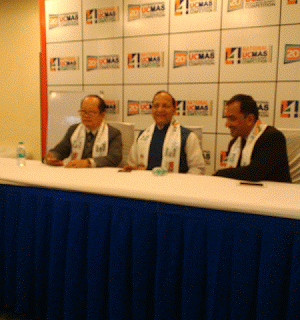 The states representing Indian competitors were Gujarat, Madhya Pradesh, Uttar Pradesh, Rajasthan, Punjab, Delhi, Uttarakhand, Delhi, Jharkhand, Odisha, Nagpur, Pune, Karnataka, West Bengal, Haryana, Telangana, Tamil Nadu, Jammu & Kashmir, Chattisgarh, Goa, Bihar and Himachal Pradesh.