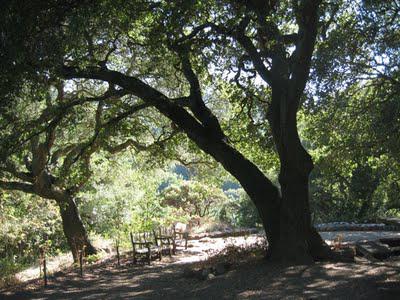 Oak Knoll in the California Section
Research and Conservation
Nestled in the Berkeley hills, just above the Cal campus, more than 13,000 different species of plants on 34 acres grow in the
University of California Botanical Garden
, a scientific collection of plants from around the world and a wonderful place to spend the morning or afternoon.  I recently went there for the first time.  The garden is a living museum, created as a research garden but open to the public.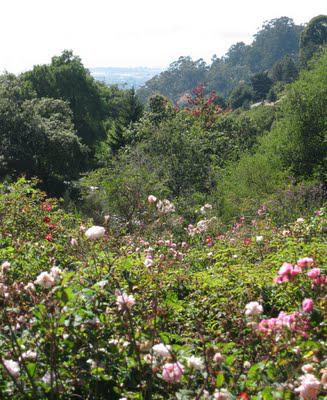 Old Rose Garden with view of Berkeley and San Francisco Bay
A network of paths takes you through the garden, which is arranged according to the plants' geographic origin. These include Mediterranean, South America, Mexico/Central America, Eastern North America, Australasia, Asia, Southern Africa, New World Desert, and California. The garden's website cautions visitors that it is virtually impossible to see everything on one visit.  It says that to see every plant in one two-hour visit, one would have to see one hundred different plants a minute!
Edible Plants
One of my favorites parts of the garden was the section on crops of the world.  In one corner was the "Three Sisters Garden" so-called by Native Americans referring to the interplanting of beans, corn, and squash.  The beans fix nitrogen in the soil, which feeds the corn so it will be tall and healthy.  The corn provides a structure for the beans to climb on.  The squash plants provide ground cover to keep the soil moist and free of weeds.  Recent studies have shown that this method produces higher yields than the typical planting of a single crop (monoculture).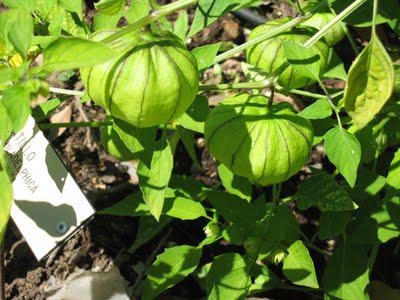 Tomatillos in the World Crops Section
Changes With the Seasons
Every season has its highlights, making the garden a worthwhile visit at any time of year.  We visited the garden in August, when late summer flowers were blooming, while earlier blooming varieties were reaching maturity.  In the garden of old roses, bushes were lush with old-fashioned varieties.  It was a warm afternoon, but paths through shady groves and along ponds and streams provided welcome places to stop and rest.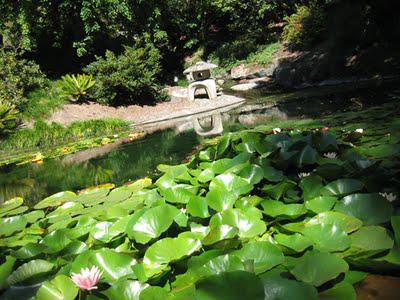 Japanese Pool in the Asia Section
The garden is also a haven for wildlife.  As we meandered through the various zones, lizards skittered across the path, hummingbirds hovered over the flowers, and bees and butterflies were abundant. Throughout the garden, helpful signs identify plants, sometimes with additional information.  But, even if you don't want to know the plants' names, you can enjoy them for their natural beauty.  It's better not to try to see one hundred plants a minute, but to enjoy a few at a time.  I plan to go back in several months and explore some new paths and see what is growing at a different time of year.
 Directions
:  The garden is located at 200 Centennial Drive, Berkeley, CA 94720 (midway between the UC Berkeley Memorial Stadium and the Lawrence Hall of Science.) Phone:  510-643-2755. For directions and more information, go to the garden's
website
. 
Tours
: Docent tours of the garden are offered at 1:30 on Thursdays, Saturdays, and Sundays.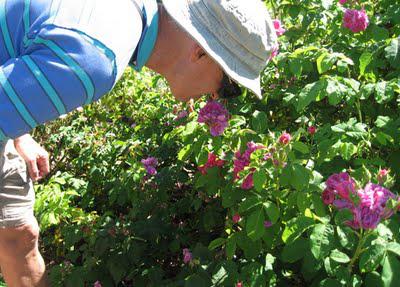 Smelling the Roses in the Old Rose Garden