Ubersuggest is one of the most popular free Keyword Research tools available on the Internet. If you're a blogger then you must have heard its name since it is popular for suggesting valuable LSI (Latent Semantic Indexing) keywords.
Recently, Ubersuggest was acquired by Neil Patel and they completely revamped the website with a new user-interface.
In this article, we'll guide you step-by-step for finding Money Making Keywords that actually work.
How Does Ubersuggest Work?
It works on the same principle like few other keyword research tools, even the paid ones. Ubersuggest uses your Entered Keyword, put it into Google Search (through API), adds combinations of prefixes and suffixes from the search dictionary and shows the result. It works similar to the Google Autocomplete Suggestions.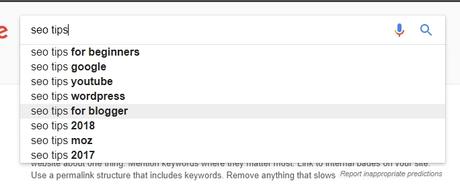 How to Use Ubersuggest to Find Profitable Keywords
At present, this tool comes with limited metrics only i.e Search Volume, Adwords Competition and CPC (Cost per click). Here are the things you will need to begin with:
Your base keyword, this can be your product category, type, niche etc.
Ubersuggest Tool
KWFinder or Ahrefs (for Keyword Difficulty Analysis). (Kwfinder is free for 1st 5 Searches). You can also check out KWFinder Review and Tutorial.
Since I've been working on selling my SEO Services and Packages, in this tutorial, I'd be using my personal keyword for you so that you can get an idea of how to proceed.
Head on to the Ubersuggest Website. Enter your Keyword, Select 'Web' from the drop-down, and your country. In this case, we'll be using "SEO Packages" as the base keyword and "United States/English" as the Country and Language.

Once you're done with the Keyword and basic input, hit the "Look Up" button.
Now, you'll be presented with a lot of Related Keywords, LSI Keywords in the result along with details like Average Search Volume, CPC and Adwords Competition.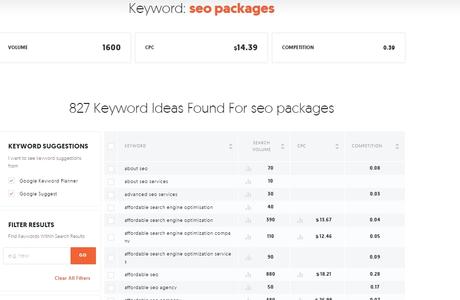 The next step is using the filters if required. Currently, you have will get 3 Set of Filters. The Keyword Suggestions Filter, Specific Word Filter and Negative Words Filter. You can use these filters according to your requirement. In our case, we won't be using any filter.
The Magic Number Theory
As you can see that there are so many keywords which you can use. However, not all keywords are suitable for your business. The task is to pick a keyword which satisfies 5 Important Things:
Medium Search Volume
Low Adwords Competition
Low SEO Difficulty
A Buyer's Keyword (Very Important)
Good CPC (For Adsense)
We need to select the keyword which is a Buyer's Keyword. For example, if I'm selling SEO Services, I need to pick a keyword which even I would personally put on Google as a buyer. For example, Best SEO Packages, Buy SEO Services, etc.
In this case, we'll go with keyword "affordable SEO" which has got around

800 US Monthly Search Volume (2k Global Search Volume)
Low Adwords Competition (0.01-0.40)
Good CPC ($18.21 Per Click)
Buyer's Keyword.
Generally, the search volume depends on the product. Keywords with very high search volume will have high competition in this niche. If you have a virgin niche which isn't followed by SEO experts, you can get a High Search Volume keyword with Low Difficulty. The Magic number for search volume can be 500-3000 Local Search Volume.
This keyword can be combined with more keywords such as Affordable SEO Packages, Affordable SEO Services etc. Since Adwords Competition is low, it won't cost you much if you're using Adwords campaign for your services.
Analyzing the Keyword Difficulty
As mentioned above, for this we need to use a tool which can analyze the Keyword Difficulty or SEO Competition.
One way is to manually analyze the competition by putting your keyword in the Google Search and analyzing the 1st top twenty websites in the results.
Compare the metrics like DA (Domain Authority), PA (Page Authority), CF (Citation Flow), TF (Trust Flow), Referring Domain etc. with your money website. For this, you can use your own tools too. Even the Ubersuggest's homepage hints that an inbuilt Keyword Difficulty feature might be included soon. However, currently, there's no sign of it.
However, if you want to save time, you can use the already existing tools which are designed for this purpose.
In our case, we would be using KWFinder.
Head on to KWFinder.
Enter the Keyword you just selected above and hit "Find Keywords".

You will be given the SEO Analysis of your entered keyword along with more keyword suggestions. You can take a look the image of the result below: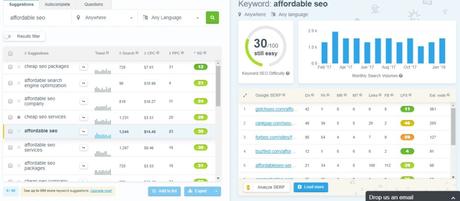 As you can see, our keyword has got the Difficulty Score of 30 which is easily achievable according to KWFinder. Click on "Analyze SERP" for detailed analysis.
You can also notice more related profitable money keywords with low Keyword Difficulty and decent search volume. You can pick all these keywords and use it for your project.
Since we've found that the keyword we selected satisfies the Magic Number Theory, we can proceed with this keyword.
Brian Dean from Backlinko has created an informative video tutorial which might be helpful for you in ranking for your keyword.
Ubersuggest is a decent tool to find good long-tail profitable money keywords. Of course, you need to spend some time in finding the right keyword.
If you like this guide then share kindly share it with others. If you have any suggestions then post in the comments section below.