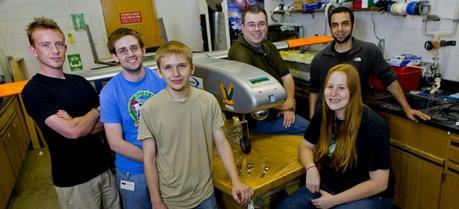 A team of Clarkson engineering students and staff pose with the Golden Eagle, an unmanned aerial vehicle constructed last year. The parts in the foreground will go on the new UAV the team is designing. In the front row, from left to right: Jacob T. Miller, Sean Shea, Ryan Feldman, and Cassandra Christman. In the back, Dan Valyou, left, a senior specialist in Clarkson's Civil and Environmental Engineering Department, and Omer Bakshi. (Credit: Clarkson University)
An unmanned aerial device, designed at Clarkson University that flew near Lake Erie's shores this summer may help determine the best locations for wind energy projects.
A team of Clarkson faculty, staff and students traveled to Sandusky, Ohio, to fly the Golden Eagle, a nearly 40-pound UAV carrying a sonic anemometer that records wind directions and speeds.
The team managed a number of successful 30-minute data acquisition flights at a model aircraft field located in Burton, Ohio (approximately 50 miles south of the port of Cleveland), and two at the Griffing Sandusky General Aviation Airport, adjacent to the lake.
The project is part of a greater effort to collect weather condition and air quality data and to find the best locations for wind energy projects. This is a preliminary step toward researching proposed offshore wind turbine farms on and around Lake Erie. Several academic institutions and industries partnered in the research, including Clarkson, Indiana University, Case Western Reserve University, Arizona State University, EDP Renewables, and SgurrEnergy.
"The Golden Eagle is a highly adaptable and capable platform with remarkable performance," said Pier Marzocca, an associate professor in the Department of Mechanical and Aeronautical Engineering and the UAV mission commander. "We can use it to acquire significant amounts of scientific data, at altitudes that cannot be covered by other aircrafts or means, to go well beyond what point measurement instruments are currently capable of."
In addition, the Golden Eagle collected ground information at the Port of Cleveland, but was not flown due to safety concerns and air space restrictions.
The team is currently working on the next prototype of the Golden Eagle. The Clarkson UAV could also be repurposed for uses besides finding the best locations for wind energy, according to Daniel Valyou, a senior specialist in the Civil & Environmental Engineering Department and UAV chief engineer.
The UAV could house other technology besides wind-measuring devices, Valyou said. In the future, a UAV could help search and rescue teams find a missing child or fight forest fires.
"The UAV's primary function is not to be researched. It's to generate research," Valyou said. "This UAV presents a wide range of opportunities. It has a lot of potential to expand down the road."
Building and testing a UAV has been an invaluable experience for the designers' student assistants, including Jacob Miller '14 and Ryan Feldman '15.
"This project has really been a joy to work on," Feldman said. "It's nice to get your hands on something, to build something and learn the process to make something like this."
Earlier we reported that a research project at Texas Tech University's National Wind Institute (NWI) aims to create accurate and timely wind maps which can be used in real time to transform how wind farms operate to ultimately improve their performance.