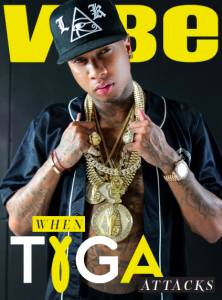 -Is Young Money a part of the creative process on this album?
Nah. I tend to distance myself from them.
-Are you trying to break out on your own?
Yeah, I'm tryna' go independent. I don't really get along with Drake. I don't really get along with Nicki.
I don't like Drake as a person. He's just fake to me. I like his music; you know what I'm saying? I think his music is good, but we're all different people. We were forced together and it was kinda' like we were forcing relationships together. It is what it is. But I been friends with Chris [Brown] for like six years. That's my real genuine friend. We hang out all the time. He lives up the street from me, so we don't just do music we hang. I think being signed to Young Money, everybody felt like they had to force a relationship 'cause Wayne put us together. At the end of the day the reason why I signed to Young Money is because of Wayne. Not because of Drake, not because of Nicki. It was because of Wayne and my relationship with him. I try to be cool with everybody, but sometimes, everybody just has different personalities, motives, and different characters. When you realize that, you realize that's not a place where you want to continue to grow.
-Tyga Also Spilled About His Sons Mom Blac Chyna
I read something that said I kicked my baby's mother out the house. That's not true. We had our differences, yes. But we decided to take a break and do what's best for King at this moment.
We decided to take a break apart 'cause you don't wanna raise an emotionally unstable child, and that's what it comes down to. It wasn't my happiness, and it wasn't her happiness. It was for the sake of King.
-You're saying a break, so there's a possibility that you haven't closed that door?
I mean, of course I love her. I had a kid with her for a reason. We were together for two years, but sometimes people need to see what life really is without the other person. [They need to experience life] without Prince Charming and really learn responsibility. You can't change a person. A person is always gonna be who they came to the table [as]. You can IMPROVE a person's potential, you can help guide that person but at the end of the day, they're gonna make their own decisions.
I think [Black Chyna is] improving a lot. She's becoming more focused on her business. Because it's hard, when you're sitting there…I'm on tour, you're thinking about if I'm with girls or not when the main thing is like, "Yo, I'm on tour MAKING MONEY, while you're living in this big ass house, taking care of our beautiful son." That's the goal. A lot of women don't realize this. They watch like… [Love & Hip Hop.] I don't even watch VH1, 'cause it's poison. A lot of women watch that stuff and it just takes them off the focus of what they think happiness is. As you get older the main goal is to have a family. That's what it's all about because you can be successful, have a lot of money, or whatever you do in life, but if you don't have nobody to share it with, or family, it ain't gonna matter.
Tyga Also Went On To Say That Black Women Don't Serve As Good Role Models For Reality TV .
Also, what I realized is black women don't have a lot of role models as far as other black women. On some real sh-t, there's black women that don't look up to Oprah or Michelle Obama, because they're looking at Instagram, they're looking at VH1. I think that's what the real problem is. It's no real black [female] role models. As a black man, we have a lot of role models. Like looking at Diddy, Russell Simmons, Jay Z, Kanye, Tupac, those are people we can super relate to, so it's easier for men.
I think life is just about being happy now. But you gotta' really know what's going on and that's really what's going on. Like black women man, it's sad right now.
-Is that what the relationship taught you?
No, I already knew that so when I was ready to do that, and I had a kid. I had a kid for a reason, not by accident. I was tryna' build something. A lot of people don't realize that until it's too late, so all you can do is CONTINUE to help people and move forward. Maybe something will go off in that person's head or whatever one day. But I can't blame her 'cause I understand. It's how we were raised, and then you go look at a white family—not to sound racist or anything—but those families stick together. It's way different.
-As far as his relationship with Kyle, he explains:
See the thing about Kylie… I've known Kylie and the whole family for four years. I introduced Chyna to Kim about a year ago. So everybody's been cool, but like it's just so hard, their world is different. If somebody wanna hang out, cool, I'm not opposed to hanging out with somebody. I hang out with her [Kylie], her sister [Kendall], I hang out with Scott [Disick] sometimes, I hang out with Khloe sometimes. But people wanna take the situation [with Kylie] to the next level.
No Shade But Saying Black Women Don't Serve As Good Role Models And That They Don't Look Up To Michelle Obama Or Oprah Is Basically Stating That Thats The Type Of Woman He Appreciates . Yet He Started A Relationship And Procreated With A Former Stripper . Oxymoron , No ?