Gearing up for a two wedding weekend and my garden is living up to the challenge.  This early warm spring has brought everything on really early this year - my roses are bursting into bloom which I don't usually expect til June. Perfect for filling teacups with for Wedding Two on Sunday - hooray.
The visiting florist for Wedding One requires English cottage garden flowers in blue, yellow, purple and white.  Each color box is ticked and I've just realised that my crop of buttercups at the allotment might have a purpose after all!  Those glossy, dainty and luminous flowers will make a perfect filler in country wedding bunches.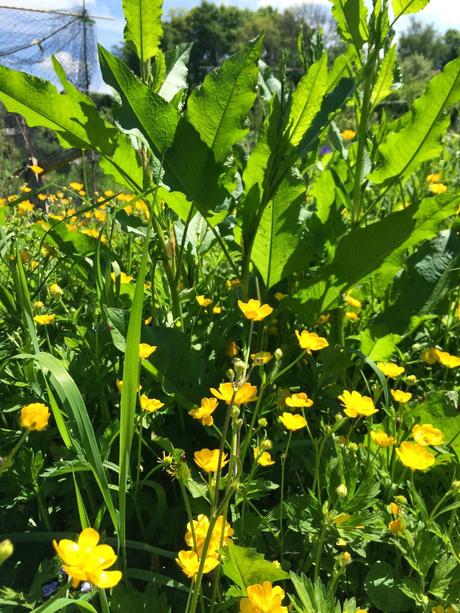 Had a good session at the plot today, planting out dahlias. It really makes me feel like summer is on the way when I take the plunge and put these South American visitors in their final flowering positions.  Have got half a bed full at the moment  - just twenty five more plants to go!  The success of dahlias at the allotment last year made me realize how much they love having lots of sunshine and space in which to extend themselves.  The plants I put in mixed borders at home were nowhere near as productive, so that is one lesson to chalk up to experience.
Am using the newly emptied end of the border in the back garden for dahlias as well - the soil is rich with compost as the bins have been standing on this area for several years, and it has been completely emptied, so will give the dahlias breathing space.
Have interspersed the home dahlias with American Potomac snapdragons - the seed was probably more expensive than gold dust, but the baby snaps are looking sturdy now that the weather has warmed up and it is surely time to give them their head.  From £15 worth of seed, I've got 24 plants - wasn't quick enough to whip them out of the propagator initially, so lost quite a lot of seedlings to damping off - they just flopped and shrivelled in the warm fug of their enclosure.   Another lesson learned which has stood me in good stead with the seed trays that followed them - at the first sign of germination, the lid came off and everything thrived much better.  Pity I didn't sow cheap seed first mind!
Cosmos have also been planted out into the garden today after a couple of weeks coming in and out of the greenhouse to toughen up their stems.  Hopefully they've developed a bit of woody resilience as a first line of defence against marauding molluscs.
Must try to sow a tray a day for the rest of May to keep the flower borders well stocked later in the season and to avoid the July hiatus which usually overtakes me.
Rain is forecast tomorrow and I welcome it as two of my waterbutts are now empty.  It will also hydrate my flowers beautifully before I chop them for Wedding One on Thursday evening if all goes to plan.  Let's just hope the slugs don't come out for a feast before I can get to them…